Sure, denim never goes out of style, but it has gone so far beyond the ordinary this season, and we are especially happy to see these denim trends available to all sizes. Whether your style is denim on top, or denim on the bottom, or the full on Canadian tuxedo, you can get your hands on any piece imaginable in plus-size denim this season.
As the fall campaigns start rolling out, we are seeing denim styled in new and unique ways, and the most exciting is the latest campaign from Torrid. The #InMyJeans campaign features models, actresses, bloggers, vloggers, Torrid customers and staff sharing the struggles of denim shopping as plus-size women, and the joy of finally finding that perfect fit, which we can all relate to. Torrid now has 10 locations in Canada so far, with more to come.
Here are some of our favorite plus-size denim pieces for fall, with some style inspirations below: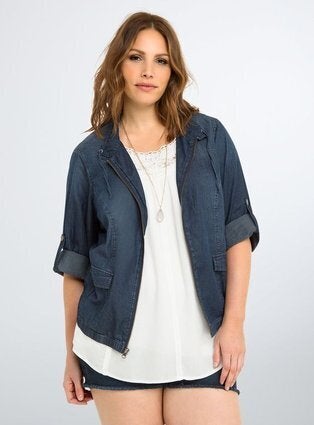 Every woman, with no exceptions, deserves to feel comfortable in her own body, and to believe that the world is made just as much for her as the next person. That's why with "My Curves Have No Bounds," we're going to get real and talk about our bodies, what we put on them, and how we feel about everything in between. We want to break down the barriers and outdated notions that plus-size women encounter everyday. So check back every other week for more from "My Curves Have No Bounds," by Amanda Montgomery of Latest Wrinkle.