Poor, Barron. The 10-year-old was up way past his bedtime, struggling to stay awake during his dad's victory speech in the wee hours on Wednesday morning.
Of course, this didn't go unnoticed by the Internet and Twitter had lots to say.
When your own son doesn't even wanna see you become #President. #Elections2016 #BarronTrump pic.twitter.com/N5ztGC5nCK

— lish klein (@LishKleinDesign) November 9, 2016
Somebody needs to put #barrontrump to bed. Or give him a red bull. #MakeAmericaSleepAgain pic.twitter.com/CGgVf5Xych

— JonathanWoodard (@JonathanWoodard) November 9, 2016
Dad just let me go to bed. #barrontrump Best part of his speech. pic.twitter.com/28Gp1dxjh4

— Tim hammell (@donkey__17) November 9, 2016
Current mood: #barrontrump pic.twitter.com/7tXe7XHz2Q

— Edward ZO (@EdwardZo) November 9, 2016
Baron Trump is all of us pic.twitter.com/fG6IxmCFhv

— Sarah Cooper (@sarahcpr) November 9, 2016
At one point, the young boy was jolted awake by members of the audience shouting what sounds like: "Kill Obama!" Ugh.
"Kill Obama" I see this is off to a fantastic start. 😐pic.twitter.com/kUryVpKENh

— Andrew HammondAP (@ahammsportsgeek) November 9, 2016
This isn't the first time the President-elect's youngest son has fought the yawns while his dad addressed the nation. Back in July, Barron had a serious case of the yawns during his dad's acceptance speech at the Republican convention.
His mom was less than impressed.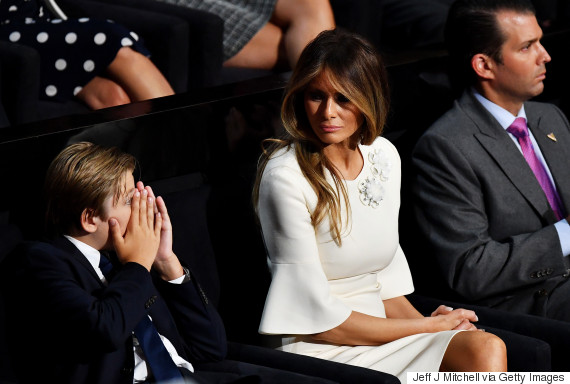 Also on HuffPost