The title of Miss Golden Globe 2017 goes to Sylvester Stallone's three stunning daughters: Sophia, 20, Sistine, 18, and Scarlet, 14.
The Globes made the announcement on Instagram on Friday, sharing a sweet photo of the 70-year-old actor with his girls.
The honour of Miss or Mr. Golden Globe is usually given to a child of a Hollywood icon and their job is to assist with the awards ceremony. Last year, Jamie Foxx's daughter Corinne was given the honour. Now 2017 will mark the first year a trio has been chosen to share the title.
Over the weekend, Stallone's eldest daughters, Sophia and Sistine, took to Instagram to share their excitement.
"FINALLY I can announce that my sisters and I are the official Miss Golden Globes 2017!" Sophia captioned a photo with her siblings.
Posting a similar image, Sistine wrote, "So EXCITED to announce that we are Miss Golden Globes 2017! Such an unbelievable experience, still cannot believe this is happening!"
Stallone is also proud of his girls. Describing her dad's excitement, Sophia told People magazine he was "running around the house, dancing. The dogs were chasing him."
The Stallone girls are no strangers to the limelight as they often attend red carpet events with their famous dad. Last year, for instance, they accompanied Stallone to the Golden Globes, where he won best supporting actor for reprising his role as Rocky Balboa in "Creed."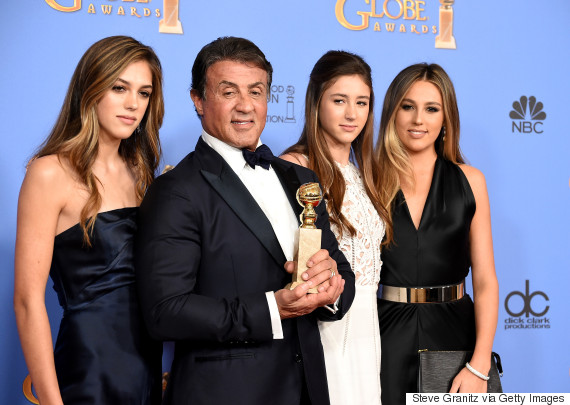 Stallone and his daughters at the 73rd Annual Golden Globe Awards on January 10, 2016 in Beverly Hills, California.
But while the girls are clearly shining stars, they admit they don't see themselves following in their dad's footsteps anytime soon.
"I don't think any of us will be actresses," Sophia, who is a student at the University of Southern California, told Us Weekly. "[Sistine] will be the model, and I could see myself being in the movies behind the scenes, because I love watching my dad work — he's the best and he lives in my house, so why not learn from him?"
As for the youngest Stallone, 14-year-old Scarlet, she agreed saying: "I'm only in junior high, so I don't think I even know!"
Stallone had his three daughters with his wife, model Jennifer Flavin. The 70-year-old actor also had two sons, Sage and Seargeoh, with ex Sasha Czack.
The 2017 Golden Globes will air on Sunday, January 8.
Flip through the slideshow below to see other celeb kids who were chosen as Miss or Mr. Golden Globe in the past.