The interim Conservative leader says the prime minister's "staggering" reaction to a judge's sentencing decision makes it harder for assaulted women to step forward.
Rona Ambrose made the charge in question period Wednesday, one day after she highlighted how an Ontario Superior Court justice struck down a mandatory one-year jail sentence for a 50-year-old man found guilty of the sexual interference of a 15-year-old girl.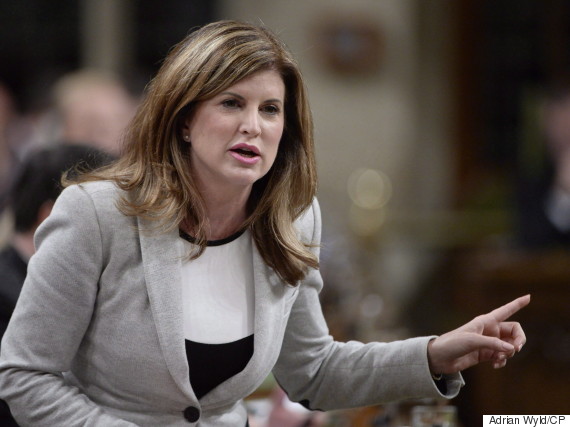 Interim Conservative Leader Rona Ambrose speaks in the House of Commons on Sept. 22. (Photo: Adrian Wyld/CP)
Ambrose noted that at the time Liberals were reviewing the previous government's mandatory minimum sentences and demanded Prime Minister Justin Trudeau guarantee sexual assault crimes against children will still result in such penalties.
Trudeau responded he was not interested in "politicizing crime" like Tories.
"I can confirm that we will always support our judiciary who make responsible, reasonable decisions about the cases before them," Trudeau said Tuesday, adding that he didn't want to see the matter used as a "political football."
"Does he understand that comments like that make it harder for women to come forward when they're sexually assaulted?"
On Wednesday, Ambrose accused the prime minister of standing up for the judge and not the victim.
"Does he understand that comments like that make it harder for women to come forward when they're sexually assaulted?" she asked, sparking applause from Tories.
Trudeau was not in the House of Commons, so Justice Minister Jody Wilson-Raybould fielded the question.
"Child sexual assault is incredibly serious and our government will take every step that we can in order to protect children," Wilson-Raybould said.
Justice minister committed to review
The minister said her review of the criminal justice system, including sentencing reforms and mandatory minimums, is about "providing the necessary discretion to judges."
Veteran Tory MP Rob Nicholson, a former justice minister, later argued the Trudeau government was gutting laws that punish criminals.
"Why is it that the Liberals have a problem with a 50-year-old man molesting a 15-year-old girl not being subject to mandatory imprisonment?" he said. "What is their problem with that? Let us hear it."
"To repeat, without question, child sexual assault is absolutely unacceptable," Wilson-Raybould responded.
Sentences challenged in court
The justice minister said mandatory minimum penalties have been challenged in courts in recent years.
"We are going to move forward with this comprehensive review, and fundamentally ensure that the protection of the rights of Canadians are imbued in the sentencing reforms that we undertake," she said.
Michael Cooper, the deputy Tory justice critic, also questioned how the prime minister, as a "self-described feminist," could defend the judge's decision. He urged Wilson-Raybould not to roll back mandatory sentences for "child sex predators."
Again, Wilson-Raybould said she remains committed to a comprehensive review of mandatory sentences.
"Certainly, with respect to child sexual assault, that is wrong," she said.
The previous Conservative government brought in mandatory sentences for 60 different crimes, including those involving guns, drugs and sexual exploitation.
Also on HuffPost
Harper's Legacy: Top Achievements, Failures, According To Poll