EDMONTON — Conservative leadership candidates faced off Tuesday in Edmonton — while Kevin O'Leary, another contestant, held court at a hotel across the street.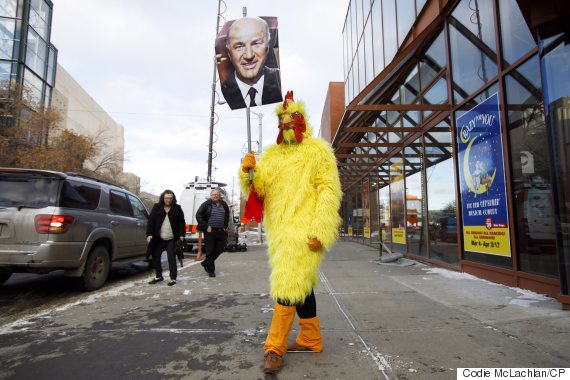 A man dressed in a chicken suit mocks Kevin O'Leary for skipping the Conservative leadership debate in Edmonton on Feb. 28, 2017. (Photo: Codie McLachlan/Canadian Press)
There were plenty of fireworks that he missed at the fourth official debate in the Tory leadership race.
What to do about asylum-seekers at Canada-U.S. border
Kellie Leitch called for all the refugees crossing the Canada-U.S. border to be returned to the United States immediately. Many candidates called for the Safe Third Country Agreement to be amended so refugees could be returned.
Brad Trost said Canadians needed to be protected from the southern border. Andrew Scheer said he had been to North Dakota and "it is very safe." Michael Chong thinks Trudeau should delete his #WelcomeToCanada tweet.
&nbsp
Chong compares carbon tax debate to Mulroney's free trade reversal
Chong was booed loudly but defended his plan by saying it was akin to former prime minister Brian Mulroney's reversal on free trade in the 1980s.
&nbsp
Leitch defends so-called 'values' plan
Deepak Obhrai, Rick Peterson, and Chris Alexander all criticized Leitch's plan to screen immigrants and newcomers for "anti-Canadian values," saying it would hurt the party. She told her supporters to ignore her critics.
&nbsp
Peterson drops the gloves
Peterson lashed out at Leitch, Erin O'Toole, and Andrew Scheer — but Scheer had some jabs ready.
&nbsp
HuffPost Canada is profiling each of the 2017 Conservative leadership candidates, leading up to the May decision:

• Erin O'Toole Aims To Convince Tories He'll Beat Trudeau Without Flash

• Lisa Raitt Has Ministerial Experience, Rich Family History

• Tory Party Elder Deepak Obhrai Seeks Leadership And A Little Respect