When it comes to sharing photos of their kids, celebrity parents have two extremes. They either wholeheartedly embrace it, or avoid the practice altogether.
But Anne Hathaway is one celebrity mom who tried to dabble in between.
Ahead of her son's first birthday last month, the 34-year-old actress shared a photo of her baby boy, Jonathan, on Instagram. The sweet pic showed her son in his PJs watching her deliver a UN speech on the importance of paid parental leave for International Women's Day.
While the image only showed the back of Jonathan's head, Hathaway revealed that she instantly felt regret for publicly sharing the snap.
"I had never posted a photo of my son, and I decided to post a shot of the back of his head, and almost as soon as I'd done it, I wished that I hadn't," the "Colossal" star told Jezebel in an interview. "I felt like I had broken some kind of a seal in inviting people into my life."
Hathaway then noted that her feelings towards social media have changed since she realized posts can easily be construed any which way.
"I'm a big believer that you gotta mess things up sometimes to really see them properly, so if I made a mistake or I messed up, I know how I feel about it much better now," she said. "Instagram, when I first started, it was so much fun. And it was a great way to be silly and kind of do things off the cuff. And now, because of the time we live in, I think words and pictures are carrying a much greater weight. Or, much less depending on how you engage with it."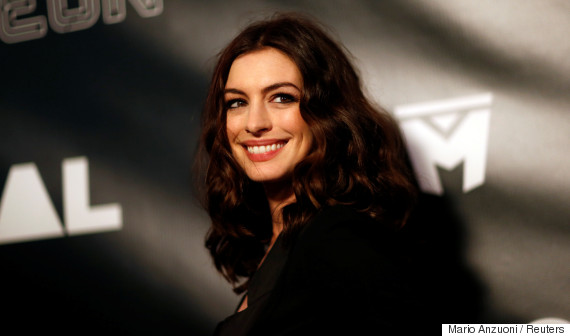 Anne Hathaway poses at the premiere of the movie "Colossal" in California.
Hathaway isn't the only celebrity parent to struggle with whether or not she should share private photos of her kid with the world. Chrissy Teigen experienced something similar after she welcomed her daughter, Luna, with husband John Legend in April 2016.
Before giving birth, Teigen explained to People magazine why she might not immediately share photos of her baby girl. "I'm not ready for people's comments," the model said. "That's more of what it is … It's not like I don't want to show her or that I'm hiding."
She also added, "You don't want to force your kid on anyone either. It's important for me and John to protect some bits of us."
Teigen, who has always been vocal on social media, eventually went on to share countless adorable photos of her daughter.
It's unlikely that Hathaway will have the same change of heart as Teigen. In her interview with Jezebel, she added: "Even though I felt as though I had done it in as protective a way as I could, even though it was a moment I was incredibly proud of, I don't know that I'll ever do it again."
Hathway's regret over posting a photo of her son is not surprising, as she has always been a private person. But just because she doesn't like sharing photos of her baby boy doesn't mean she won't talk about him.
The 34-year-old recently opened up about how she and husband Adam Shulman threw their son a rainbow-themed party for his first birthday.
"We tried to keep it pretty low key, and we kept the theme just rainbows, which is a fun theme because it's hard to go wrong with it," she said on "The Ellen DeGeneres Show."
"But I made the mistake, I went on Pinterest and looked at other people's one-year-old parties," she continued. "It's not fair what some people do, you know children have party planners, which is definitely not fair. Think about it. They blow it out."
Also on HuffPost