Since news broke that Janet Jackson and her billionaire husband have split, the Internet has speculated the reason why. Unfortunately, many are now calling the "Rhythm Nation" singer a "gold digger" considering the timing of her divorce.
Jackson and her husband, wealthy businessman Wissam Al Mana, tied the knot in 2012, which means their split happened around the five-year mark.
This is significant because the couple reportedly signed a prenup. According to TMZ, prenups generally set out five- and ten-year payout periods that determine how much money will be divided between the couple if they split. Naturally, the longer the couple is together, the more money they receive.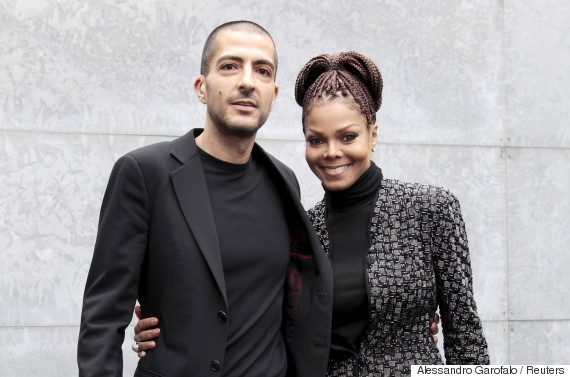 Janet Jackson and Wissam Al Mana in 2013.
As a result, Jackson's divorce from Al Mana could result in her earning millions of dollars. Family sources told Page Six that the 50-year-old singer is entitled to US$100 million if she remains married for at least five years. She is then entitled to another US$100 million if the couple has a child — which they do.
Jackson and Al Mana welcomed their only child, Eissa, three months ago. However, sources told Page Six that Al Mana became "too controlling" during Jackson's pregnancy, which is what led to the split.
Interestingly, another source told The Daily Mail that the couple actually called it quits because of their busy schedules. "Sadly, Janet and Wissam have decided that it wasn't working and to go their separate ways," the insider said. "They're both busy people but determined to be good parents, even if they're apart."
Despite these claims, people on Twitter were quick to jump to conclusions about the singer's motives, with many believing she was just using her husband for his money.
@DOlusegun Oh boy! That Janet Jackson marriage was a 5 year scam

— K (@oraeekene) April 11, 2017
In a year's time, Janet Jackson has successfully scammed her fans with the Tour & now, a billionaire.
Did someone call for a Legend? https://t.co/yw65DRSqdw

— Khalil (@kbyrd2) April 9, 2017
Janet Jackson never missed a lecture on Time Value for Money.

— Kevin (@Kevo_jr) April 11, 2017
However, some came to Jackson's defense, saying the singer — who is one of the biggest names in music — doesn't need the money, as she's worth an estimated US$175 million on her own.
Pretty sure Janet has her own money. But, yes, let's spin one of the most iconic musicians of our time as a gold digger. https://t.co/DKoy7omXSC

— Kayla A. Greaves (@KaylaAGreaves) April 10, 2017
I don't know why ppl are making Janet Jackson to be this gold digger, she was a self made woman before and after this man....

— Tiba (@TOADF) April 9, 2017
I can't believe some of y'all actually think Janet Jackson is broke and a scammer. We are talking about THE Janet Damita Jo Jackson.

— Ᏸecca🥀 (@MJStarLover) April 11, 2017
Since Jackson's divorce news triggered a debate, a relative of the singer confirmed to Page Six that "it looks like a money grab but it's not about money."
Another added that Jackson "loves to be in control," which is why she was unhappy in her marriage.
Despite the social media debate, one Twitter user made a very important (but sad) point about the "gold digger" claims:
This Janet Jackson conversation just goes to show that no matter how much money a woman has, she can still be painted as a gold digger.

— top gang thug (@shesalmostthat) April 11, 2017
Also on HuffPost
Divorced Celeb Parents Who Still Vacation Together