The twins have finally arrived! George and Amal Clooney are now officially first-time parents.
"This morning Amal and George welcomed Ella and Alexander Clooney into their lives," Clooney's publicist, Stan Rosenfield, said in a statement. "Ella, Alexander and Amal are all healthy, happy and doing fine. George is sedated and should recover in a few days."
No other details about the twins' births have been revealed.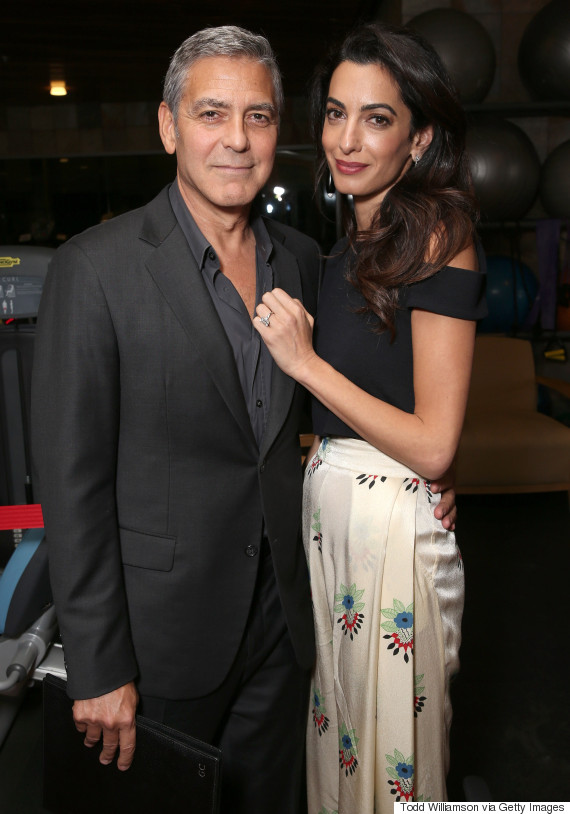 George and Amal Clooney attend the MPTF 95th anniversary event in October 2016.
Unlike most celebs, the Clooneys did not officially announce that they were expecting. Instead, Amal's pregnancy was confirmed by "The Talk" host Julie Chen in February. The exciting news came just days after Beyoncé revealed that she and her hubby Jay Z were also expecting multiples this year.
George has been a doting husband throughout Amal's pregnancy. In fact, just last month, the 56-year-old actor skipped out on the Aurora Prize for Awaking Humanity ceremony in Yerevan, Armenia because it was so close to Amal's due date.
In a video message, George — who co-founded the event — told the audience, "I really would have been [there] but if I came there and my wife had twins while I was there, I could never come home!"
In March, the "Money Monster" star also gushed about his 39-year-old wife. "She is doing really great. She is amazing," he told Extra. "I don't have anything to do. There is nothing I can do to help, but make tea and stuff."
He also added that he's been prepping for his new role as dad: "I know swaddling… I know what I'm in for."
Now that the Clooney twins are here, we have no doubt that George will make a great father. Congrats to the happy family!
Also on HuffPost
Unique Baby Names For Your Twins