Emmy Rossum has shared a story about the sexist treatment she's received in Hollywood and we're enraged.
During a roundtable discussion for The Hollywood Reporter, Rossum recalled an incident where a director asked her to audition in a bikini.
"My agent called me and was like, 'I'm so embarrassed to make this call, but there's a big movie and they're going to offer it to you,'" the 30-year-old said. "'They really love your work on ['Shameless']. But the director wants you to come into his office in a bikini. There's no audition. That's all you have to do.'"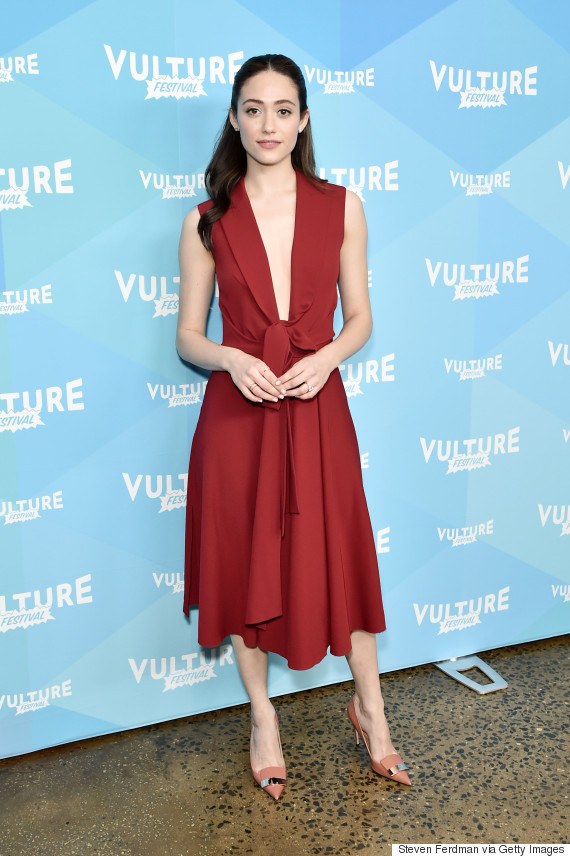 Emmy Rossum attends 'Shameless' panel during Vulture Festival in NYC.
And that's not even the worst part. Turns out, the character Rossum was supposed to audition for didn't even wear a bikini in the film. The director just wanted to make sure she wasn't "fat."
"He wanted to know if I was fat now. That was basically the question," she said. "And I actually had this moment like, 'Well, how good is the part?' For a second, I was like, 'Would I do it? Send me the script. Maybe the character is in a bikini in the movie.'"
"Not in a bikini in the movie, not naked in the movie," she continued, before mocking the director. "'We really love your work, but we just want to see how tight your ass is.' Are you fucking kidding me? Last time I checked, I'm not a fucking model."
Rossum then made a good point about how inexperienced actors might fall for this seemingly innocent request to wear a bikini. "If somebody with my years in the business would think, 'Well, I wonder if it's worth it,' then what would a girl who doesn't have success do? She would do it," Rossum explained.
This isn't the first time Rossum has spoken about the bikini incident. Earlier this year, the actress starred in David Schwimmer's new video series that raises awareness of the sexual harassment of women. She then brought up the uncomfortable scenario while discussing the series in an interview with Cosmopolitan.
"As recently as last year, I was told that I had a part in a big film if I would come into the director's office in a bikini," she told the site in April. "I didn't even go in for the audition or whatever you call it. I was so taken aback. I had heard of things like that, but it was so incredible to me when it happened... It upset me that that was still being asked of women."
Unfortunately, Rossum is right. In the past, a number of actresses have come forward with similar experiences of their own. Most recently, Alison Brie revealed she was asked to go topless for her "Entourage" audition, Elizabeth Banks revealed her first agent asked her to get a boob job, and Kirsten Dunst revealed she was asked to lose weight.
In regards to sexual harassment and uncomfortable requests in the workplace, Rossum told Cosmopolitan: "A lot of times, if you are put in situations like this, you try to justify it or explain it. We really need to talk about these kinds of things. It's never, ever your fault and never something you ask for."
Also on HuffPost