Chris Wattie / Reuters
In a way, this was inevitable.
The internet's infatuation with Canada's prime minister has reached a new peak — or low, depending on how you look at it — with the new "Justin Trudeau, My Boyfriend 2018 Wall Calendar."
Yes, this is a thing:
This really exists. Calendar mall stand in San Francisco. 🍁❤️🇨🇦 @JustinTrudeau#MyCanadianBoyfriendpic.twitter.com/DSKQU8pmgM

— Keith Horwood (@keithwhor) November 26, 2017
What's inside the @JustinTrudeau, boyfriend calendar. pic.twitter.com/PmR9PC0eL0

— Joan Bryden (@jmbryden) November 27, 2017
The calendar is listed by Universe Publishing on Amazon.com — where it's the bestseller in "Canadian History" — for US$12.98. It is currently unavailable on Amazon.ca
"I have a new boyfriend. No, you've never met him. He lives in Canada," reads the product's description.
"The Justin Trudeau, My Canadian Boyfriend 2018 Wall Calendar is a year-long celebration of dynamic, smart, compassionate, and sometimes sassy Canadian Prime Minister Justin Trudeau."
Please, allow us to share the rest of the calendar's description:
The calendar features 12 images "Yucon" [sic] enjoy of model-like role-model Canadian Prime Minister Justin Trudeau. Featuring sweetly off-kilter but well-meaning commentary about his views from his sparkling blue eyes on everything from love, family and of course global affairs and economic growth, it is a true celebration of the man, the myth, and the meme that is Justin Trudeau.
As Bustle notes, a Facebook page bearing the same name as the calendar has been around since the summer. A post from June 21 heralds the coming of the 24-page calendar:
"This is what happens when you let crazy fans run the printers!" it states.
Reaction to the item on Twitter was mixed. Some users' admiration for Trudeau seemed to only balloon:
I found a justin Trudeau calendar and I want it

— megan (@megsmith155) November 26, 2017
I NEED that @JustinTrudeau boyfriend calendar because ya know, he's my boyfriend.

— Linus van Pelt (@thaliaaarae) November 28, 2017
Is someone getting me that Justin Trudeau calendar for Christmas?

— 🎄Muffy Saint-Nick ⛄️ (@furkyourwurk) November 28, 2017
Others weren't exactly impressed:
No words. https://t.co/MfPi5bQaTZ

— Andrea Tingey (@andreajtingey) November 28, 2017
Wait a minute, there's a Justin Trudeau boyfriend calendar. I don't know how I feel about this. 🤔 pic.twitter.com/3Fcp3yd394

— J Swallow (@SwallowJennifer) November 29, 2017
Reviews for the calendar on the American Amazon listing were more positive than those on its Canadian counterpart.
"My 94 year old mother has been referring to Justin Trudeau as her boyfriend ever since he became PM. In the 70s, she loved his dad, Pierre. This was a perfect gift for her," wrote one reviewer on Amazon.com
"If only this calendar would include barf bags," wrote another on Amazon.ca
Just the latest Trudeau-themed product
The calendar, of course, is not the only ridiculous Trudeau-themed product out there.
There's a Justin Trudeau figurine, Justin Trudeau-scented — don't ask — candles and Justin Trudeau leggings, to name a few.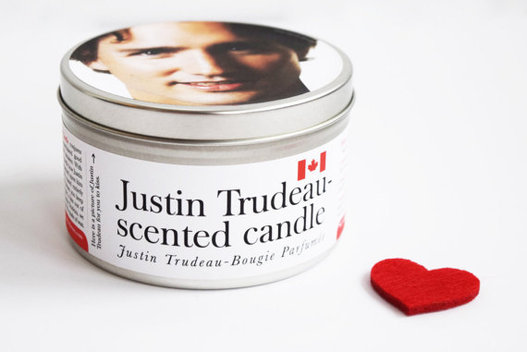 Oh, did we mention the erotica stories?
More from HuffPost Canada:



Also On HuffPost: