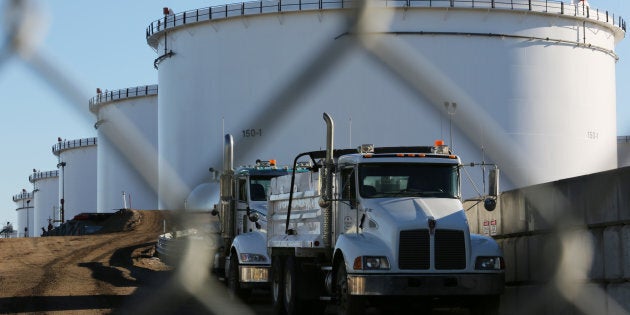 The price of North American oil closed near a two-year high on Friday, but not so for heavy Canadian product from the oilsands, which has seen prices plummet amid a supply glut.
Western Canadian Select oil was trading at around US$32 per barrel on Friday, down from above US$40 as recently as last month. Its price is little more than half that of West Texas Intermediate, the benchmark for North American oil, which closed above US$57 on Friday. Brent crude, the global oil benchmark, is trading at around US$63.
It's the largest discount on Canadian oil in four years, and it is due in no small part to a record-high supply of Canadian oil.
Watch: Alberta's laid-off oil workers may now be replaced by machines
Inventories of Canadian oil hit a high of 31.82 million barrels in the week of Dec. 8, according to data from information services company Genscape. It's the highest level since Genscape began monitoring Canadian oil supplies in 2010.
At the same time, oilsands projects that were greenlit before the oil price crash of 2014 are beginning to come online, increasing the supply. And Canada's railways, which in the past provided a relief valve for extra oil, are unable to take on oil shipments because they're busy with a backlog of grain, Bloomberg reports.
"We have a lot of oil in the oilsands," Conor Bill, managing director of Mount Auburn Capital Corp., told the CBC. "And the problem is there aren't a lot of ways to get that crude out of the area where it's produced."
All the additional oil being pumped out of the oilsands mean Canadian oil's price problem will continue and may worsen next year, Royal Bank of Canada said in a report this week.
In the short term, some of the supply glut should ease as pipelines get back to full capacity, RBC reported. But prices could fall again next year as even more new oilsands projects come online, RBC said, as quoted in the Globe and Mail.