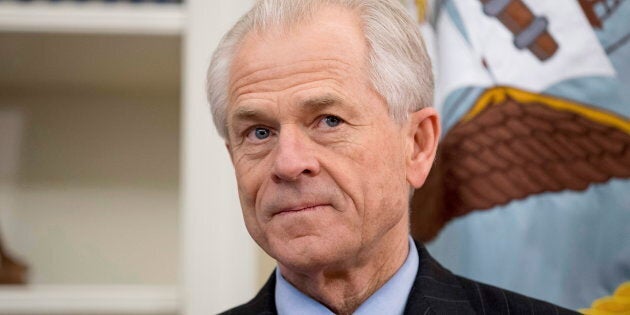 Donald Trump's trade adviser has apologized for saying Canada's prime minister deserved a "special place in hell."
Peter Navarro made the mea culpa for his stunning tirade after the G7 summit in Charlevoix, Que. over the weekend. Trump and his inner circle were irked by Justin Trudeau's comments to media that Canada would not be "pushed around" by the U.S. and will respond in kind to tariffs slapped on steel and aluminum on the "insulting" grounds of national security.
"There is a special place in hell for any foreign leader that engages in bad-faith diplomacy with President Donald J. Trump, and then tries to stab him in the back on the way out the door," Navarro told Fox News Sunday.
"In conveying that message I used language that was inappropriate and basically lost the power of that message. I own that, that was my mistake, my words," he said, according to the Journal and Bloomberg.
Trump's chief economic adviser, Larry Kudlow, similarly took the airwaves over the weekend to call Trudeau's remarks after the summit a "betrayal" of the president.
"We get on the plane and then this guy Trudeau starts blasting us," Kudlow told CNN.
The coordinated attack against Trudeau from the U.S. officials, not to mention Trump's tweets calling Trudeau "weak" and dishonest, has led former U.S. ambassador to Canada Bruce Heyman to conclude the White House is trying to make Canada the scapegoat for troubled NAFTA negotiations.
Trump is targeting Canada's supply management system for dairy and poultry as unfair, even though the U.S. runs a $333 million trade surplus with Canada on dairy and a $1.9 billion trade surplus in agriculture and agi-food.
"I don't care who you are talking about, unless you are on the verge of some kind of military engagement or something, I don't think that's language that anyone would use with any friends at the bar," he said.
On Monday, the House of Commons unanimously approved a motion showing "solidarity" with the Trudeau government's decision to impose retaliatory tariffs against the U.S.
The motion also said the House rejects "disparaging ad hominem statements by U.S. officials which do a disservice to bilateral relations and work against efforts to resolve this trade dispute."
In a possible sign of how personal things are getting, Trump told reporters in Singapore covering his meeting with North Korean dictator Kim Jong Un Tuesday that Trudeau's remarks will end up costing Canadians "a lot of money."
Trudeau did not fire back when asked to respond to his U.S. counterpart's latest jab.
"I'm going to stay focused on defending jobs for Canadians and supporting Canadian interests," he said.
With files from Althia Raj, The Canadian Press