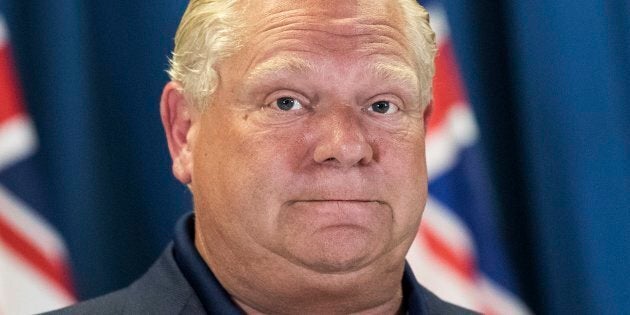 Credit ratings agency Fitch has an unpleasant welcome gift for Ontario Premier-designate Doug Ford: A downgrade to the province's credit outlook.
Fitch announced Friday it's maintaining its "AA-" credit rating for the province, but is downgrading the future outlook to "negative" from "stable" on account of Ontario's return to deficit spending — a trend started under Kathleen Wynne's Liberals, but one that will continue under Ford.
If the negative outlook were to lead to a lower credit rating, Ontario could face higher borrowing costs, making its budget problems worse. Fitch says it could downgrade the province's credit rating if the incoming Progressive Conservatives were to signal an "extended" period of deficits ahead.
After working for years to bring Ontario back to balanced budgets after the Great Recession of 2008-09, the provincial Liberals announced a return to deficit spending in this year's budget, ahead of the spring election.
"The departing government's tabled 2018 budget for fiscal 2019 forecast a return to annual deficits financed by debt issuance, a trajectory that appears likely to remain in place by the incoming PC party," Fitch said in a statement.
"This change in fiscal plans is the reason for the outlook's revision to negative."
Watch: Things to know about Ontario's next premier, Doug Ford (story continues below)
Ford's provincial Progressive Conservatives didn't promise an immediate return to balanced budgets, saying only they would get back in the black within three or four years. The party released an un-costed platform, making it difficult to determine what impact their promises would have on the budget.
In his campaign, Ford vowed a number of tax cuts, including a 20-per-cent reduction in taxes for those earning between $42,960 and $85,923, and a 10-cent-per-litre reduction in gas prices. Those measures are expected to cost the budget $3.5 billion per year in lost revenue.
Ford has said he would cover the shortfall by finding "efficiencies" within government, though he has not specified what those might be.
"As additional details on the incoming Progressive Conservatives' fiscal priorities become available, the size of future annual deficits and the means of financing them, as well as the time frame by which the province will return to fiscal balance, will be significant to resolution of the negative outlook," Fitch said.
The agency said if the PCs' plan includes a lengthy period of deficits, it could mean a downgrade for the province's credit rating.