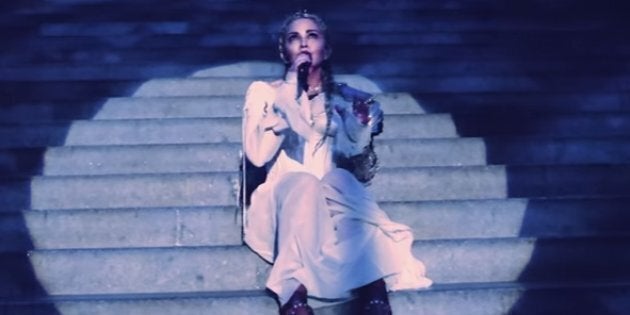 Madonna turned 60 today, and celebrated by giving Canadians just another reason to adore her.
The queen of pop released an official video of her cover of Leonard Cohen's 1984 hit "Hallelujah." She'd originally performed the Montreal singer and songwriter's iconic ballad in a surprise appearance at the 2018 Met Gala, but only amateur fan videos and a few publications captured the divine show — until now.
"In celebration of my birthday and as a 'thank you' for all your donations on my Birthday Fundraiser, I wanted to share a very special performance from this year's Met Gala," Madonna tweeted Thursday.
The video attached to her tweet shows just the beginning of Madonna's performance (such a queen move! Always keeping us hanging!), but the full video on her YouTube channel shows her singing all three songs in that night's repertoire: "Like A Prayer," "Beautiful Game" and then bringing it home with "Hallelujah."
Earlier in August, Madonna revealed that she'd moved to Portugal to escape U.S. President Donald Trump. But, with this cover, she can go ahead and consider herself an honourary Canadian.