Are we looking at a photo, or seeing our own reflection in the computer monitor?
New Mexico teen Jillian Schnerch's "tired mom" Halloween costume is so real, it's hard to know. The 13-year-old's getup includes several items from the official mom uniform, including leggings, a messy top knot, coffee, Uggs, various children hanging off her body, a Target bag full of wine (bless), and a vacant stare from dark-shadowed eyes.
"She knows exactly what it's like to be a tired mommy (and sister!) and she thought it would be be a perfect costume," Schnerch's mom Lindsay Hartsock told HuffPost Canada in an online interview.
"She is also super creative and really put a lot of thought and effort into this."
Jillian is one of nine kids, and got her costume inspiration from watching her mom manage their busy family plus their photography business, Hartsock said. She also has plenty of experience helping out with her younger siblings.
"Growing up in a big family, she has seen the blood, sweat, and tears that go into raising kids," Hartsock said.
"She has five little siblings and is amazing with them, but exhausted. She's had a perfect 'tired mommy' example for a long time now."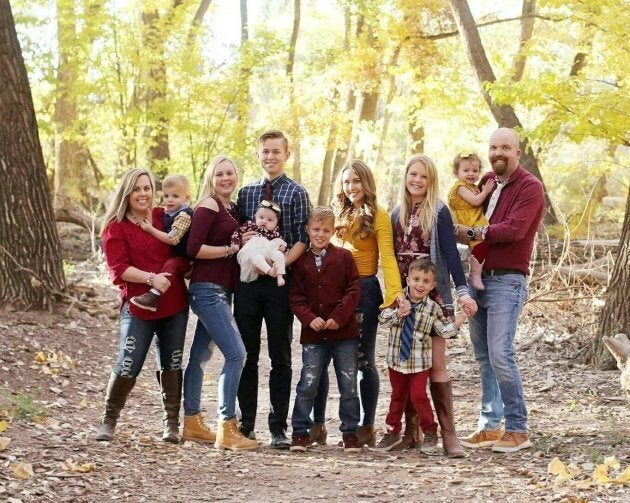 Photos posted by her mom to Facebook struck a chord with tired AF parents everywhere and quickly went viral. Commenters were impressed with the level of detail, which only gets better the longer you stare at the pics.
The diaper stuck in the waistband of her leggings. The burp cloth that didn't catch the spit-up smeared down her shirt. The Target bag that HuffPost Canada confirmed contains diapers, wipes, and three bottles of wine. The nursing pad.
In a comment, Hartsock also noted that Jillian's coffee is decaf because "her baby doesn't sleep as it is."
"I wouldn't even need a costume..." one person wrote in the comments.
"Who took this photo of me?" another person wrote.
"Okay, but I want to know why she decided she should dress like me for Halloween," someone else wrote in the comments.
Jillian, who is half Canadian (her father is from Winnipeg), truly committed to her role, Hartsock said.
"I told her to smile in one and she said 'I'm happy, but I'm a tired mom, so I have to keep this look so I don't break character!'" Hartsock said.