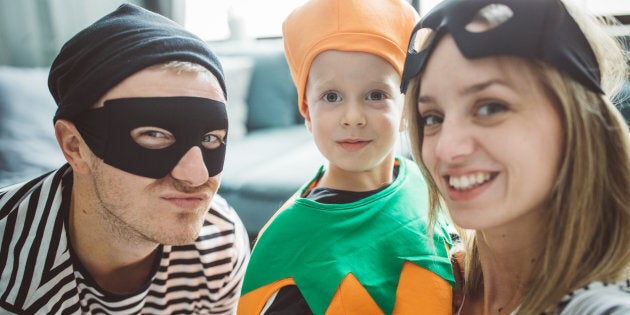 So, you've had your kid's Halloween costume planned for weeks — perhaps you visited every store in town to score that coveted getup, or maybe you even broke out the glue gun and sewing machine to create something homemade.
Either way, you nailed it. And then you woke up this morning and realized while you were so busy cutting sandwiches into pumpkin shapes and looking for non-toxic face paint this month, you forgot something important for a night of trick or treating with the kiddos: a costume for yourself.
Classic. But also, not a crisis. We rounded up the easiest costumes you can make in about five minutes, most likely with stuff you already have around the house.
1. Bank robber
Works if: You already own a black and white striped shirt, or at least a black shirt. Surely you have one somewhere in your closet.
You'll also need: Jeans, black boots, a black toque, gloves, a mask of some kind (tip: cut one out of construction paper and tie it to yourself with string), a white pillow case or tote bag of some kind, a marker to write "$" on said bag. If you wanna glue monopoly money to your sack, that is your call.
2. Scarecrow
Works if: You already have a plaid shirt.
You'll also need: A straw hat, jeans, scarecrow makeup (an eyeliner pencil and lipstick will do in a pinch).
3. The Bachelor/ette
Works if: You have a suit/formal dress/time to do your damn hair.
You'll also need: a rose and a winning smile.
Watch: DIY glamour puss makeup. Story continues below video.
4. Cat lady
Works if: You have stuffed cats (real cats are not usually cooperative for such endeavours).
You'll also need: A house coat, curlers, slippers.
5. Lumberjacks
Works if: You have a plaid shirt
You'll also need: Jeans, boots, a toque, and to fashion some kind of axe.
6. Mary Poppins
Works if: You have a smart black hat and a white dress shirt.
You'll also need: Black skirt, black tights, sensible pumps, a red string-tie thingy (yarn will do), an umbrella, a carpet bag/weekend bag/giant purse.
7. Eff it
Works if: You give up. Also, own a white shirt.
You'll also need: A sharpie. Beer optional.