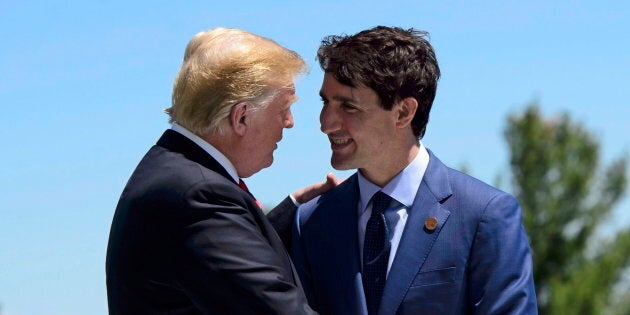 Conservatives and New Democrats are ridiculing Prime Minister Justin Trudeau's apparent refusal to take part in a signing ceremony for the new North American trade pact because of punishing steel and aluminum tariffs.
Despite reaching a deal with the new United States-Mexico-Canada (USMCA) trade pact, the U.S. has not lifted tariffs of 25 per cent on steel produced outside the country and 10 per cent on aluminum. Canada's countermeasures targeting almost $13-billion worth of U.S. goods are also still in place.
David MacNaughton, Canada's ambassador in Washington, told CBC News that Trudeau won't appear alongside U.S. President Donald Trump to sign the USMCA unless those tariffs are lifted.
Opposition MPs, who have criticized the Trudeau government for agreeing to USMCA without securing concessions on tariffs, pounced on the issue in question period Thursday.
"Is the prime minister so vain that he thinks depriving the U.S. of his presence from a photo-op is the best trade strategy to get rid of the tariffs?" Tracey Ramsey, the NDP critic for international trade, asked the House of Commons.
"Make no mistake, we're still signing it. He just doesn't want his picture doing it. And who can blame him? I wouldn't want my pictures taken signing it either. These tariffs are killing jobs."
Ramsey said Canada should not sign the pact until the tariffs are removed.
The prime minister hit back by saying that people in Ramsey's Windsor region are "overwhelmingly happy" the government secured access to the U.S.
"Canadian countermeasures will remain in place until the unfair tariffs on steel and aluminum are removed," Trudeau said. "We will not stop working until these unfair tariffs are gone."
NDP MP Alexandre Boulerice also hit the same notes, saying Trudeau's strategy was to "sulk in a corner" rather than press Trump to lift the levies.
'We can just see the guy shaking'
"If you're not nice with me, no pictures Mr. Trump," Boulerice said, according to a French translator. "We can just see the guy shaking."
The prime minister shot back by pointing out Boulerice recently attended a celebration hosted by the UNIFOR union to toast the new pact, and reportedly lauded the "fantastic" work done to secure "the best deal possible."
Conservatives — who typically like to allege that the prime minister is courting photo-ops and attention — got their licks in, too.
In an unusual twist, Tory finance critic Pierre Poilievre directed his question through the House Speaker to President Trump, pointing dramatically across the aisle in mock sternness.
"This government may have backed down to you on Buy America, on softwood lumber and on so much more, but I will have you know that if you do not back down on your steel tariffs, this prime minister will deny you a photo-op," he said, sparking laughs from Tory MPs.
Poilievre asked Trudeau if he would be willing to go even further and "say he will not appear on the cover of a U.S. magazine until these tariffs are gone."
Trudeau did not acknowledge his rival, instead keeping his eyes on paperwork on his desk.
Andrew Leslie, the parliamentary secretary for foreign affairs, responded by reading the praise former Progressive Conservative prime minister Brian Mulroney heaped on the government for landing a deal.
The prime minister was also pressed on this issue during an interview with CNN that aired this week. Host Poppy Harlow noted that a Mexican official said last month that his country won't sign the USMCA unless Trump scraps tariffs on his neighbours.
Harlow asked if Canada would hold off signing to get tariffs lifted, exploiting what she called a "moment of leverage." Trudeau said only that Canada will keep pushing for that result.
"We're not at the point of saying that we wouldn't sign if it wasn't lifted, although we're trying to make that case," Trudeau said.
When the original North American Free Trade Agreement was reached in 1992, the leaders of each country — U.S. president George H.W. Bush, Canadian prime minister Brian Mulroney and Mexican president Carlos Salinas de Gortari — came together at a signing ceremony in San Antonio, Texas.