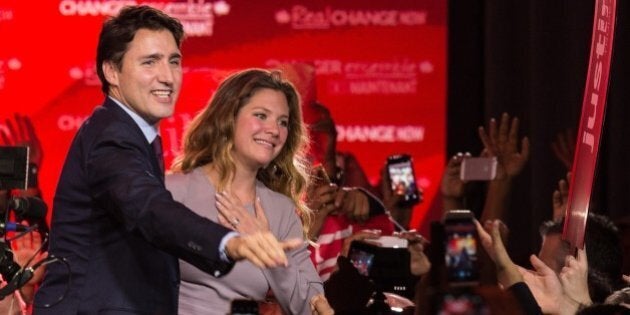 Sure, I'll admit he's attractive. That smile. Those eyes. That hair. At 6' 2'', the former teacher has received a lot of attention about what's on the outside this week.
Amongst all the Trudeau chatter, I have started to notice a bit of a backlash. Some people find all of the talk about his looks degrading and argue that objectifying Trudeau is not OK. A friend was telling me about a Facebook post that she saw that said, "Anyone else over the wave of Justin Trudeau is fuckable posts? This is federal politics, not Tinder."
True. But what I think people are missing here is the real reason women are going gaga over Trudeau. The whole Trudeau wave that is washing over social media isn't just about his looks. It is about so much more.
The real reason that women are going on and on about him is simple. He is the epitome of the ideal man. A modern, relatable, ideal man. He checks all the boxes of the attributes many women consider to be the ultimate qualities a perfect mate or father would have. And many of those attributes would help a prime minister to excel in that role.
I attempted to explain the Trudeau hysteria to my husband last night when he asked me what all the fuss was about. As I started to explain why women love him, he politely reminded me,"You know he's married right?" Of course I do. I would argue that the fact that Justin is a loving husband and father only makes him more attractive to his sea of admirers. It is not that anyone is trying to replace Sophie Gregoire-Trudeau, it is simply that women admire that if he were to have an afternoon off, he'd choose to spend it with his family.
And let's not forget that Trudeau has already revealed his plans to appoint a gender-balanced cabinet. Even more reasons for Canadian women to take note.
He follows in the footsteps of men like JFK Jr. and George Clooney. They were men that women would daydream about but know that they would never have a chance with. When both JFK. Jr. and George Clooney finally settled down and got married it only made them even more popular with their female fans. Trudeau, like JFK Jr. and Clooney, could be described as the elusive "whole package" if you will. They check all of the boxes. Intelligent, fun, charitable and sexy. A guy's guy. A girl's guy.
I asked some friends what made Trudeau so attractive (beyond the obvious). Their answers were all consistent -- he's charismatic, he's smart, he's relatable and he's a family man. While there are many qualities that he embodies, these were viewed as his top attributes: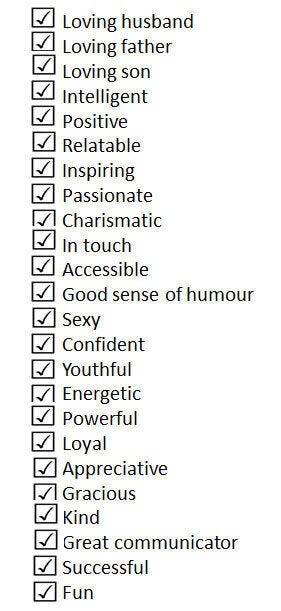 He was arguably underestimated by many and impressively took his party from third place to first. And a majority no less. Who doesn't love an underdog story? Whichever party you support, we can all agree, he electrified the Canadian election and made politics exciting. He inspired a country and is inspired to make the world a better place for his kids and our kids.
While the list of his attributes might seem stereotypical and make some cringe -- I argue that those attributes make him even more attractive as a person. And they make us appreciate him and all that he has to offer even more.
Yes, the world has taken notice of Prime Minister-designate Justin Trudeau. Justin says, "Just watch me" and we say, "We sure will be." Not just because he's good looking. Because he has the attributes and credentials to back him up.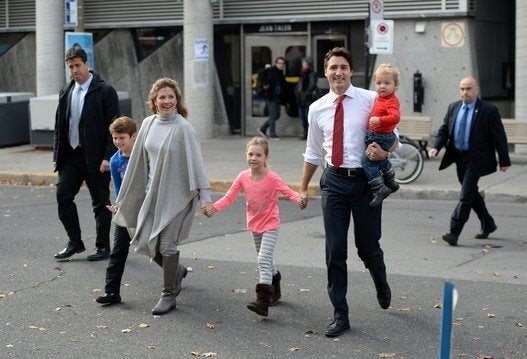 Justin Trudeau's Kids Cheer Him On To Victory