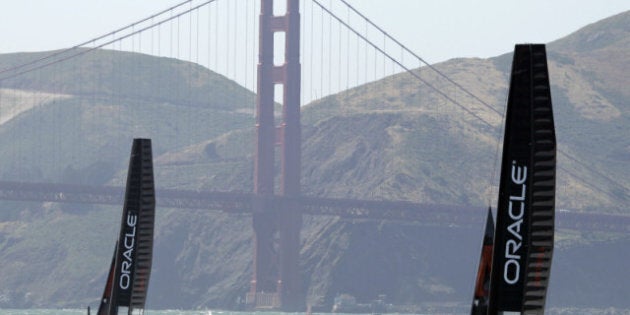 In this series, I will be reviewing best practices in mitigating and adapting to climate change in cities, also known as resilient cities, around the globe, starting with the top 10 cities from my global ranking. Last week I highlighted number eight, New York. Next up, San Francisco.
A few months ago I conducted similar research on U.S. cities only, and not surprisingly San Francisco was number one. San Francisco is doing a lot of things well including demonstrating substantial political commitment to climate action. San Francisco has a published climate action plan, is a member of the Clinton C40 initiative and ICLEI and is participating in the Carbon War Room's Green Capital Global Challenge.
San Francisco's Bay Area Rapid Transit (BART) system has a ridership of more than 100 million annually, demonstration project to introduce hybrid wind and solar LED street lights.
In October of 2010, in partnership with San Jose and the EV infrastructure pioneer, Better Place, San Francisco announced plans to introduce an EV taxi fleet which would be among the first in North America.
"The city's redevelopment plan calls for the transformation of a toxic, abandoned 700-plus acre parcel into thousands of housing units and businesses that will be powered by clean energy, while integrating the area into the ecologically significant San Francisco Bay."
While San Francisco is doing quite a bit to shift to a low-carbon economy it still has plenty of room for improvement. For example San Francisco has the highest per capita emissions of all the cities in my top 10 rankings (10.1 tons of GHGs/capita).
Of course when discussing resilient cities, one must consider what adaptation challenges a city is facing and what is the city doing to prepare for a changing climate. A recently released study by the Natural Resources Defense Council (NRDC) highlighted the 12 cities in the U.S. with the highest vulnerabilities to the changing climate. Unfortunately for San Francisco it made that ranking too. Of nine metrics the NRDC measured, San Francisco was considered at high risk for five of them including: sea-level rise, flooding, water supply issues, increased erosion and increased saltwater intrusion.
All cities around the globe are facing the risk of some kind of climate change impacts whether it be too much water from storm events to too little water from droughts and of course food shortages. A resilient city is one that understands the risks and adequately develops strategies and implements actions to minimize the risks. In conducting my research on San Francisco's resilience, I was surprised to see how much work they are doing to assess the current and future risks related to food security. We all know that developing countries and communities in Africa, like Somalia are already facing tragic drought and food shortages. But San Francisco? In their recently released report: "Hunger and Food Insecurity on the Rise in San Francisco", the 2009 U.S. census estimates that 11 per cent of its population is living in poverty. But like all challenges we face, the first step is to admit you have a problem, which San Francisco is doing.
However given the vulnerabilities to climate change identified in the NRDC report, and having read their climate action plan, San Francisco has a lot of work ahead of it to identify these other vulnerabilities and to develop action plans for minimizing the risks climate change will pose on its population and its infrastructure.
What is your city doing about climate change?