Their Rogers Cup match took a turn for the unexpected, but Serena Williams and Bianca Andreescu still lead us through a masterclass in women supporting women through tough moments.
Williams, who holds the record for most Grand Slam titles in tennis to date, tearfully withdrew from the women's finals match on Sunday in Toronto, four games in, due to an upper-back injury.
Her anguish was so real and so visible that as a viewer, you just wanted to wrap your arms around Williams and comfort her.
That's exactly what her opponent did. And it was not lost on Williams.
"My best moment is definitely today out there with Bianca," Williams said in a post-match press conference posted by WTA. "I just think I was really sad, and she made me feel a lot better. So, that was really nice."
Watch: Serena Williams talks about her Rogers Cup experience and Bianca Andreescu. Story continues below.
As the announcer shared the news of Williams' retirement from the match, it was clear the tennis champion was devastated by the decision. And it meant that hometown favourite Andreescu had won the Rogers Cup.
But Andreescu didn't take the moment to relish her victory. As soon as she found out, the 19-year-old walked right up to a seated Williams.
"Serena, I'm so sorry, can I give you a hug?" Andreescu was captured saying in Sportnet's broadcast.
And Andreescu didn't hesitate for a second when she opened her arms.
Then, she knelt down and held Serena's hand and comforted her, as Williams explained her decision.
"I've watched you your whole career, you're a fucking beast," Andreescu said in admiration and sympathy. "Injuries — I've been through so many already, and you know how they are."
"This sucks — on your back, right? I know everything about you!" Andreescu said as she and Williams shared a laugh.
It wasn't the outcome either competitor had wanted, but they made the best of it together.
The Rogers Cup schedule was a gruelling one, with both players playing every day last week. Williams fought hard the night before to beat Marie Bouzkova, a 21-year-old Czech player who seemed to be everywhere on the court.
After her victory, Williams praised Bouzkova, and her upcoming finals opponent.
"I've never faced her, but I've kind of become a fan with everyone rooting and cheering so hard," Williams said of Andreescu. "It's kind of been contagious, the 'Bianca Effect.'"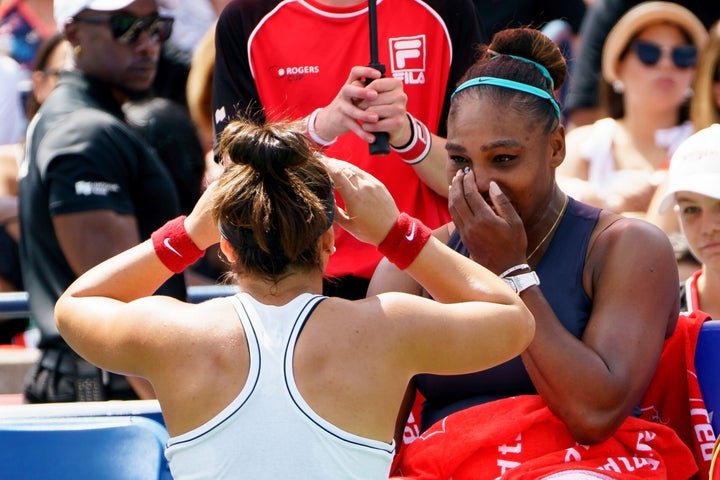 After their match, Williams' view of her opponent was cemented.
"I'm officially a fan," she said. "I mean, I was before, like I said ... She's only 19 — she definitely doesn't seem like she's a 19-year-old. Her words on court, her game, her attitude, her actions, that's what I mean."
The respect and love flowed both ways. "You are truly a champion on and off the court," Andreescu said to Williams as she accepted her Rogers Cup winner's trophy.
″'You're going to bounce back,'" Andreescu said she told Williams during their chat. "'You've dealt with so much in your career, this is just a minor setback for a major comeback, I'm sure.'
"And she was really nice," Andreescu said of Williams. "She was saying very nice things about me, so I really appreciated that."
As far as sportswomanship and mutual support goes, these two have it on lock.