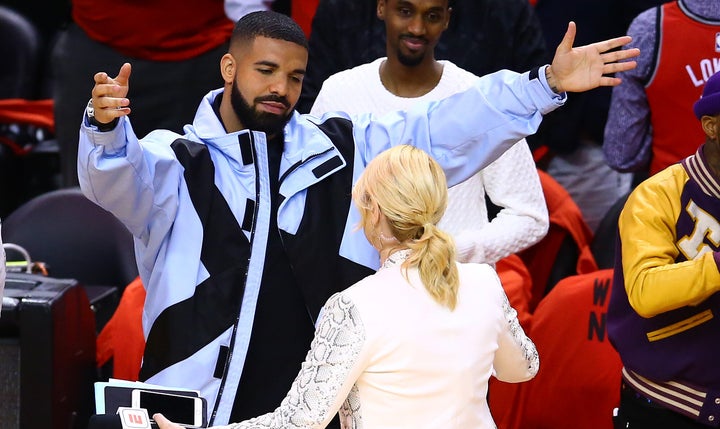 There's a lot you can criticize Drake for. You might think he occasionally steals the Raptors' thunder, for one thing. His insistence on calling Toronto "the 6" makes every person outside of the city cringe. He somehow managed to make an enemy out of Paul Anka.
But after seeing him sing the national anthem on Monday night, you can't deny his love of Canada.
Just before Game 5 of the NBA Finals between the Toronto Raptors and the Golden State Warriors, the Canadian anthem was handed over to the fans. Singer Doug Tranquada took the first verse, and then turned the mic to the exceptionally riled-up fans at the Scotiabank Arena.
One of those fans, naturally, was Drake. And as was evident, he's a man who loves a good anthem.
When the camera briefly paused on Drake, we got a glimpse of the rapper singing along passionately, his eyes closed, swaying side to side.
A gigantic Canadian flag is rippling in the background, behind him. Red light accentuates the fire-engine red of the "We the North" T-shirts of the massive crowd behind him. Someone's going to paint this scene one day.
By the end of the song, his hands are outstretched to the sky, as though praying to some deeply Canadian, denim-on-denim deity. He just felt it!
Naturally, the internet loved it, because loving weird Drake stuff is what the internet does best.
It works for other songs, too, if you're willing to extract the extreme Canadian-ness from this moment.
Perhaps Drake will be signing on as the regular anthem singer for the Raptors next season?