Alamy
Are you ready for round two of Let's Do Brunch? In case you need a refresher, here's the post from last month, where I gushed about my newfound fondness for all things brunch. What a simple and satisfying way to entertain with ease this spring and summer!
In April, we covered quiches, which I happen to think are an essential brunch food. This week I'm talking about another must-have menu item: fruit.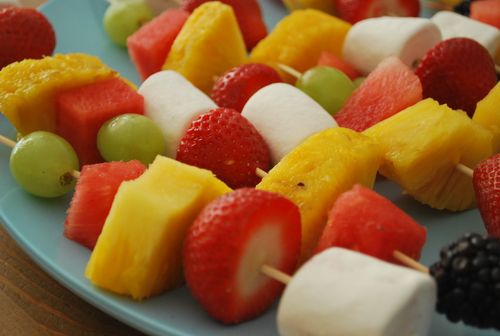 Please keep in mind that when preparing fruit for a brunch, it doesn't always have to be for a fruit salad. There are so many other interesting, and easier, ways to serve this morning food up to your guests. Here are four of my favourite ways to offer this must-have menu item:
Kebabs
This is my favourite way to make fruit for the kids. Add a few marshmallows to your skewers, and they instantly elevate the offering to something extra special.
Individual Servings
Simple fruits take centre stage when they're served in individual glasses. Feel free to turn these into elegant parfaits by adding a layer of yogurt to the bottom, middle and top of the glass. Or garnish your edibles with a sprig of mint and a drizzle of honey. Depending on the fruits being used, these can easily be prepared the night before your big event, making your morning preparations that much easier.
One Fruit Only
Another easy way to serve fruit for a brunch is to offer only one variety, in a large quantity. Think large wooden bowls overflowing with red and green grapes or small glass bowls spilling with wild blueberries or fresh strawberries. As long as the fruit is fresh, ripe and vibrant it will present on its own just fine. Take care to offer plenty of it though otherwise it will appear skimpy.
Fruit Platter
If you go this route, be sure to cut the fruit into bite size pieces. Layer it on a large square or rectangular platter, placing like items with like items. Try using four-to-six different varieties, and consider making the presentation fun by using theme fruits (think only berries or only citrus) or by creating a rainbow of colours (red, orange, yellow, green, blue and purple.)