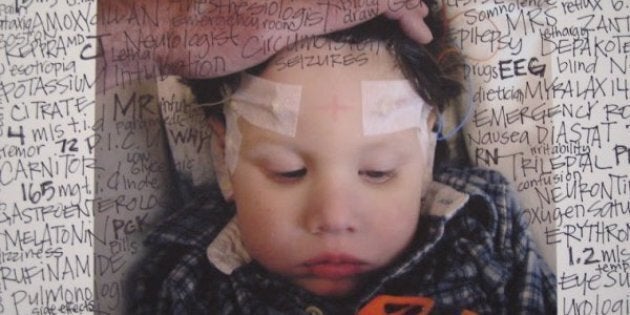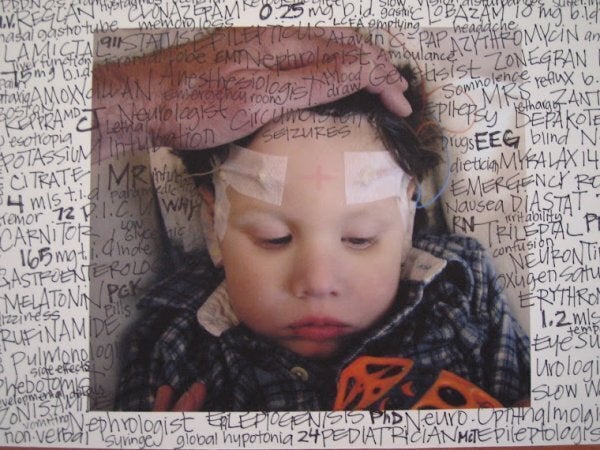 Image reproduced with the permission of Christy Shake.
I intended this blog entry to be about comics on epilepsy, a particular branch of the so-called medical memoir. But instead it has turned out to be in part about parents blogging about their children's illness. Here's why.
Comics about illness tend to be family-centred: e.g. Sarah Leavitt's Tangles: A Story About Alzheimer's, My Mother, and Me, or Brian Fies's Mom's Cancer. Many of them track illness within an intimate group of those affected either directly or indirectly. One of the best-known long-form comics treating the subject of living with epilepsy is David B.'s Epileptic, originally published in six volumes in French under the title L'Ascension du Haut Mal (the rise of the high evil).
Born Pierre-François Beauchard, the artist publishes his materials as David B. Epileptic tells of growing up and living with an epileptic brother, Jean-Christophe. Jean-Christophe's illness defies every attempt to get it under control. As traditional medical routes fall by the way one after another, the family becomes obsessed with miracle cures, alternative therapies, communes, even mediums. Every aspect of family life is overshadowed by illness, violence, conflict, and the neverending story of Jean-Christophe's suffering and degeneration.
In the background, we learn about the history of the family and see the artist struggling to find his calling and his ideal subject. Though David B. resists the idea until the very end of the last volume, of course this subject is his brother and the complex love-hate relationship between brothers living both side by side and paradoxically in totally different worlds.
People are often troubled by Epileptic, by the darkness and the deliberate ugliness of many of the drawings, by the fact that there is no closure, no cure, no revelatory moment, no happy ending, no relief for anyone. The comic stops on page 361 with no improvement in Jean-Christophe's condition, and with no end to the brooding on the complex relations between brothers. Many people find this text deeply uncomfortable. It stunned the comics world and remains one of the most profound sequential art pieces on the psychological impact(s) of incurable illness in the family, and in particular in a child in the family. The foreward, written by the sister and addressed to David B., makes it clear that the painful story remains unfinished at the time of publication:
Sometimes people ask me, "How's your brother doing? -- "Fine, he's fine..." and this is followed by dispatches about your current work, your projects, your loves. At that moment my spirit splits into two. In my head, I answer this question, which could have had to do with my other brother. But no one knows my two brothers, and my second voice chokes between my heart and my throat.
Neverending is an apt description of the experiences of sufferers of incurable illness, and of the experiences of their careers. The blog, an open-ended format composed of both pictures and words, with no natural end, is a perfect medium for encapsulating a sense of working without closure.
Many comics artists maintain blogs for perhaps precisely this reason, such as Brian Fies, just as an ever-increasing number of novelists and academics maintain blogs about their ongoing work. This blog, for example, is connected to two larger projects of mine.
I was thinking about forms of open-ended narrative when I encountered Christy Shake's blog about her son's epilepsy, Calvin's Story. It is an extraordinary site, tracking Calvin's birth with neurological defects and then the onset of epileptic seizures at two, continuing to this day (age eight). The writing is superb, the imagery deeply affecting, the overall emotional, ethical, and aesthetic impact like a punch to the stomach. Look closely at the image at the top of this page. Here is Christy's description from an email to me:
Calvin has had to undergo several 24 to 72 hour EEGs (electroencephalograms) to try and identify the nature of his seizures, whether focal and thus qualifying him for neurosurgery, or general, disqualifying him for neurosurgery. The EEG setup takes 60 to 90 minutes of measuring and marking his skull with grease pencil, then cleaning each of the 28 sites then glueing metal leads filled with conducting paste to his skull using collodion then drying each with ether. It is no fun. I submitted the image--with all of its different words that can be used to describe a moment in epilepsy written in black sharpie--to a postcard call for artists on the word "disability."
Words run off the page all around Calvin's small, tired face. Looking at it, you know it's just one frozen moment out of an endless continuum labels and invasions. I've rarely seen more effective art activism around "disability."
No one can read this whole site without casting aside some degree of apathy, indifference, able-bodied privilege; without feeling a profound respect for the work done, every day, all day, by this family; without the painful awareness that there probably will be no cure for Calvin and no closure to this neverending story, except the end that comes to all of us sooner or later. Christy plans to write a book about her experiences, using her blog as a basis for this creation, and using the proceeds to fund medical research.
Via one of Christy's blog entries, I encountered another blog, Little Seal: Ronan's Blog, Emily Rapp's (author of Poster Child) blog about raising her baby son, Ronan (meaning little seal), who has Tay-Sachs disease, an incurable genetic condition that has already left him blind, paralyzed, and racked with seizures. It will kill him while still a toddler. This blog is also visualized as the material for a book. Like Calvin's Story, it is extraordinary -- poetic, at times brilliant; profoundly meditative about issues such as quality of life, genetic testing, medical research funding, and of course, death. This story has a clear end and one that is coming up soon, but the grief and the parental engagement with Tay-Sachs will be neverending.
I have put these things together in a blog about long-form comics for adults because in many ways this genre, the blog, is itself a sequential art form, and a tremendously influential one. It is both verbal and visual; it is open-ended; it is a popular format and one growing ever more so. It is also a format that is pushing boundaries, making people uncomfortable, making connections across genres and generations.
And it too can change the world with the same sort of transformative insights that the very best "serious'"comics can offer - an effective combination of different types of insights working together. As in the works discussed in my last blog on accounts of white privilege and/or racism in comics, these online creations seek to change the world around us simply by documenting that world. Seeing it more clearly, we are invited to reimagine it as a more just place, if we can. If we can't, we can at least see our own current roles and preoccupations in new contexts.
With that form of transformation in mind, here I recommend:
David B.; Canadian cartoonist Julie Doucet who writes about her own epilepsy (see especially the recently re-issued classic, My New York Diary), and the web-based comics of Laura Seabrook, also about her own illness, now housed at Hypergraphia. And I also recommend Christy Shake's blog and that of Emily Rapp. Readers/viewers may experience discomfort, but they will not be the same afterwards.