There are two things that make Canadians prouder of their country than anything else: watching Team Canada win gold in Olympic hockey, and watching Americans elect a maligned figure to public office.
Of course, many, many Canadians were upset about Donald Trump's victory. But the U.S. election has nevertheless tapped into Canadian smugness, if we're to judge by pieces like this paean to "Canlandia" in The Walrus.
But Canada has little reason to be smug. And it has even less reason to believe that a revolt like we've just witnessed down south couldn't happen up here.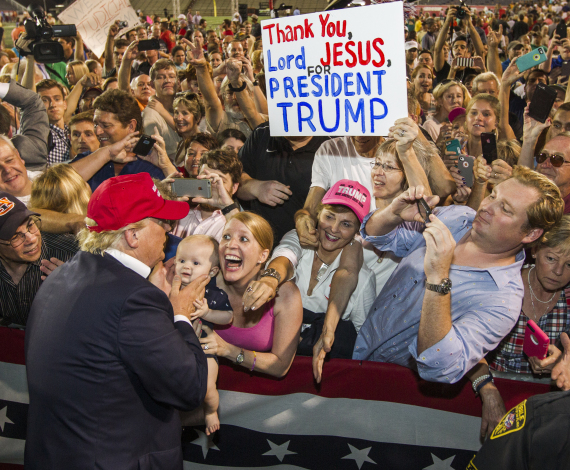 Donald Trump greets supporters after his rally at Ladd-Peebles Stadium on Aug. 21, 2015 in Mobile, Ala. (Photo: Mark Wallheiser/Getty Images)
I won't go so far as to say that Donald Trump could happen in Canada. But he was elected on the strength of some very careful and demonstrably false messaging that nevertheless tapped into an anger, and gave people something to blame.
He convinced voters that they were a downtrodden lot, suffering from factors like NAFTA, political correctness and climate change activism.
A Canadian probably could win votes by exploiting these fears. But why bother lying to people when you could just tell them the truth?
Because there's plenty of truth to tell in Canada: around economic factors like housing, incomes, and the rise of temporary work.
Imagine a middle class Canadian family. They can't afford to own a home, their income isn't changing very much, and the only jobs becoming available to them are temporary ones that don't provide any benefits.
Try to envision the anxiety that parents must feel when they can't afford shelter; when there's little hope of them doing that in the future; and when governments fail to make their situation any better.
Now imagine a politician claiming to understand their pain. Who explains away their suffering using a bogeyman like trade deals or foreigners. And who gives them a sense of catharsis at knowing they have something to blame for their troubles.
The family would easily vote for such a politician -- and overlook more grisly details to see such a person in office.
The link between economic stagnation and populism has been noted by the International Monetary Fund (IMF).
Early last month, the IMF said slow growth was feeding "negative economic and political forces" like Brexit. Not to mention potentially dramatic policy changes, like on trade deals such as NAFTA.
Canadians already don't think much of NAFTA. And there's no telling what else could anger them as Canada's economy keeps growing so slowly.
Here are some problems that a Canadian politician could easily exploit and vault themselves into office. Governments can let that happen or just fix the issues before it does.
Temporary work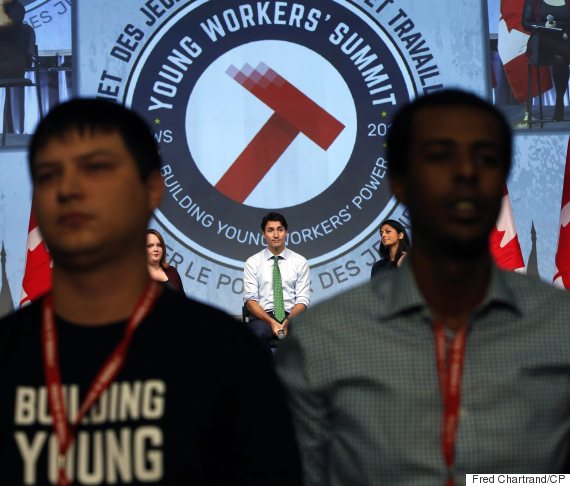 Protesters turn their backs on Prime Minister Justin Trudeau as he addresses the Canadian Labour Congress National Young Workers' Summit in Ottawa on Oct. 25, 2016. (Photos: Fred Chartrand/CP)
Late last month, dozens of delegates at a youth labour forum stood up and turned their backs to Prime Minister Justin Trudeau while he was speaking.
One of the matters they were protesting was the growth of "precarious work" -- and they had a point.
"Precarious work" is defined as insecure employment with poor pay and a lack of job protection and benefits by the International Labour Rights Forum.
And there's evidence to suggest it's growing in Canada.
StatsCan data shows that, from 2009 to 2012, temporary work grew at over three times the pace of permanent employment, climbing 14.2 per cent, while permanent work only grew by 3.8 per cent in the same time frame, according to The Globe and Mail.
Temps are also growing as a proportion of the total work force. And it looks even worse for younger people. Only 23.6 per cent of people aged 15 to 24 worked on a temporary basis in 1997. Now it's closer to 30 per cent.
It's tough to believe that workers are doing all of this voluntarily. A 2014 survey of millennial workers by yconic found that many of them wanted job security, with almost half of respondents saying they wanted to work for the public sector.
A PwC study out of the U.S. had similar findings. It showed that most respondents aged 18 to 44 placed a high value on job security.
Given these findings, it was tough to sympathize with Trudeau when he complained that young people turned their backs to him.
They did that because Finance Minister Bill Morneau had previously talked of the trend to precarious employment like it was just something people had to get used to. And because Trudeau also treated it as a fact of life.
These comments fed an anger that any politician could capitalize on if they wanted to score points at Trudeau's expense.
Real estate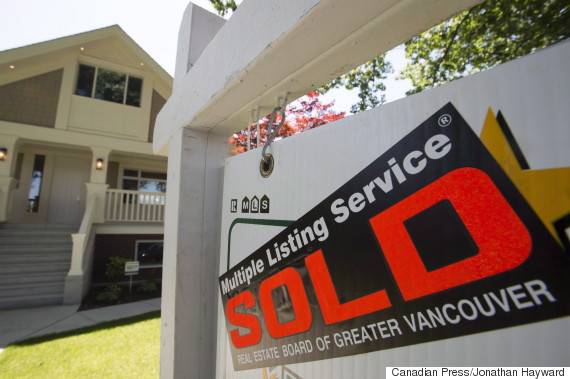 A "sold" sign in front of a Vancouver home. (Photo: Jonathan Hayward/CP)
Talk to young people in cities like Toronto or Vancouver, and they'll tell you they never expect to buy a home in their lives. And the numbers back them up, too.
Buying a home across Canada could cost you almost half your income, well outstripping the 30 per cent you should be paying for shelter, according to the Canada Mortgage and Housing Corporation (CMHC).
The problem is most pronounced in Vancouver, where a home can take up to 87.6 per cent of your income, followed by the Toronto area, where it could cost you as much as 60.6 per cent of your earnings, according to RBC's Housing Affordability Index.
There are many reasons for this, such as land restrictions, a lack of supply of affordable homes, feverish borrowing activity and, yes, the influence of foreign money.
Governments have taken action to address the problem: the feds have introduced stricter mortgage rules, B.C. a property transfer tax on foreign buyers.
But even Bill Morneau has admitted that the impacts of the new mortgage rules are "impossible to say with absolute clarity." His ministry estimates that Canada-wide home sales could fall by eight per cent before they rebound again.
The measure is ostensibly aimed at curbing reckless borrowing -- which is, indeed, a serious problem.
But if affordability continues to erode, it could provide politicians with easy pickings to exploit that anger and vault themselves into office.
Incomes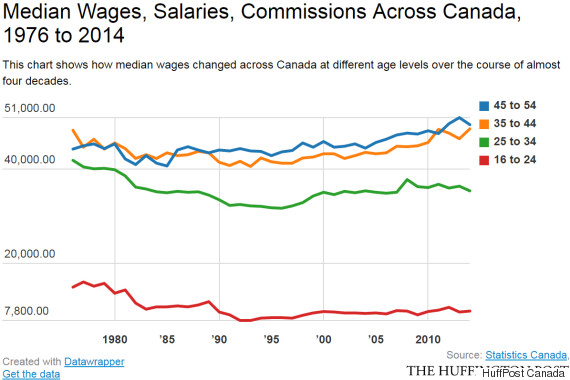 This chart shows that incomes haven't grown much for these age groups in recent years. (Photo: HuffPost Canada)
Canadian incomes are growing. They're just not growing fast enough to keep up with other costs.
A HuffPost analysis from earlier this found that, in Vancouver alone, housing could soon reach a "Rubicon" year, in which every kind of housing, even condos, will be unaffordable for local residents.
At the time that this analysis was done, it looked like Vancouver would reach that point in only four years; Toronto, in 10 years.
Conditions have changed since then; the "Rubicon" year is likely further off now. But what isn't changing much are incomes, particularly for middle-class families.
A 2013 report obtained by Postmedia News found that middle-class incomes didn't grow as fast as for other groups over the course of 35 years.
The after-tax income of middle-class families only grew by around seven per cent in that time, or about 0.2 per cent every year.
Technological changes were but one reason why this happened, the report said. And tech could only threaten income growth further.
A University of Oxford study from earlier this year found that people who make less than US$20 per hour stand an 83-per-cent chance of losing their jobs to robots. People who make over $40 per hour have far less to worry about -- there's only a four-per-cent chance of them losing their jobs to droids.
Bill Morneau's team of economic advisers has offered suggestions that could help to boost Canadian incomes by $15,000 per year. It can't happen fast enough.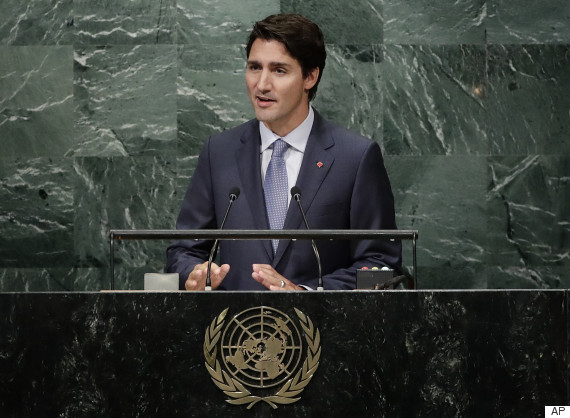 Justin Trudeau speaks during the 71st session of the United Nations General Assembly, Sept. 20, 2016. (Photo: Frank Franklin II/The Associated Press)
There are, of course, massive differences between Canada and the U.S. on many issues, such as immigration and diversity.
A "barbaric cultural practices" hotline didn't propel the federal Conservatives to victory in the last election (although support for a "values" test for immigrants isn't hurting Kellie Leitch in the party's leadership race).
Nor did a pledge to bring in 20,000 Syrian refugees hurt the Liberals.
But there are plenty of other justifiable anxieties here to foster an anger that could fuel a populist revolt at election time.
When Justin Trudeau addressed the United Nations this year, he asked, "Do we exploit anxiety or do we allay it?"
Good question.
Follow HuffPost Canada Blogs on Facebook
Also on HuffPost: