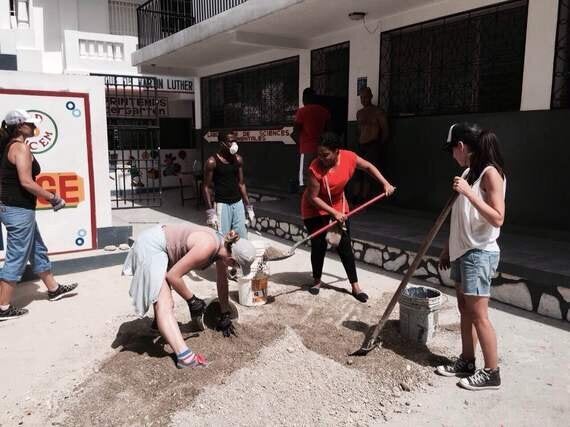 (Photo: Rebecca Cristancho)
Creating something magical out of your life that is greater than you are is the key to a fulfilling life. Serving people and giving them value are just two ways to contribute beyond yourself. I have dedicated my life to helping people master and heal the parts of their lives that most people feel ashamed, embarrassed and silent about. I wanted to help people feel comfortable and empowered to talk about what's missing in their romantic and sex lives, because without awareness and acknowledgement change cannot happen.
Women who had the courage to create and be a part of their own projects that are dedicated to help people in need worldwide. Women whose courage is greater than the thinness of their wallets, yet were not deterred from being creative and giving freely of themselves. This is how I met Rebecca Cristancho.
Project Elev8 helps Haitian people to help rebuild their homes, and Rebecca Cristancho was my inspiration here. Let's back off a little, so I can tell you how and why her.
One day was watching the Chelsea Show on Netflix, when a clear-cut realization hit me that I have to go there and be a guest on her show. I knew I had to share my message about mastering romantic relationships and sex life so bad that I knew nothing would stop me from making it happen. I put fear of not being good enough to bed and took off on my journey of connecting to the right people of that show. Little did I know that I would find something even more meaningful!
I came across Project Elev8 because Rebecca is a part of it. Her beautiful soul devoured my heart and I decided to reach out to her, which was super spooky for her at first because it was so unusual for her to have a girl calling her out the blue from Canada with a Russian accent and asking countless questions. But after a short debriefing regarding my determination to appear on the Chelsea Show and why I was touched by Project Elev8, I won her generous heart.
Here is the interview that inspired me and I'm sure will do the same for you. Dive with me behind the scenes and hear from someone who has one of the richest mindsets I have ever met, and I am not talking about money. But speaking of money, if you want to make your life greater than yourself, I invite you to support this wonderfully beneficial and independent project.
Tell me a little about yourself. Who is Rebecca Cristancho?
When I reflect on myself, I almost always come to the same conclusions. I am someone who continually believes. I believe in myself, I believe in others and I believe in something so much greater than us. I am insecure but aware of it enough to embrace the "negative" and turn it into empowerment. This has taken me years to realize. There have been several times in my life where I made the wrong decisions and each time, I was shown a greater path.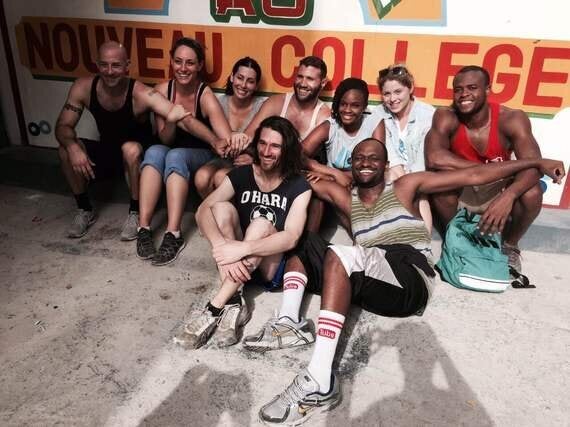 (Photo: Rebecca Cristancho)
Share with me: what's Project Elev8 about?
Project Elev8 collaborates with the local Haitian people to help rebuild and renovate schools in Haiti for sustainability as well as elevating the standard of education. To me, PE8 is so much more than a project. It has given our team members a chance to go outside of themselves and learn what it truly means to give back.
We all wear several hats in this organization, each of us lead very busy lives outside of PE8. My role is to continue to raise awareness and ultimately, secure donations. I have a big part in managing our financials and planning events.
What was going on in your life that you decided to join this project?
This project was created out of a true love for the people I call family in Los Angeles. They have made me want to strive for better things, not only for myself but for them and those they love. I wanted to do something selflessly and empower people around me. I needed to feel something more than just the satisfaction of my career.
What is it about this project that you saw as so special that you just had to be involved in it?
I saw a chance to have a firsthand experience in giving back. A lot people say, "I'd love to help. Doing something like that would be great." But then what? Nothing really happens, in most cases -- which is fine, but I desired more than that.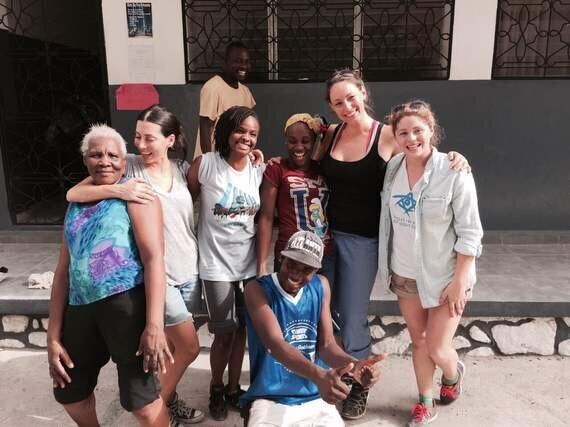 (Photo: Rebecca Cristancho)
How did the trip to Haiti change your life?
It showed me life in a way that I never imagined. PE8 proved to me that the world is so much bigger than myself and I have the power to make a difference.
What feelings did you experience when you were painting walls there?
It gave me sense of accomplishment. I recall thinking to myself, "Wow, we said we would do this...and we actually did"
What's the true meaning of life for you?
I can't really say, I just know I am continually trying to better understand myself, love myself and love others.
What are your life and business goals?
My main objective in life is to take care of those who have taken care of me.
What help does the project need from people?
Donations, awareness and hopefully our passion for PE8 will inspire others to do their own projects.
Follow HuffPost Canada Blogs on Facebook