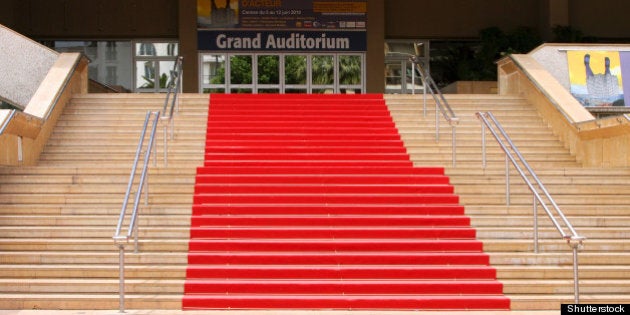 As part of Telefilm Canada's Not Short on Talent project, 40 short-film filmmakers from across Canada are travelling to the 2013 Cannes Film Festival, where their films will be highlighted in the market. The Huffington Post Canada is pleased to share diary entries from a selection of these filmmakers, who describe their experiences at Cannes as Canadians on the rise in the industry. Here is Kyle Thomas with the third entry in our Cannes Diary series. For Kyle's previous entry, click here. For Moira Sauer's intial entry, click here.
With hundreds of films (thousands actually, if you include the market) screening at Cannes, it can be overwhelming to wade through all the options. Yesterday at the market I came across a company promoting a film called Avalanche Sharks (something to do with spring break in the mountains, chicks, snowboarders and...sharks?). Evidently there is something for everyone here at the festival.
Running concurrently are several categories (sub-festivals, really) related to "Cannes," including: Director's Fortnight, Critic's week, Cinefondation, Un Certain Regard, among others. If you have a festival badge, you have access to pretty much everything as long as you line up early. For popular films that are not in official competition, such as Sofia Coppola's Bling Ring or James Franco's As I Lay Dying, expect to get there a few hours in advance. But for feature films in official competition you must log on to the Cannes badge holder's website to apply for tickets to these coveted premiere screenings at the Lumiere Theatre.
This ticketing system is quite strange and elitist, as the premiere tickets that a badge holder has access to are affected by his/her "status" (i.e.: feature director vs. short film director vs. distributor, press, etc.) and personal Cannes attendance history. I still don't really understand this system, and it keeps you glued to the website if you want a chance at the gala screenings. I did not get a chance to attend a red carpet event last year, so this was definitely at the top of my list.
After picking up my accreditation and renting a SIM card for my iPad, I began casually checking online for tickets. A few hours later, I was eating a croque madame on the Croisette when a premiere gala ticket for the new Francois Ozon film, Jeune & Jollie, was released to me. I snapped it up and ran home to freshen up. Evening screenings for films in competition are strictly black tie. This means a tuxedo (or a black suit with a bowtie) for men.
Later, as I waited in line for the world premiere of the Ozon film, swarms of photographers were snapping pictures all around. I was filled with an incredible energy as I stepped onto the red carpet. This is the top of the mountain in the narrative film world, and walking up those steps provided a powerful reminder of my love for this craft. Once you've had a taste of the red carpet, you simply want more!
Jeune & Jollie tells the story of an upper-class 17-year old girl's sexual awakening over the course of one year as she prostitutes herself for reasons that I can't quite comprehend. This was not a bad film by any means, but it wasn't breaking new ground either. Given the subject matter, I think I would have preferred a film that took a few more risks, both in terms of sexual representation and cinematic style.
The following day was a disaster. Even with an umbrella, you couldn't walk for more than two minutes without getting completely soaked from the rain. This made doing anything unpleasant. This also meant that a few extra tickets for competition screenings would be kicking around on the website, so I snatched one up for Jimmy P: Psychotherapy of a plains Indian, the latest film by French director Arnaud Desplechin. I often love films with a slower pace, but this film was like a fine piece of quality, organic meat that was overcooked and under-seasoned. It felt like an adaptation of a social science textbook, delivered in the most conventional and dry manner possible. A shame, considering the rich and interesting subject matter. I honestly don't understand why this film was selected to screen in official competition.
Later in the evening the rain subsided and Canadian filmmakers from the Not Short On Talent program met for dinner in the old port. As the only Albertan in attendance on the NSOT team, I was thrilled to connect with like-minded peers and colleagues from across Canada. The sheer size of our country prevents a lot of face-to-face engagement between filmmakers, particularly for those of us working in "regional" practices outside of Toronto or Montreal. But if the solution to this disconnect involves congregating on the French Riviera every year in May, that seems alright by me.