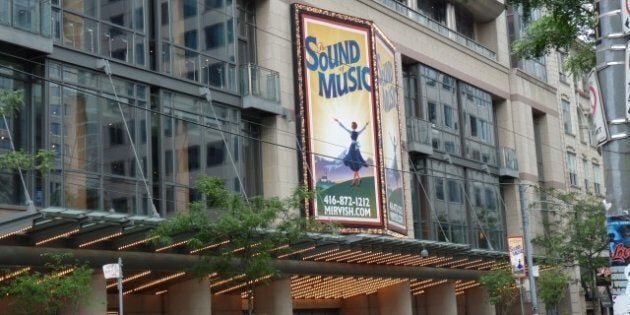 Toronto is a cultural quilt, interwoven with many elements that make it unique. One key element is the arts community, a binding force of its social fabric. It is one of the many reasons why millions come to visit and also call it home, including myself. We have access to every kind of art you could think of. For me, theatre is the scene I am most active in, both as a spectator and as a performer. It is also the scene I am most worried about. Professional and amateur groups alike are struggling to fill seats, and in turn are closing their curtains.
It broke my heart to see David Mirvish announce that the iconic Princess of Whales Theatre of King Street is shutting its doors, permanently. I walk by this theatre everyday on my way to work. It is an architectural gem and home to many famous and world-class Toronto productions; everything from Miss Saigon to Beauty and the Beast. To think it will turn into yet another condo development is painful. Mirvish noted in interviews with the media that his other venues are operating between 50-60 per cent of their capacities. It's not the thriving scene it once was.
Professional groups aren't the only ones struggling to fill audiences. Community theatre groups across the city are dissolving one by one. The latest one at risk is a thirty-five year old non-profit group, Curtain Call Players. If they don't sell enough tickets to the upcoming production of Joseph and the Amazing Technicolor Dreamcoat they will be yet another Toronto theatre staple forced to take a final bow.
Community theatre is an integral part of the local arts and culture scene. These groups, like Curtain Call, offer downtown Toronto quality theatre at a reasonable price. For me, this hits home because I am a member of Curtain Call and a performer in its current show. This group and others that I participate in like Etobicoke Musical Productions, give me an outlet to enjoy my passion.
I, like many, wanted to be a professional actress or performer growing up. Reality set in when I graduated university and I realized I was too practical to make a go of it as a career. Community theatre gives me the opportunity to enjoy my passion and have a full-time job. For others, it's a platform to launch their professional careers. Curtain Call has seen members go onto the professional stage, like Melissa Thompson who played Belle in Toronto's production of Beauty and the Beast.
It's certainly not for the lack of choice, quality or entertainment value that these theatre organizations and groups are facing hard times. I see the productions that come to Toronto, both professional and amateur, and many are nothing short of amazing. For community groups, I believe part of the problem is awareness. These groups don't have the resources to advertise and promote their shows - so maybe it's a matter of the public not knowing what they don't know -- which is part of the reason why I'm writing this blog.
We need the support of the community to keep both professional and amateur groups alive. People need to reignite their joy of theatre or find it for the first time, and all it takes is one show. Go to one show and feel the magic it brings. The production I'm in, Joseph and the Amazing Technicolor Dream Coat, opens today at the York Woods Theatre. If you've never experienced community theatre, try this one for size. I think you'll be delighted by the talent, professionalism and entertainment we bring to the stage. Help keep local theatre alive -- don't let this be the final curtain call.
I'd invite others to join the conversation and share what they think. Do you think it's a shrinking scene? Why do you think community groups like Curtain Call are struggling?