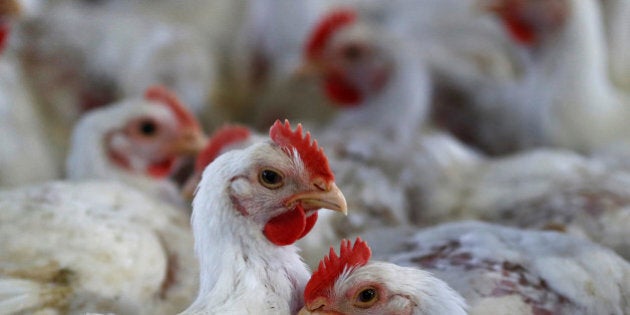 Canada's food and agriculture industries have launched a public relations blitz designed to build public trust and confidence in Canadian food and farming. But even a cursory look at how this campaign is being conducted and who's behind it suggests consumers should cast a skeptical eye on its claims.
Farm & Food Care Canada is a charity with a self-proclaimed mandate to "help Canadians make informed decisions about their food by providing credible information." Launched in 2011, the group works to counter the efforts of animal advocates who criticize the livestock industry and its practices.
In 2014, its Ontario branch created a hotline for farmers to call an "emergency squad" to confront protesters at farms or meetings. A spokesperson for the group at the time said it works "behind the scenes" to see what activists are planning and prepare a response.
Now Farm & Food Canada has moved on to a much bigger PR effort, including training farmers as speakers, launching websites, blogs, social media and YouTube channels, and most recently, distributing thousands of booklets via national newspapers. Consumers wondering whether the campaign really does provide credible information might be interested to know who's funding it.
Donors to Farm & Food Care Canada include a long list of agri-business trade associations and companies, including Maple Leaf Foods and Burnbrae Farms (Canada's largest egg company).
In 2014, Maple Leaf Foods faced animal cruelty allegations when an undercover video showed chicks being abused at one of its hatcheries. Burnbrae has been criticized for selling eggs from farms in which hidden-camera footage revealed animal mistreatment.
Clearly, Farm & Food Care Canada is unlikely to be an unbiased source of consumer information on food and agriculture when it is funded by the food and agriculture industry. Its board of directors is stacked with industry executives, farmers and public relations advisers.
A recent undercover investigation of an Ontario egg farm illustrates how the role of these groups can be ethically questionable. The investigation, by animal advocacy group Mercy for Animals, produced graphic video evidence of cruel conditions for hens at a farm owned by Gray Ridge Egg Farms. The CCFI convened a panel of experts to review the video.
Although the panel acknowledged some welfare issues, it generally downplayed the seriousness of the problems, suggested they were unreflective of the industry and questioned the validity of the video. Its conclusions appeared in local media.
The issue here is not whether the CCFI panel's assessment of the video is correct. The problem is that the CCFI, a body created by the industry-funded Farm & Food Care Canada, is hardly in a credible position to appoint panels to assess allegations against the same industry.
And, given that Farm & Food Care Canada has one of Gray Ridge Egg Farms' executives on its board and its Ontario branch lists the company as a "Gold Member" on its website, it's even more difficult to see why the public should trust the panel's findings.
Equally questionable is the content of some of Farm & Food Care Canada's communications. In an attack on the popular and rather benign Meatless Monday movement, one of the charity's booklets claims the initiative is "the brainchild of two New York socialites who support a number of animal rights and anti-meat programs." In fact, Meatless Monday was founded by Sid Lerner, an accomplished advertising executive and award-winning public health advocate, working with the Johns Hopkins Bloomberg School of Public Health.
He has stated: "No we are not trying to get meat off the menu. We make it very clear to every institution or school or restaurant that we go to we do not want to get meat off the menu, we just want to get alternatives on the menu." So much for Farm & Food Care Canada's mandate to provide credible information.
If consumers want a trusted source of advice on food and agriculture they might want to look elsewhere.