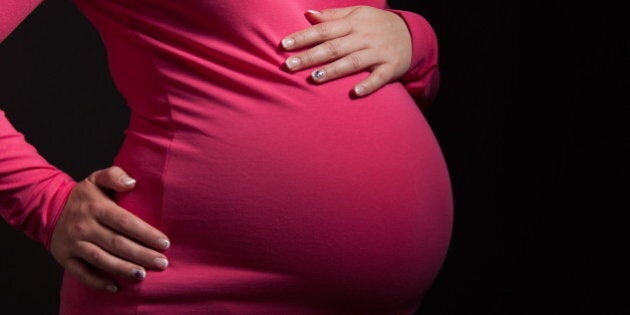 She was about eight or nine months pregnant, belly hanging low, baby about to drop any day. The previous months had clearly taken a toll on her, as her face showed the exhaustion and fatigue required to make a human being. She was physically spent, yet there she stood.
Yes, she was standing. Standing on the 505 streetcar in downtown Toronto, as it abruptly stopped and started in morning rush hour traffic. Had she slept the night before? Unlikely, as anyone who has experienced the final months of pregnancy knows: a good night's sleep is an ephemeral and fleeting fantasy.
Yet there she stood, while all around her, young, fit and otherwise preoccupied citizens pretended not to see her by burying their heads in their smartphones of choice.
A 20-something man in a crisp suit, clearly headed to his job in the financial sector pretended to sleep, as his eyes closed immediately after viewing the pregnant woman's swollen belly.
A middle-aged woman played candy crush saga with an intensity and fervour that many of us thought only belonged to a younger generation of gamers, her eyes glued to her retina display screen.
Three teenage girls in private school uniforms giggled amongst themselves, giving nary an eye to the belly that not only protruded into the aisle in front of them, but turgidly languished on the very edges of their personal space. You see, her belly -- had it been acknowledged -- would have broken up the party, and that wouldn't have been cool. The latest gossip about that cute guy in class and recap of last night's TV show was much more important.
This had not been the first time that I had seen such appalling behaviour. Sadly, in my experience, purposely ignoring pregnant women while riding public transit has become the norm, not the exception. What has happened to humanity?
I've posted many rants and complaints about this on my personal Facebook page and talked to many friends who are mothers themselves. All of them have a similar story to recount about how they have been ignored while pregnant and riding public transit.
A personal anecdote: during my last and final pregnancy with my twin boys, I could barely walk. I was considered "high-risk" for a few medical reasons which relegated me to bed-rest for most of my pregnancy. On those off days before I was completely immobile, somewhere between my seventh and eighth month of gestation, I needed to use the public transit to get to my doctor's appointments. Now, let me say that having my third pregnancy and twins, no less, made me huge, much earlier than I would have been, had I been on my first pregnancy. In other words, there was no doubt that I was indeed pregnant.
Their eyes averted, I was ignored, invisible and silently defeated as I struggled to balance so many times on the streetcar, hoping that some kindly person would give me a seat. My elephant-sized ankles continued to swell, my feet ached and my back painfully swayed with each lurch and jolt of the streetcar. Everything hurt, including my feelings.
As the mother of four, and one who has experienced three different pregnancies, I'm sad to say that this experience wasn't atypical. Sadly, it was the norm, not the exception for many of the woman that I know who have been pregnant. What on earth is going on?
While I don't profess to have all of the answers, I do believe that our culture of entitlement is a huge factor in this cultural shift. Once upon a time, there was chivalry, then socially accepted norms that included women, about "doing the right thing." Helping someone who was clearly in need was the norm, not the exception. With the increasing sense of entitlement, exemplified by the "Me Generation" and continuing onward, those in need haven't had a snowball's chance in hell of getting a fair shake. Whether they're seniors who are unstable on their feet, the disabled or the aforementioned pregnant woman just looking for a kind soul who will let her have a well-needed seat, the chances of these folks receiving this small kindness grows smaller every day. The lack of focus on others, supported by the technological tools to "zone out" or feign ignorance wherever and whenever possible makes this willful blindness not only possible but probable as well.
Yet, in spite of this trend towards selfishness, I do believe that change is possible. The change starts now with all of us who are raising children with the values that support kindness and compassion. And while we make efforts to effect our childrens' behaviours in future there are some adults who are in need of an etiquette refresher now.
I am starting a one-woman public awareness campaign as I feel that it needs to be done. As someone who has endured a very difficult twin pregnancy and was on the verge of begging someone to please give me a seat, the time for greater awareness for this reality is long overdue. Clearly, the assumption that everyone riding on the bus/subway/streetcar/[insert transportation mode here] understands that pregnant women should be given a seat is completely wrong. My assumptions -- based on the teachings of my parents (thank-you, Mom and Dad) underscored the importance of kindness, but more specifically the need for those of us who are more able, to extend said kindness -- and where appropriate, a seat -- to those in need. This includes the elderly, the disabled and, of course, pregnant women.
Whenever and wherever you can, please remind those riding the public transit who seem to have forgotten basic courtesy that pregnancy is challenging, difficult and just plain exhausting. If a pregnant woman is standing while able-bodied people are pretending not to see her, be her advocate and ask them to give her a seat. I've done it before and have never been told "no," probably because the shock of being called on their bad behaviour mixed with their embarrassment makes the culprits stand up quicker than one would imagine.
Perhaps making the subject one that is no longer ignored, one where pregnant women don't have to suffer in silence, will put an end to it once and for all. If anything, making those who are oblivious more aware of their choices and how these choices affect others will affect change, hopefully for the better.
I'll be tweeting and sharing the hashtag #StandUpForMom and #giveupyourseat on my social media channels to keep the topic top of mind and hope you're able to share it as well.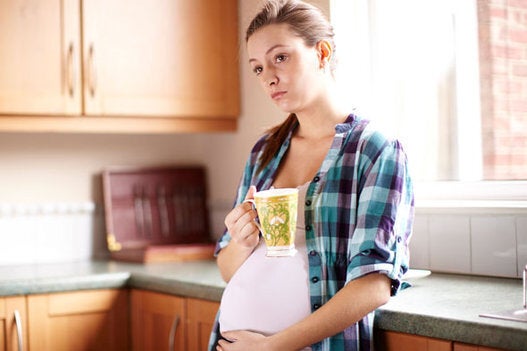 Pregnancy worries and words of comfort