This week, the ongoing trench warfare between Ontario's doctors and the government of Premier Kathleen Wynne took yet another downward spiral. And here I thought things couldn't get any worse.
The Ontario Medical Association (OMA), recognizing that it needed to respond to the misery of the patients of Ontario, launched the #notasecondlonger campaign. This campaign is centred around the fact that wait times for multiple medical procedures (not to mention waits in overcrowded hospitals for hospital beds and emergency room treatments) are rising exponentially. "It's the government's fault," states the OMA.
Interestingly, the OMA chose not to specify "Ontario Liberal" government. I guess the organization feels that people can connect the dots and blame the Liberals. They also, in a stroke of genius, provided each member of provincial Parliament with a handout showing how long the wait times for various procedures were in their own ridings. A shot across the bow in a "you can't say you weren't told" mould.
Following this, the breakaway Concerned Ontario Doctors (COD) group held a press conference further outlining the cuts to health care. I'm not a member of the COD anymore, but I follow their activities with some interest. At their press conference, they highlighted many of the same concerns front-line physicians have, such as wasteful bureaucracy (particularly the Local Health Integration Networks — LHINs) and high burnout rates among physicians.
The most telling part of this is the Liberal government's response to these allegations. This being election season, one would expect the usual saccharine pap about planned investments into health care in the future (none of which anyone with an ounce of common sense could be expected to believe).
The strategy seems to be to continue to vilify physicians publicly by insinuating that they are only interested in their pocketbooks.
One would also have expected the Liberals (again, given that it's election season), to make some banal conciliatory statements about the importance of working co-operatively with physicians, and how important the views of physicians were to the functioning of the health care system (none of which any physician with an ounce of common sense could be expected to believe).
But that's not what happened.
New Ontario Minister of Health and Long-Term Care Helena Jaczek instead took a page out of former Health Minister Eric Hoskins' playbook and once again seemed to mislead Ontarians about physicians' income. She, like Hoskins, claimed the average doctor billed Ontario $348,000 annually — but did so without accounting for overhead — and also claimed that a handful of specialists billed over $1 million a year — again, without accounting for overhead. For some specialties, overhead can be extremely high.
While she tossed in a statement about the "good, important work" physicians do, noticeable by its absence was any commitment to try to work co-operatively with physicians in the future. Further, when opposition Health Critic Jeff Yurek asked her why the government wasn't working with physicians, she replied that the OMA was only speaking out because of contract negotiations.
All of which makes me wonder: are the Liberals just plain unable to learn from their mistakes? Or have they simply given up on every trying to work co-operatively with Ontario's physicians?
The last time that an Ontario government tried so hard to defame physicians was Bob ("I am Super Elite") Rae's NDP government (1990-1995). That game plan worked so well that Ontario was left with a huge health care crisis in the late 1990s, and three million people without a family physician and untold suffering throughout the province. Alas, during his disastrous tenure as health minister, Rae chose to ignore history and tried to force change in health care by berating physicians.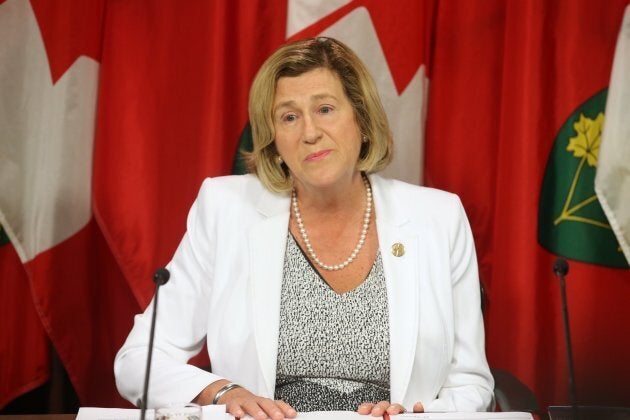 Similarly, Jaczek and the Liberals have been smearing physicians regularly for years now. The result? A health care crisis with untold suffering throughout the province. I mean, really — do they not realize by now that this approach simply is not working? Why do the Liberals keep using the same tactics that have failed the patients of Ontario so spectacularly over the past four years?
Unfortunately, an alternative explanation is likely the answer. The Liberals simply do not care what physicians think, and no longer wish to work with them anymore. They have come to the conclusion that those pesky doctors are simply a thorn in their side. Maybe they hate having been proven wrong by other doctors who have spoken out. Maybe they don't philosophically believe that physicians and government should work together to provide for the health care needs of the public. Maybe they are just plain stubborn.
But the Liberals have made it clear this week that they will not collaborate with Ontario doctors in the provision of health care going forward. One can only hope that the people of Ontario realize what this means for their health care, and vote accordingly on June 7.