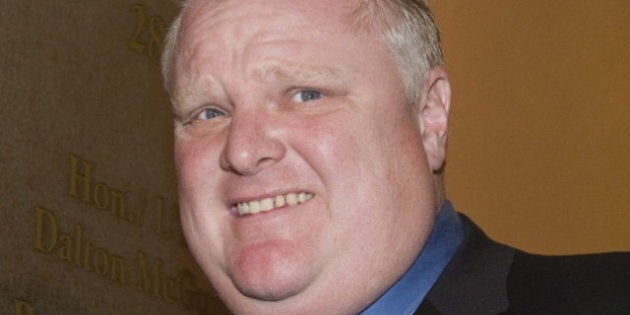 Inspired by the very public diets of Toronto's Ford brothers -- Mayor Rob and brother Doug -- a Huffpost contributor has decided to take up their Cut the Waist challenge, and shed 30 pounds by June 18. Our contributor will weigh-in every Monday with his progress (including a photograph of his bathroom scales that morning). He would like to be less public, however, about his identity.
I figured if I was going to start a serialized account I might as well open like Dickens. But that's where any similarity between Dickens and my weight history stops. There were no "Please, sir, may I have some more?" moments in my childhood, only "Please, family, may I eat whatever you have left?"
I was a human garbage disposal, skinny and tall like a praying mantis, and my two sisters haaaaaated me for it. A box of Kraft mac 'n' cheese? After-school snack. Dinner was always two heaping helpings of food along with two heaping glasses of whole milk. Skim milk? Who had ever heard of such a thing? A box of pudding? Round one of dessert.
Counting calories? Portion control? These were alien concepts to me during my teenage years. I grew to be six feet quickly and in seventh grade was the Shaq of my day. I was a free-range eater. I ate when i was hungry and I was always hungry, and there were absolutely no consequences to this behaviour.
It was all fun and games until around 25. Then, all of sudden...well, what the hell?
Now I'm 52, I have Type-2 diabetes, and I have been battling weight my entire adult life. I have been on every diet, been to behavioral therapy for a year, and met with a nutritionist weekly for several years. I know everything I need to know about nutrition, about making good choices, about exercise, and about strategies before holiday parties.
I can tell you the Weight Watcher points for anything just by looking at it. I can tell to the tenth of an ounce how much is four ounces of turkey. I can tell you the best strategies for late-night snacks, the best snacking foods before exercising, and the trade-offs between various salad dressings.
I can tell you why I'm eating, and what my emotional eater profile is.
The one thing I can't tell you because I'm still trying to figure it out is why I'm not freakin' losing weight?
I hope that by keeping this fat diary, I can reveal to myself and any dear readers who care to follow my trek, what I'm doing right and what I'm doing wrong.
About myself: I'm a professional geek who has been building Human Resources software since the first Bush administration. I sit on my butt pretty much all day and think think think. I go deep into flow, fingers typing with maestro flare, a Mardi Gras carnival of activity in my brain. But, to the motion detector in my office my physical body resembles the onset of rigor mortis; it commands the lights to turn off. Thankfully we don't have "smart" lights programmed to send an alert to HR to pick up the dead guy.
My nutritionist turned me on to running and the concept of regularly going to the gym. Oh that's right -- the body was designed to sometimes move. That was a couple of years ago and now I run 10K a few times a week. I also have a racquetball game every Sunday morning with my friend whose the same age as I, but a number of pounds lighter.
When I went to the gym and started working out occasionally with a trainer -- I'll call her Kickass -- with whom I developed e a very special relationship. Even during the periods when I wasn't training with her -- when I was running and was on the eight out of 10 km and my body was pleading me to stop for the day -- I would imagine Kickass with her encouraging but forceful tone saying: "You can do it. Keep going. Don't let your body convince you you can't." Now I see Kickass every Saturday for one-hour training sessions.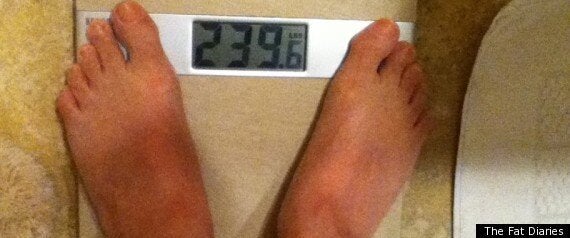 I weighed in this morning at 239.6 pounds which is my "point set." Last year I got down to the 225s for a week, recently i was up to the early 240s. But eventually all roads lead to 235. My goal for the Fat Diaries is to track how I get down to the low 200s. I don't know what support system Rob Ford has for his weight-loss challenge, whether the mayorship brings with it a staff of trainers and personal cooks.
I just have myself, my wife, my 16-year-old, my two dogs, my iTouch and my Nike+ sensor on my gym shoes. I hope you follow me on the Fat Diaries. Maybe together we'll learn a thing or two about how to lose weight.
I've found what works best for me with weight loss is accountability. It's one thing to make a promise to my doctor to do better or to join a support group with a weekly weigh-in. But you have to hand it to Mayor Ford for committing to a weekly weigh-in on the steps of City Hall. Mucho huevos, my friend, mucho huevos.
The biggest step I'm taking this week is to start this blog in front of potentially millions of HuffPost readers. I'll be thinking of you, and you, and you, and you -- and yes, you, I'm talkin' to you -- whenever I reach for, oh, say a stray cinnamon roll that found its way to the kitchen area at work. I'll be thinking of you when I consider skipping a 10K run because I've faked myself out to think I'm too tired.
I have no idea how many people will actually read this. The more the better, because my theory is the larger the accountability is, the better I'll stick with a strong regimen. The problem is, of course, that nobody knows who I am. And it's not like I've embedded hot Google search phrases like "Naked Scarlett Johansson" as a cheap way to get more hits...