Dear Penthouse Forum,
I never thought this would ever happen to a regular guy like me. I was hosting some work friends from out of town and took them to this schwanky Mexican restaurant. Drinks were delivered and as we were all clinking our glasses after the toast I noticed the seductive lighting suddenly fell upon this one chick. I don't remember what she looked like (she had hair or something) but I can tell you what she was holding: an "Organic Margarita" made of organic 100% Blue Weber Agave Karma Silver Tequila and the restaurant's handmade fresh juice margarita mix. Oh yeahhh.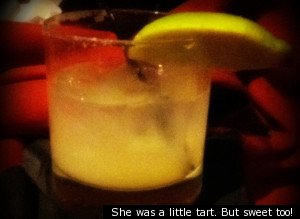 At first I tried to ignore her but she was giving me googly eyes all evening. The margarita, not the chick. Soon I fell into a reverie revealing a montage of me and...I'll call that luscious margarita, "Marge." In the first scene I'm driving a convertible with one hand while holding Marge with the other, the red scarf around her glass blowing free with abandonment. Next it's the two of us walking glass-in-hand along the beach at sunset. Marge peers behind me to see only one set of footprints in the sand and figures I must be God. Next thing I know we're resting in bed, a lit cigarette leans easy inside her glass...
One of the eight glasses of water I'm supposed to be drinking every day splashes cold water on my face.
Brrrrrwhat? Snapping back to reality, I remember I'm writing for HuffPost instead.
See, the thing is, I could not get that margarita out of my head! I had had one before and couldn't wait to take my work peeps to this one restaurant for this one sole reason -- they just HAD to try this margarita. Well, that was before i went all stupid and decided to blog in front of millions of people about losing weight. D'OH!
This dinner was on Tuesday, the day after my first blog appeared. And no matter how much I tried to strategize how to sneak at least one margarita down my gullet without my body noticing it, I realized I was hosed. Nope. No margarita for Fat Boy.
That margarita would've been a gateway drug straight to the chips, the salty chips a gateway to the spicy salsa (tongue: "hot, hot, hot"), and that would've recapitulated us right back to the ice-cold margarita. Each gulp fantastically starting the cycle again. By the time the waitress would've taken dinner orders, the tequila would have smacked down my best intentions and the next thing I'd know, I'd be served the cheesiest, globbiest, starchiest thing on the menu. By the end of the second margarita my plate would've appeared licked by a dog.
I remember the wise words from a friend many years back who himself had struggled with weight. He would've told me: "I know you love that margarita. And you know what? One day you can have one. You're not going to wake up tomorrow morning and read the headline "Organic Margaritas On Endangered Species List! [Editor's Note: margaritas are too a species!] That margarita will always be there. It's not going away. You just can't have one ... now."
And my friend is right. Right now my priority is losing weight. When I hit the low 200s in June I'll celebrate and have one. It'll be waiting for me. That friend was a wise man. One day while we were hammering out some computer code he seemed frustrated and turned to tell me, "Imagine a person who leads a really bad life, like, they sell drugs to little kids. After they die that person gets reincarnated into your keyboard" which was his way of telling me to type freakin' softer.
The obsessive nature about our food cravings is fascinating. You know that angel v. devil debate I was having with myself while I was trying to strategize the impossible? How to both have -- and not have -- one of those margaritas at the same time? It turns out there is a biological mechanism in our brains that acts out the roles of both our angels and devils. I heard it on a Radiolab episode once.
A woman tries to quit smoking following the advice of her inner Angel who helps her strategize, rubs her back, and gives her encouragement. But she finds that the voice of her Devil has one dominent strength over her angel -- it's LOUDER. She has a close friend, both of them veterans of the Civil Rights Movement, and her friend comes up with an ingenious plan. She figures out a way to make her smoking friend's devil inadvertently conspire with the angel. She tells her friend, "So help me God, if I ever find out you smoked another cigarette I'm gonna donate $500 to the Ku Klux Klan!"
The smoker has tremendous anger about the Klan. She didn't have a textbook memory of them, she had experienced the very real thing down south in the '60s. And there's no way she's going to have her friend give them a red cent. That's what she thinks about now when she craves a cigarette. That deep emotional hatred she has for the Klan? That's owned by her devil, the same entity in the brain that is craving the cigarette. Except now she's got her devil chasing its tail and in doing so, has weakened its voice. The Angel stands by observing the fun with its arms crossed, wearing a smirk on its face. Nobody likes a smart-ass, so I'd like to imagine the devil gets at least one good pitchfork to the tuchus before surrendering.
In my case I thought about you, dear readers. All the encouraging comments from my original blog rose to give you all a singular voice that resonated inside me. You gifted a megaphone to my angel and like Jane Lynch's character in Glee, the volume of that sound smacked down my devil and left it whimpering in the corner crying for its mommy.
When it came time to order drinks that evening, I happily asked for a bottle of sparkling water. For dinner I ordered cod and instead of rice, a double helping of vegetables. After one week of blogging I'm down 2.6 pounds now.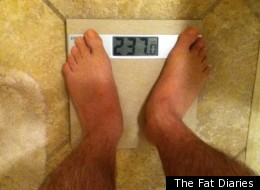 Strategies for Next Week
I find myself traveling on business two or three days a week and this week is no exception. Recently I bought new luggage that was wider but shorter (so that it was sure to fit in any plane's overhead bin) in order to pack my gym shoes. I figure if I can get in a 10K run on the hotel's treadmill that will help balance the poor choices I often make when eating on the road.
Being a diabetic traveler means I have to plan ahead in case my blood sugar takes a dive and there's no available food nearby. Glucose tablets help initially but if my plane is stuck on the tarmac for what could be hours and I don't have contingency food, I'm toast. (Mmmm, toast). I've been in hotels where they close the kitchen at 11 p.m. and there's nothing else available. I plan to write more about my diabetes in future weeks because it adds a level of complexity to weight loss.
I'm often dining with my associates after a hard day's work on another time zone, and when we eat at a fine restaurant my devil goes into overtime with all the rationalizations about my toiling in the fields, how clever I was to pack my gym shoes for a run that maybe now I'll do tomorrow because why spoil the enchanting time I'm having now? The seat is so comfortable, the menu so delectable, I'm with friends I hardly get to see anymore, and really, what is a life without spending time with good friends? Best to live in the moment!
Yeah, well. That's how I got to weigh almost 240 pounds and I don't want to be that heavy. Ever again. So using my new BFF, my Angel With A Megaphone, this trip I plan to do some things I've never done before:
1) I'm not going to drink;
2) I'm going to plan ahead and have some protein bars in the event of a sugar drop (thereby foiling the rolling-eyes strategy of "I better eat a little more to ensure I have enough sugar in the reserves");
3) I'm going to do the 100 crunches and push-ups that Kickass (my trainer) wants me to do every night; and,
4) I'm going to stop perpetuating this myth I made up that eating business-expensed food is equivalent to free-caloric food.
Every bite counts. Your encouragement counts. Thank you for your kind words. Oh, and a special thanks to the foot fetishers out there for not commenting on my scale pictures. Much appreciated.
The Fat Diaries will run weekly through June 18 -- the date our contributor plans to have lost 30 pounds. You can read his first entry here.