When you drink wine, in a small way, you're helping to save the environment.
If you think about it, every time to commit to one bottle of wine over another (especially if it's your favourite kind), whether you realize it or not, you're supporting the craft of countless wine makers and their respective vineyards who have dedicated their lives to creating that precise flavour profile you enjoy.
In fact, wine makers are not only guardians of the vineyard, they also ensure that expressions found in different grapes (and ultimately -- in the wine) will be cared for. It's about showing respect for the terroir, understanding it, and showcasing it in a bottle for this generation and hopefully the next to enjoy.
It's a story in a bottle. And a markedly delicious one at that.
On this occasion, the story I'm listening to is from Ignacio Lopez, Chief Winemaker for Graffigna Wines. Since 1870, the company has supported the art and craft of wine making in Argentina. In 2009, Graffigna was praised as "Winery of the Year" in the USA by the Critics Challenge.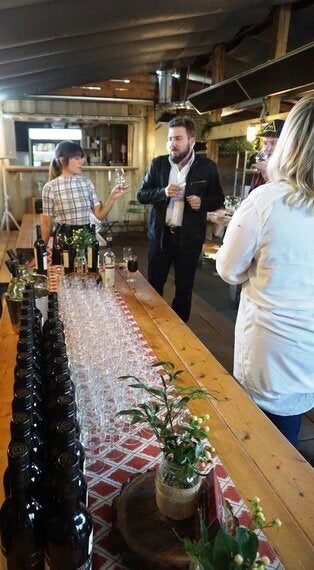 In my conversation with Ignacio, I learn about how he is leading the charge and continuing to produce quality Graffigna wines today.
"Understanding our terroir is important to help us extract the best flavours from our grapes; for instance, we have fantastic alluvial soil that is ideal for wine-growing (a combination of combination of clay, silt, sand, gravel), which came from the movement of glaciers and snow melting from the Andes.
As well, the high altitude where the grapes are grown creates intensity of aromas, tannins, and colour due to lots of sunshine during the day, a cool climate in the evening, and dry mountain air. The grapes contain less water and therefore more concentration in flavour."
Lopez says that while the Pinot Grigio 2015 is a great summer wine, he champions the robust flavours found in Centenario Malbec 2014 and Grand Reserve Malbec, 2012.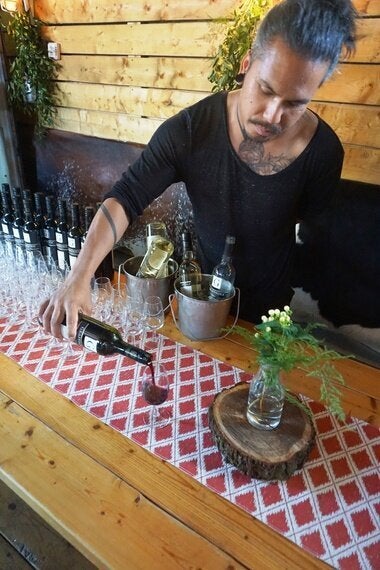 "Our 2012 is special. 100% of our grapes have been sourced from high altitude vineyards from Pefernal Valley in San Juan, which are 1400 -1600 metres above sea level. With grapes from a premium terroir, the wine is then aged in 100% french oak barrels.
For our 2014 Centenario Malbec, the wine carries deep aromas, flavors and great concentration. We age this wine in American and French oak barrels."
What is so special about Malbec? Lopez say that this wine style is very adaptable. It has a fresh profile, floral qualities, and most importantly -- a refreshing, sharp acidity.
For their lively and robust qualities, Lopez says they can attain harmony with grilled meats - rib eye & short ribs, vegetables - asparagus & cherry tomatoes, and even more 'avant-garde' dishes like savoury strawberries spiked with chili and chives."
In matching food with wine, Lopez cites that there are two routes of which one can follow:
1. Matching: Pairing intense food with more intense wine
2. Contrasting: Different wine with food; the sip chosen cleanses the palate
I asked Lopez about pairing his red wines with a dish that is (relatively) easy to make and crowd friendly. Lopez recommended Argentinian Chef Fernando Trocca's Beef Empanadas. These hand-held hot pockets are stuffed with juicy rib eye and a spice route full of flavourful seasonings. But it's the decidedly buttery crust that pulls everything together.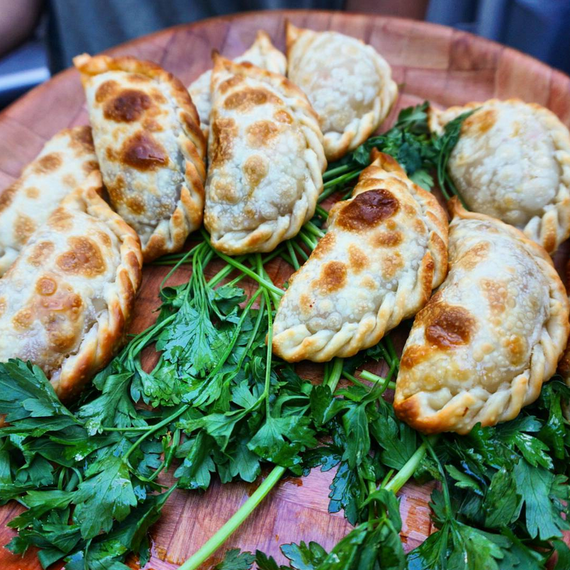 Recipe Courtesy of Chef Fernando Trocca
300 g beef fat (from the butcher), or unsalted butter
2 white onions, finely chopped
2 red bell peppers, seeds and ribs removed, finely chopped
2 Tbsp paprika
2 tsp cumin, ground
½ tsp cayenne pepper
2 lb ribeye steak, finely chopped
2 potatoes, boiled, peeled and finely chopped
1 bunch green onion, finely chopped, green parts only
4 hardboiled eggs, carefully peeled and chopped
5 C all-purpose flour
1 tsp sea salt
1 C butter, unsalted, very cold, cut into cubes (2 sticks)
2 eggs, large
½ C water, cold
1. To the bowl of a food processor, add flour and salt, pulse to combine.
2. Add butter cubes and pulse until mixture resembles coarse crumbs, scraping down sides of the bowl with a rubber spatula as needed.
3. Add eggs and water to food processor and continue to pulse, scraping sides as needed.
Pulse just until dough forms into a ball. Carefully turn dough out onto a large sheet of plastic wrap and use floured hands to shape dough into a ball. Cover and refrigerate 30 minutes to 1 hour to rest dough.
1. Preheat a high-sided sauté pan over medium-high heat. Once heated, add beef fat or butter, white onion and bell pepper and sauté 1-2 minutes until softened, stirring constantly.
2. Make a well in centre of onions and peppers and add paprika, cumin and cayenne.
Sauté for a minute to bloom spice flavours. Add chopped steak and sauté approximately 5 minutes until meat is golden brown in colour. Remove from heat and allow mixture to cool to room temperature.
3. Once cooled, add potatoes, green onions, and chopped hardboiled eggs to meat mixture and gently stir with rubber spatula to incorporate.
4. To assemble empanadas: roll dough onto a lightly floured surface until 1/4-inch thick.
Cut roughly 4-inch circles out of dough and fill each with 1-2 tablespoons of filling, leaving a border around perimeter for sealing. Use more or less filling, depending on size of your empanadas. Pinch and fold edges to seal (using a fork helps with this), and place formed empanadas onto a parchment-lined baking sheet. Refrigerate for 1 hour before baking to help dough hold its seal.
5. To cook, preheat oven to 350°F. Whisk together remaining egg yolk and water and brush onto tops of empanadas. Bake on prepared sheet for approximately 10-15 minutes until dough is golden brown. Serve hot and fresh out of the oven.