For nearly three and a half hours, I'm being fawned at. Literally. It's the gaze of a deer on an outstretched canvas and I realize that this is the closest interaction I'll have with meat this evening. In fact, tonight's staple at Beast Restaurant in Toronto will be a showcase of all things vegetarian.
And just like that, they'll be no meat wizardry -- only cruciferous conjuring. My only apprehension is suffering from ghost hunger, i.e. being haunted by stomach pangs for something else, despite being physically full.
Meanwhile, tasked with the challenge of pairing non-meat fare with the wines is Southbrook Vineyards. Sommeliers Zoltan Szabo and Paul Decampo offer a spectrum of their wines to enhance tonight's meal with. No easy feat, I gather, but their cheerful demeanour suggests otherwise.
By now, you're probably thinking about the irony of a restaurant called BEAST that's hosting this veggelicious affair. But when you think about it, every chef needs to consider a balance of ingredients and Chef Scott Vivian is not one to overlook such details. He pays respect to all cole crops and beyond. This is especially true for guest Chefs Michael Thiemann and Matt Masera of Mother in Sacramento, Calif. who own a vegetarian restaurant.
As for how this event was spurred, it began when trio met during Indie Chefs Week. Soon, a bromance of sorts blossomed and continued to flourish on social media. Inevitably, another #BeastandFriends event was created. The aim of the series is to collaborate with other culinarians and offer themed dinners.
Cheddar and broccoli bread
A festive crunch from our pre-amuse snacks arrived first. The forthright saltiness from the "chicken" fried oyster mushrooms was an immediate assault to my taste buds -- but sure enough, the crispy-bubbly exterior and lingering heat made for an addictive combination.
Our amuse bouche arrived as a squash tamale with cauliflower and pumpkin seed chimichurri by Chef Poon. Unfortunately, the texture was a tad chalky and dry, but the zesty lime-dusted crema on top provided some moisture to salvage the dish. The chardonnay (2012 Whimsy! Minerality) was an ideal counterpart to the amuse for its clean finish and crisp flavour.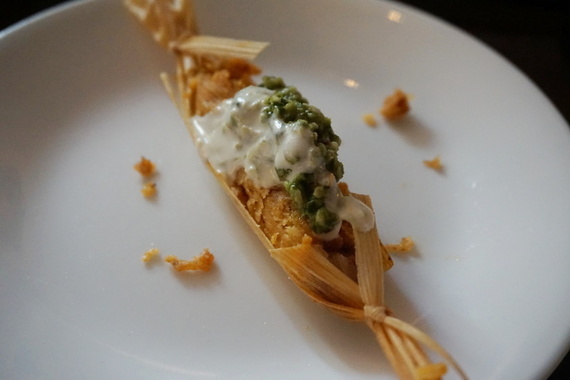 I was then anointed with bliss in the form of a ravioli with cauliflower and egg yolk by Chef Masera. A large swath of pistachio puree mixed with crème fraîche, chervil and mint lined the perimeter. There's nothing quite like piercing a delicate sheet of pasta to reveal gold lava that oozes onto the plate. I'd trundle my fork to and fro -- from pasta to pistachio, mixing flavours of herb infused pistachio with the silky egg. Best of all, the pop of tart-sweetness from the sour cherries. Meanwhile, the smooth semillon (2013, Estate-grown, Small Lots), held its own with this dish. It was weighty but refreshing. The crisp acidity was an ideal wine to sip, cleanse the palate, and allow me to return to the rich pasta.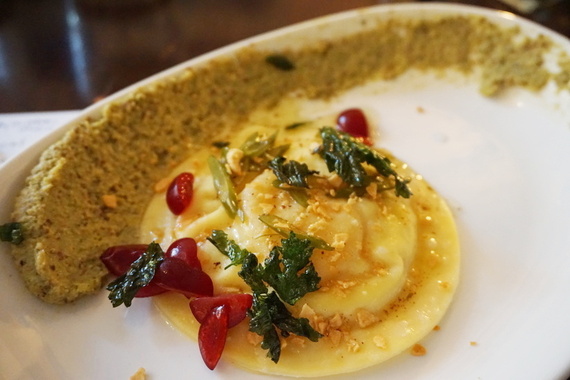 We moved onto our second dish and lamentably, I was crestfallen. While I respect Chef Moise's creativity, the soybean puree with black beans and soy sauce was too bitter to eat with the delicate whole roasted maitake mushroom. Also present was a midnight hued sesame seed coulis; and it too, was laced with too much acridity. To add to the overabundance of competing flavours, there was an arugula and pea tendril salad with a yuzu dressing. While the use of pickled strawberries was supposed to cut through the richness of the tahini-like puree, what was sorely missing was a sweet component to balance everything out. As a result, the orange wine (2014, Small Lots) got muddled in the mix.
Despite the stumble, the third course fared better. The dish was inspired by Chef Thiemann's trashy tryst of late night eats at the Waffle House. Conjuring memories of Christmas or Thanksgiving dinner, the silky gravy was made from charred vegetables and broth. Its earthy undertones were well received by the crispy, latke-like hash brown made from kohlrabi, zucchini, potato and onions. And I adored those buttered fiddleheads. Simple, but sumptuous spirals, nonetheless. A cabernet franc (2012, Whimsy!) made an appearance with this dish. It was probably my favourite wine of the evening. Black cherry notes and a nice tannic definition tempered the salt-toothed gravy.
The last savoury dish of the evening was a manti which included fava bean, buffalo milk yogourt, aleppo pepper and sumac. Chef Vivian's rendition of a Turkish dumpling was a gracious nod to the original. The fava bean was illuminated with cilantro, cumin, chili powder and smoked paprika. It was hearty, comforting fare and my second favourite dish of the night. To accompany the manti was a cabernet merlot (2007, Poetica). It was lush in the mouth with a slight minerality and the touch of sweet cassis helped soften the spice in the dish.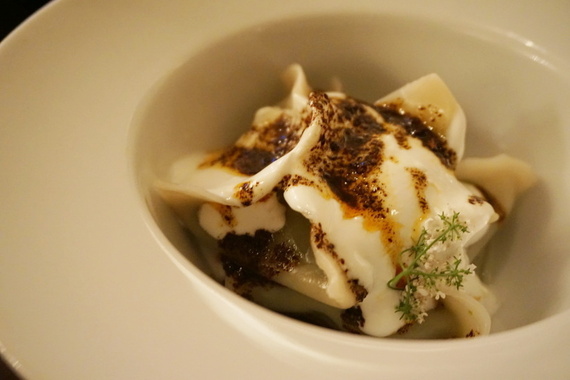 In the afterglow of our mains, we savoured Chef Cadwell's dessert creation. A parsnip cake partnered with white chocolate ice cream, caramel sauce and peanut brittle. Similar to the texture of a malva pudding (and serving as the inspiration for this dish), it was joyfully squidgy, soft and sweet. The fortified wine (Whimsy! The Anniversary) that was saddled with the last course was too combative, in my opinion. Understandably, it is hard to pair a sweet wine with a sweet dessert but sipping this -- and then returning to the dessert -- well, it tasted more like a one-upmanship of sugar rather than the two desiring to cooperate with each another.
Despite my initial ambivalence, there are an infinite number of ways we can enjoy vegetarian fare. I suppose it's the actual labelling of said cuisine that can cause mild anxiety for omnivores and carnivores alike. But the food I had was thoughtful, vivid and multi-layered. I can only hope to encourage more people to give events like this a chance. It is a fantastic opportunity to taste inventiveness and recognizable nods to creativity.
Photos courtesy of Tiffany Leigh
MORE ON HUFFPOST:
The Best Vegetarian Grilling Recipes