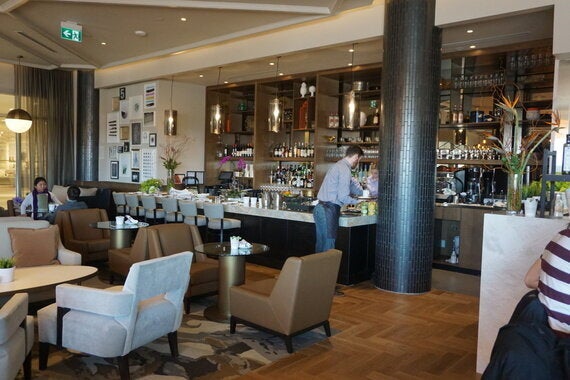 Featuring a cozy 'living room' aesthetic, as described by their General Manager Tina Bronzovic, the welcoming design by Moncur Architects carries flourishes of whimsy including a spiral bookcase and multi-pronged light fixture in the centre of the room.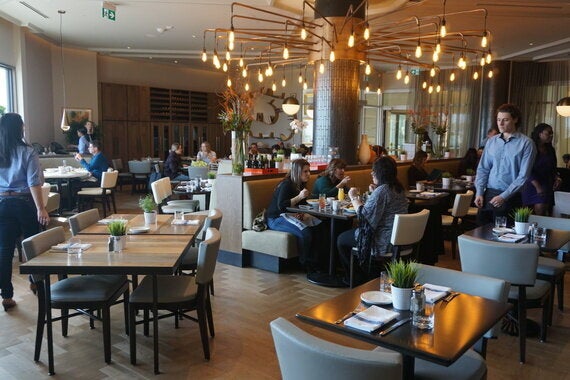 Defined as Eclectic West Coast cuisine, Chef Michael Hay elaborates on Beaumont Kitchen's food philosophy: " It is a lifestyle cuisine focused on whole ingredients and whole foods...it is very vegetable driven." Chef posits it as a place where you get a robust restaurant experience, have a meal and feel nourished.
In a somewhat joking and self-deprecating manner, he describes the menu as egocentric-- that is-- the dishes mirror the way Chef Michael Hay enjoys eating at home. And fortunately, his creations have garnered universal appeal. "Whole ingredients that offer energy align well with the branding and lifestyle of Saks." Hay adds, " I think food can be indulgent but doesn't have to be deep fried."
Having energy in spades has been a saving grace for Hay. Six months ago, a partnership opportunity with Saks arrived on O&B's plate. And Michael Bonacini informed Chef Hay that he would be spearheading this restaurant project.
No stranger to its line of restaurants, Chef Michael Hay has been with the O&B family for 3 years, so opening Beaumont was not as daunting as one might assume. Hay says that the food is an extension of what he was already doing at Canteen (another O&B Restaurant in downtown Toronto). He explains, "It is a fast paced, high-volume restaurant. To keep up with the intensity, I packed my own meals and brought them to work-- one time I brought this particular salad (packed with quinoa, nuts, etc.) that drew attention from the staff. So when we were thinking about what to offer as a special, one of our General Managers suggested we put that on the menu. And so Canteen evolved into a place where you could have something for lunch but not feel lethargic afterwards when returning to the office. With Beaumont Kitchen, we're extending Canteen's food philosophy with an emphasis on West Coast cuisine-- highlighting fresh seafood, for instance."
For someone who endorses work/life balance, this transition was a natural evolution. Many of his personal convictions regarding healthy eating (eating for power and energy) have been infused into Beaumont's menu. He was allowed to take many creative liberties alongside Michael Bonacini (owner) and Chef Anthony Walsh (who oversees all the O&B properties), who were present to offer advice and mentorship where needed. Hay adds, "90% of the menu-- I wrote and tested. Many dishes are remixes of Canteen dishes, some come from home, and others inspired from previous places I worked at."
In creating harmony between work/life, naturally, there has to be decadence to balance out the healthy eating. In exploring the brunch/lunch menu there are a few highlights Hay notes everyone will clamour for. First is the 'PB&J Stuffed French Toast' with mascarpone, brioche (all pastries and breads come from their bakery down at Arcadian Court), fruit compote and topped with a scoop of vanilla ice cream. As a peanut butter lover, Hay just had to have this on the menu. He describes the dish as sort of a 'stairway to heaven' and a 'talking piece' for the restaurant.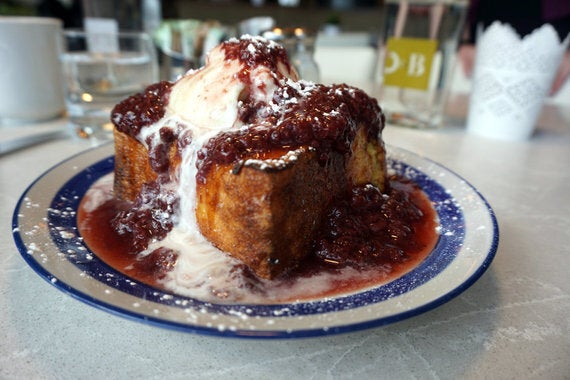 For something veering more towards the holistic and nourishing side, Hay recommends the Thai Root Salad that features cashew butter, lime & chili dressing, and cilantro; it is big on flavour and colour. For something heartier, he notes that their Flat Iron Steak dish is a winner; it features roasted sweet potato, hazelnut romesco, kale, quinoa. The beef is sustainably-sourced, antibiotic-free and from Wellington County.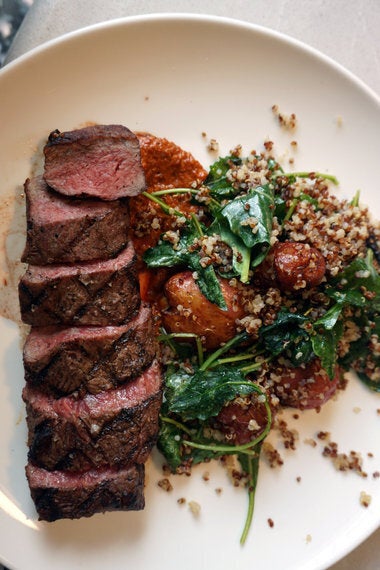 The pork, featured as bacon and ham in our Eggs Benedict brunch comes from Willowgrove Hill Farms, in Mitchell, Ontario.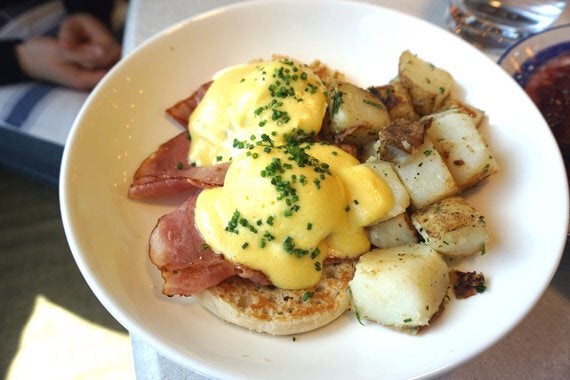 In this partnership with Saks, sharing the space with the high-end retailer has created a synergistic relationship that they both hope will draw in the crowds and praises from.
Follow HuffPost Canada Blogs on Facebook