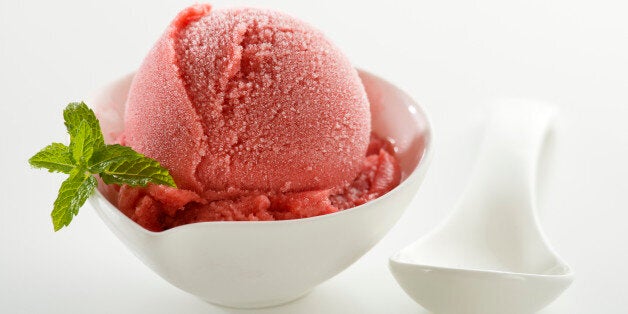 Brassaii restaurant has been a mainstay on the King West block a decade now. Although, they cater to the clubbing and lounge crowds, they've also been able to successfully lure in diners with their seasonal Mediterranean fare. In working at Brassaii for two years now, Executive Chef Marcus Monteiro and his team try to offer seasonal plates that are local and fresh.
They recently launched their summer menu that sources many ingredients from 100km Foods.
While Monterio is expediting and manning the line, Chef Mark Cheese helms the pastry station and creates sweet finishes to meals.
In a chat with Chef Cheese, I asked about his start, inspiration for his summer dessert creations, and wrestling a secret recipe for beet ice cream out of him.
Can you tell me about your culinary background?
I started in London, England working for Chef Gary Rhodes in a Michelin star restaurant located inside Capital Hotel.
Then I went to the South of France for a summer season working in Cannes at Hotel Martinez working on various stations, when I ended up in pastry, it's where I found my passion
When I returned to London, I worked in Claridges Hotel, where I did my pastry apprenticeship. After that, I went back to the Capital Hotel-- but this time as the Pastry Chef.
After numerous years, I decided to come to Canada and explore the country's culinary scene.
And... as the saying goes, the rest is history; I have worked in various restaurants, hotels and pastry companies across the country. For the last six years, I've been with Brassaii in Toronto.
Inspiration to pair raspberries and beets together:
Vegetables and fruit are very fashionable together; as well, beet root goes very well with raspberry. It's a natural collaboration of sweet and savoury. It's also a very healthy combination. To a certain extent, keeping up with the present fashion trends in food is important in pastry. That's why I find my job so exciting.
At the restaurant, Chef Cheese serves his beetroot ice cream with a luxuriously dark chocolate raspberry cake that comprises dark chocolate layers, gilded with chambord ganache. It also includes a crunchy caramel white chocolate base and cream cheese sauce. There are many technical components that would create a righteous headache for novice cooks. So Chef Cheese says that the Beet Root ice cream topped with fresh raspberries is an easy dish to make and serve for parties and BBQs.
It keeps well in the freezer for 3 months, but you'll definitely finish it sooner than that.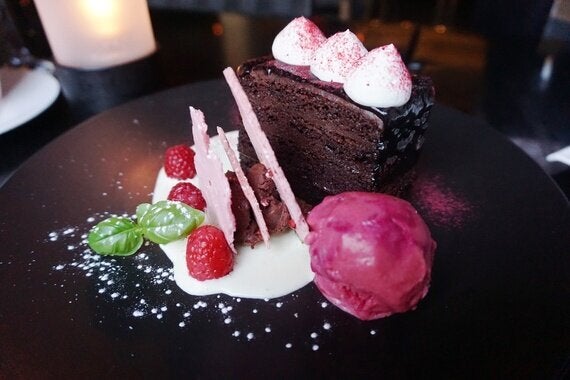 Recipe courtesy of Chef Mark Cheese
This recipe makes about 2 cups, but you can easily double it if serving to a large crowd.
Glucose Power and Invert Sugar can be purchased online. e.g. Amazon.ca
Chef Cheese uses red beets for this recipe, but you can also try it with golden beets.
1/2 litre or 2 cups Beetroot puree (about 6 medium sized red beets)
91 g Whole Milk - 3.5%, room temperature
91 g Heavy Cream, room temperature
35 g Glucose Powder (Used in pastries, ice creams, sorbets, and confectionery. It delays sugar re-crystallization, keeps food from drying up & helps preserve integrity of ice cream)
27.5 g Invert Sugar (Retains moisture & prevents the ice cream from crystallization)
1 pint of fresh red raspberries, washed and dried
Preheat oven to 400°F. Wrap each beetroot in foil. Place on a baking tray. Roast for an hour or until a knife easily pierces through the centre. Let cool before handling.
Remove foil. Peel beetroot and chop. Put into food processor and blend until smooth. Alternatively, you can use an immersion blender for this.
Mix all ingredients together until smooth. Cool mixture in fridge for 30 minutes, then put through an ice
cream turner (machine) until desired consistency is reached: dense, creamy.
Place a scoop of ice cream in a dish. Sprinkle with a few fresh raspberries and serve immediately.
Adult version: If you wish, you can macerate the raspberries beforehand. In a bowl, add raspberries with 1-2 tbsp of brown sugar and a big splash of booze (chambord). Stir and let sit for 30 minutes. Add chambord spiked raspberries to ice cream.