A few steps inside and already-- I'm engulfed in awe; this shop is teeming with artisan delicacies, the stars of which are the seemingly endless cheese varieties.
I'm in Afrim Pristine's 10,000 sq ft. shop on The Queensway in Toronto to talk to him about Cheese Boutique's involvement with The League of Extraordinary Chefs Series.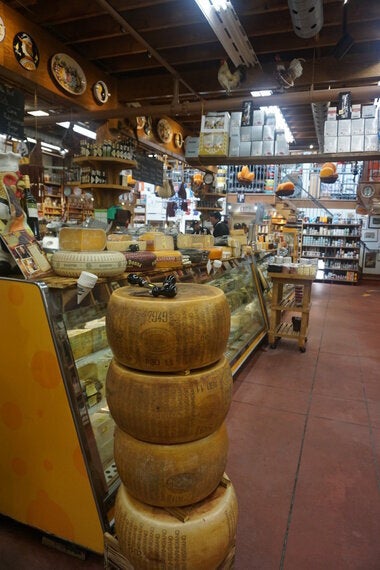 Despite it being a Monday morning, Afrim is giddily exuberant. Then I discover why. With a mad-scientist chuckle, he rams shavings of black truffle into fatty-rich, triple crème brie. It is downright, over-the-top decadent-- but hey, he says, "This is how we do Monday mornings." He cuts a fat wedge to sell and saves some for his staff to nibble on too.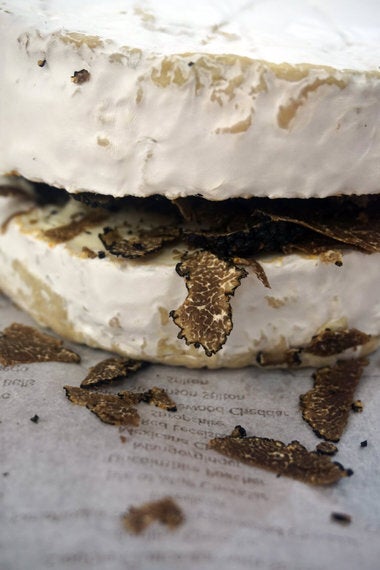 His generosity doesn't stop there; he offers me house-made doughnuts (because one isn't enough) and a mountain's scoop of gelato. As I'm amped up on sugar, I ask him about the series' inception. Glancing around, I can already tell he's a kid at heart; there's Batman paraphernalia strung up in his vast shop, so it's no wonder this kind of enthusiasm trickled into Heroes vs. Villains -- last year's themed event. It showcased a bevy of his popular cheeses and dish delicacies from local chefs dressed up as either, yup-- a hero or a villain.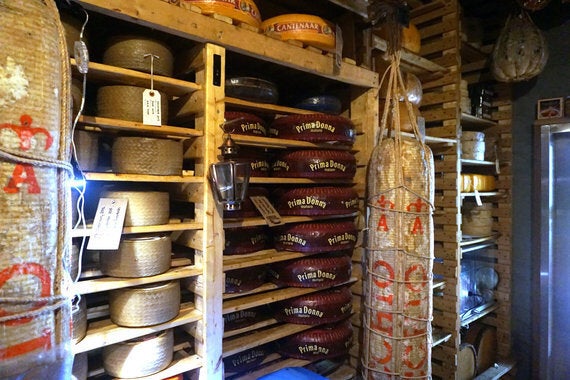 *The Famous Cheese Vault inside The Cheese Boutique*
Due to the overwhelming success of last year's event, this year, the stakes have been raised. The one day event has been extended into a series. The League of Extraordinary Chefs by Cheese Boutique, in partnership with Samuel Adams Beer, is hosting a spectrum of extravaganzas every month; it kicked off in June and ends this October with a Grand Finale (limited tickets are still available for some events. Check the website for details).
Why have audiences been so enthusiastic to support such a venture? "It's fun," Afrim opines -- and another reason? It radiates the infinite talents our city is graced with. They're not only fellow chefs, but friends of the Cheese Boutique. In the spirit of creativity and collaboration, it is a great way to highlight epicurean excellence.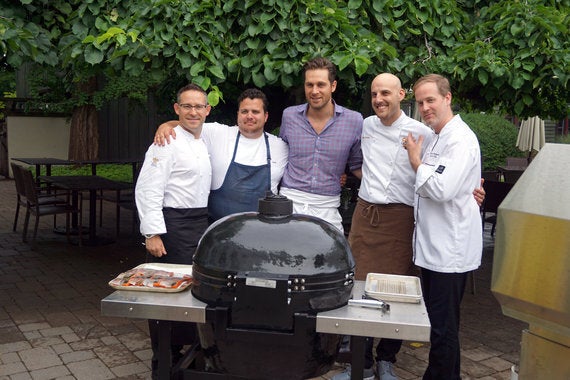 Most recently, Chefs Victor Barry, Jonathan Goodyear, Jason Bangerter and Cory Vitiello carved up a bodacious barbecue bounty at Langdon Hall. Their backyard BBQ included goodies such as Vitiello's Dry-Aged Beef Rib eye, Barry's Smoked Arctic Char and Bangerter's Albacore Tuna with Crustacean Remoulade. There's nothing better than a heady mix of seafood and meat that's been amply kissed with char and smoke.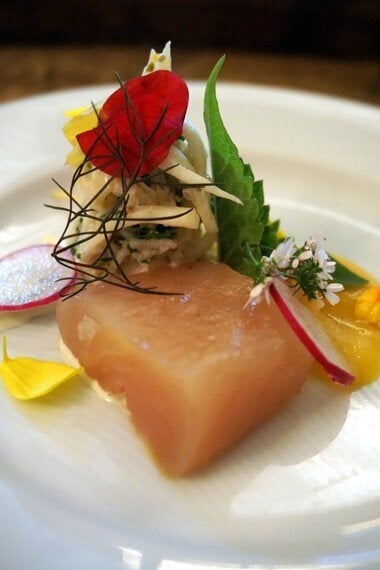 From pungent to perfumed and hosting an array of marbled surfaces, I couldn't forget about the cheeses. In fact, Afrim unveils a new creation at each event. For the BBQ, he debuted his "Majestic Henry." Similarity textured like a firm gruyere, the canary-coloured cheese is submerged in Sam Adams Boston Lager for 18 months. The bath gives the cheese a creamy, evolved flavour with bitter notes at the end. It's particularly addictive with their house-made duck rillettes. Also popular was the Rebel Yell cheese (unveiled in the first event). A golden hued beauty, Niagara Gold Cheese is used and given 180 washings by Afrim over 3 months in Sam Adams Rebel IPA. The result is a buttery dream; the cheese carries a hoppy, malty kick.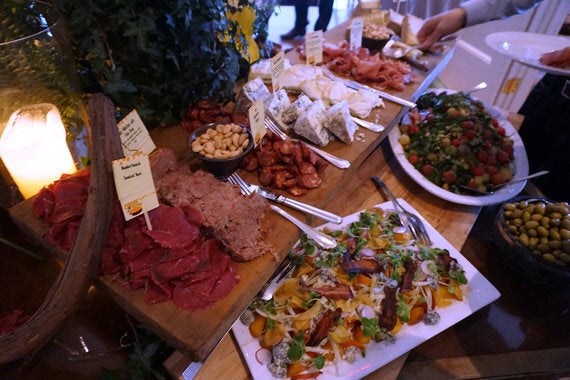 In championing all things cheese, Afrim has also provided a stage for which fellow chefs can play with textures, aromas, and flavours -- but most of all--to celebrate their love of great food alongside him.
All the cheeses unveiled during the series are available for purchase at the Cheese Boutique.
For more information about the upcoming event at Pizza Libretto in August, visit Cheese Boutique's website.
All photos by Tiffany Leigh