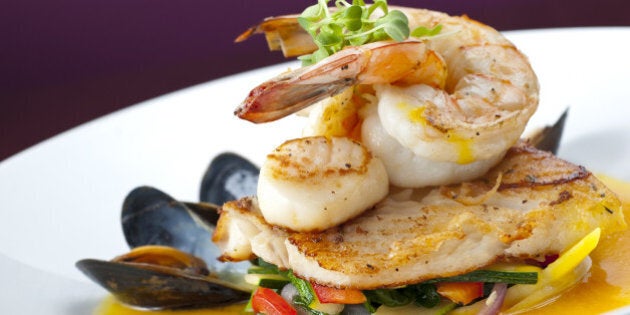 My latest dining experience reminded me of something that is quintessentially Canadian. Partners Derek Valleau and Harsh Chawla of Pukka fame, team up with Chef Masayuki Tamaru to open Concession Road, their latest addition to the Toronto restaurant scene. The trio are a tossed salad of cultures brought together for the love of good food and a desire to share it with others.
They're fiercely devoted to their clientele in the St.Clair West neighbourhood, but while it may seem counterintuitive to open a restaurant right next to their Indian flagship, the food here is markedly different enough to keep appetites yearning for both cuisines.
In fact, the two-and-a-half-month-old restaurant is drawing people from all over to try the food here. One glance at the menu and it's apparent that the classically French-trained chef not only offers European dishes, but has added dashes of his Asian heritage to the mix as well. But make no mistake, this is not what I would deem as "fusion food" -- not only because I loathe that term and all its misrepresentations of cuisine cultures (*end rant*) -- but that this is food with an elegant flair.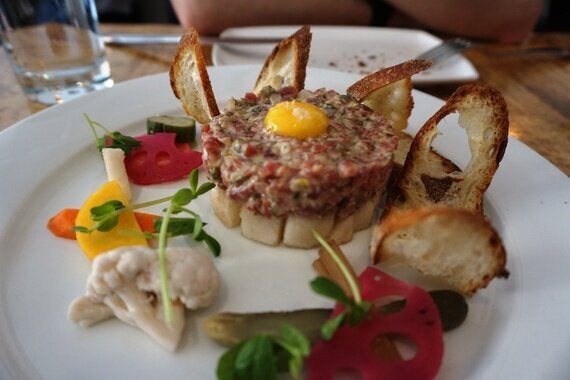 Take for instance the PEI grass-fed beef tartare (photo above). It is an homage to his Chef and mentor, Didier Leroy, during his time at the now shuttered Didier, a fine-dining French restaurant in Toronto. For this dish, a wet application involving mayonnaise, gherkins, anchovies, parsley and capers used in the tartare results in a more buttery and creamy texture. An even more unctuous oomph is given when it's topped with a golden duck yolk and finished with sprinkles of Maldon salt. And the delightful deviation? It all rests on a bed of refreshing Asian pear cubes. The crisp texture and watery sweetness was the ideal counterpoint to cut through all of the meaty richness. It was a delicate and appreciated balance --and this is what I'm talking about: experimentation not for bragging's sake, but to enliven the flavour profile of familiar classics.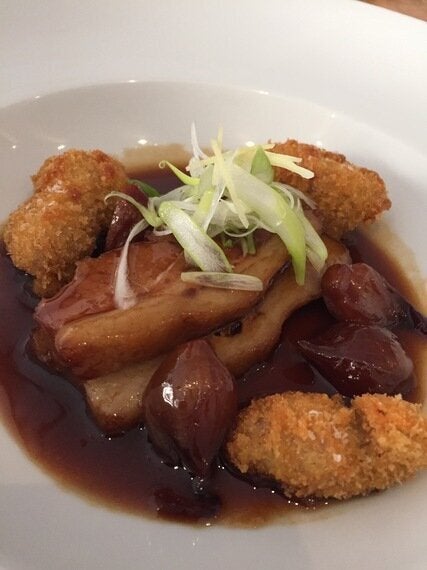 Next arrived our pork belly and seared Hokkaido scallop dishes. The former was an oink-worthy delight. Braised for three hours, two meaty slabs sat in a Madeira reduction sauce that I could sip like a fine wine. Almost like a sweet mahogany lacquer, it'd coat the soft pork brilliantly. Also on the plate were some mighty fine panko-crusted presents; boisterous deep-fried sweetbread bites are the kind of golden nuggets I dream about. And then came the seafaring scallops -- which my mouth didn't quite understand. While the mollusks were supple and pleasantly sweet, I did not want my taste buds to drown in that vanilla oil moat. While I have a predilection for this fragrant floral, I usually desire it in my dessert -- and not in my seafood.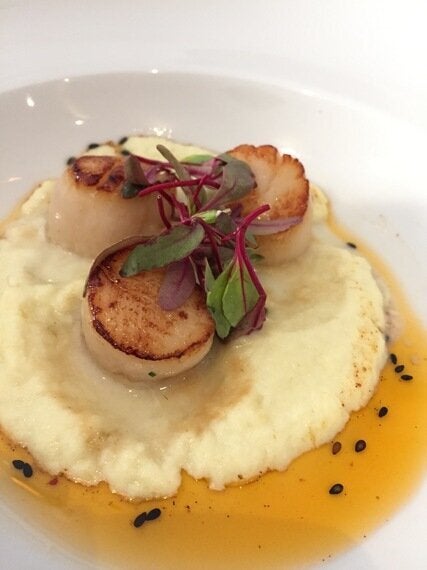 Because it's relatively a new kid on the block, there were a few kinks that need to be ironed out -- namely with the mains. The Mediterranean fish stew would seem like an aquatic utopia; it's resplendent in a Spanish saffron broth, bobbing with fingerling potatoes and sprinkled with toasted pine nuts. But alas, it's a bit of a facade; the cod, bass and fluke were over-cooked and the pieces were ragged, lacking tenderness. Same with the scallops, they're tough and seized up. If the kitchen modified the timing of the cooking, I'm sure it could be a winner in the future.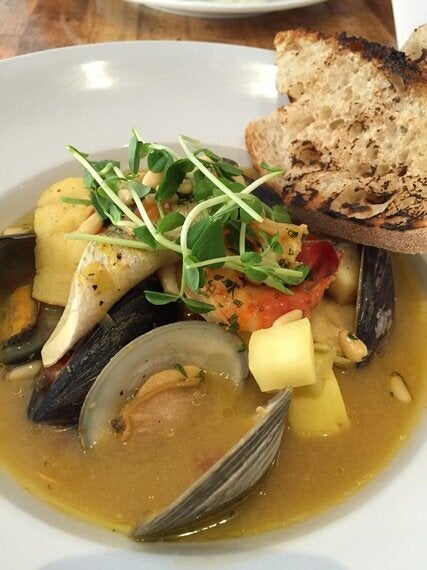 We also ordered the pan-seared Atlantic cod. The long meandering strip featured pea puree, golden beets, purple potato and citrus beurre blanc. If you like simple, clean flavours, this dish is for you. But respectfully, I found it a little dull. The violet potato and the beets lacked the vibrancy I tasted in the starters. However, there was a gem in the dish: the effervescent emerald peas.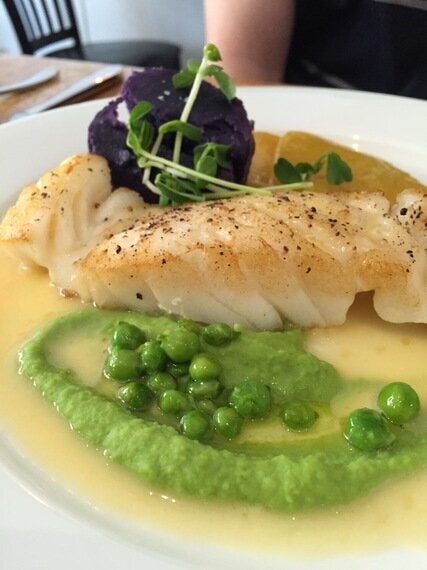 Dessert redeems the missteps of the evening. We chose the Rhubarb Soup to end our meal with. The strawberry coloured broth was a zingy blend of sweet and sour. In the centre sat a speckled vanilla bean parfait. To me, the texture was a bit more dense than that, not unlike a semifreddo. Regardless, it was a trip to texture-town when you nibbled it with the snaptastic almond meringue batons.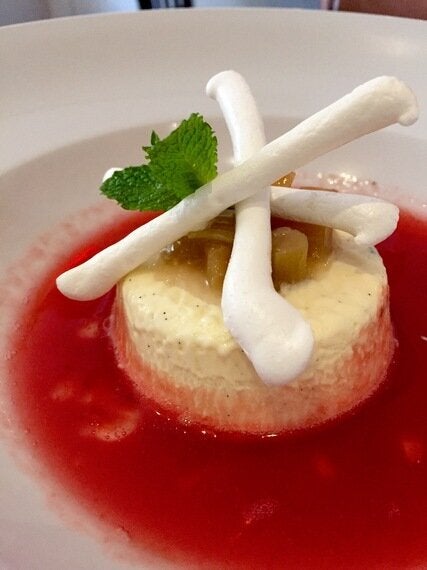 If you're in Toronto for the PanAm Games and seeking a refuge from the busy parts of the city or wanting an alternative to Summerlicious, Concession Road is an opportunity to try flavourful fare with tantalizing twists.
All photos by Tiffany Leigh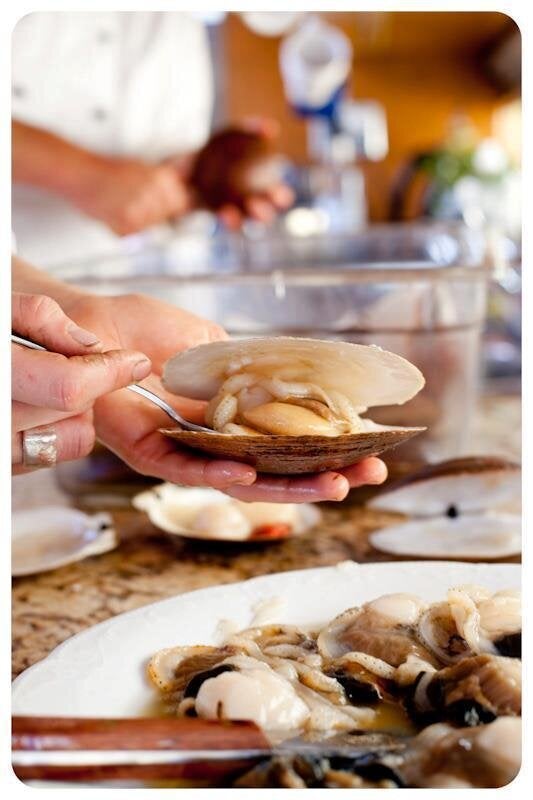 Vacay's Best Restaurants In Canada 2015