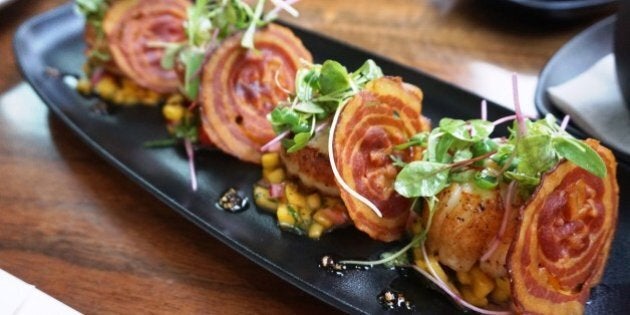 One of the particular things to note about the Toronto dining scene is the reputation restaurants are (automatically) associated with based on its location. For instance, eateries in the west end, e.g. Parkdale, are known for having "hipster/indie" spots; in Leslieville, everything is "family friendly." But sometimes being located in a certain part of this city can be to the restaurant's detriment.
Cresta, an Italian-Californian restaurant is an example of this. Since it is situated next to the St. Lawrence Market -- it is prime wandering territory for tourists. A slew of commercial and chain restaurants, bars, and pubs dominate the landscape. As a result, it is perceived as a tourist-y spot. But Cresta is acutely aware of such unflattering perceptions and comments in that vein have not dampened their spirits.
Since opening its doors in March this year, Cresta has sought to introduce Torontonians to a new concept. Rory West, the head bartender and sommelier, informs me that Cresta is the only restaurant in the city that designs the food menu around the wine list -- not the other way around. There's a desire to showcase the wines crafted by the co-owner, Thomas Baker. Born in Canada's Ottawa valley, the entrepreneur owns six vineyards in Sonoma county that comprise three labels (Thomas George Estates, Noble Tree, Cresta) with his father, Jeremy.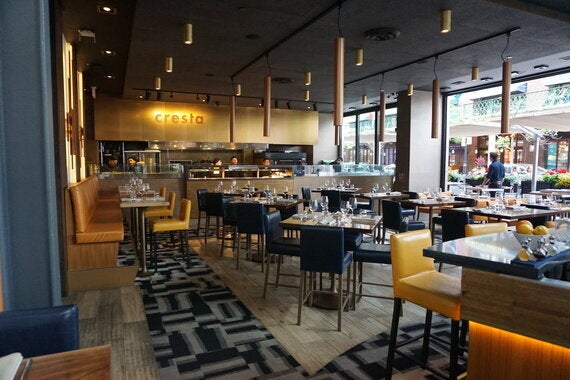 Lynne Krisfalusi of LK Atelier designed the interior space which was formally an old car park garage. The aesthetic feels like an open air resort. There are neutral and warm tones, and a bar centrepiece: a wine chandelier that rotates and stretches 35 feet high.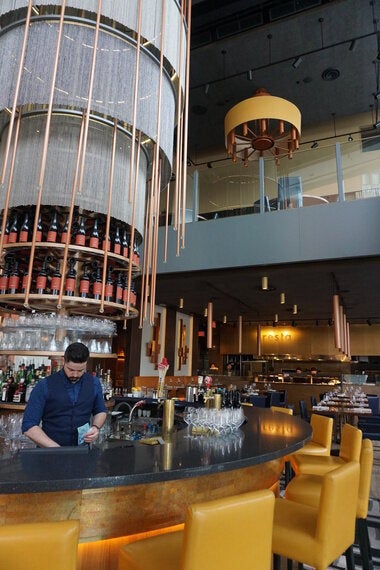 The main dining room seats 75 and 60 on the second floor. There are two patios flanked on both sides of the restaurant that seat 60 and 70, respectively.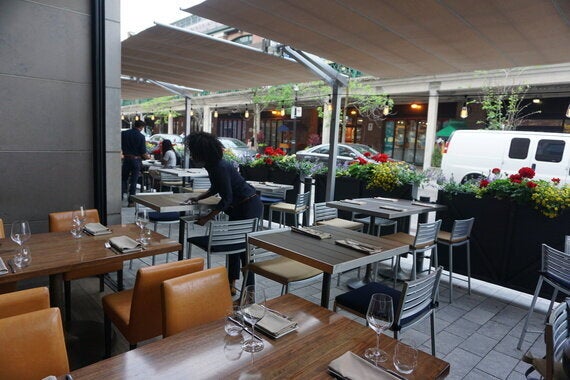 All the features listed belong to the Thomas George Estates family of wines. It's one way to encourage customers to try their wines. While I personally didn't mind the exclusivity, there will always be customers who want choice and variety. Pigeonholing patrons with one brand is not an ideal route. An easy remedy is to offer corkage (fees) for those who wish to bring their own wines with them -- especially if Cresta is not keen to dilute its own wine list.
Aside from this issue, we proceeded to try what was described to us as two darlings of their wine family: the Chardonnay Thomas George Estates Cresta Ridge, Russian River Valley, California, 2010 (5oz, $20) and the Pinot Noir, Thomas George Estates, Barrel Selection, Russian River Valley, California 2012 (5oz, $18).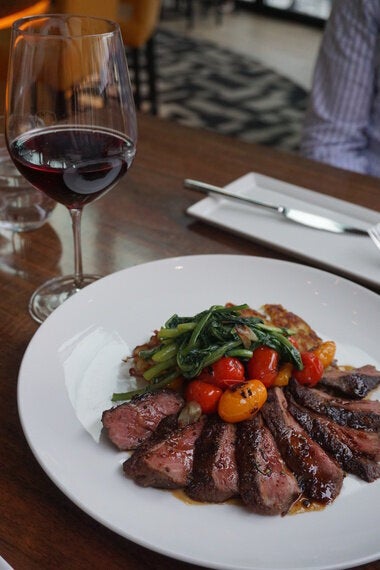 *Pinot Noir pictured with Flat Iron Steak*
The former has been aged for four months in French oak barrels. It tastes like naval peaches with a backdrop of toasted almonds and mild buttery notes. It has a crisp finish that paired well our seafood dishes.
I'm a stickler for reds so the pinot noir was the winner of the two for me. It's full-bodied (not something often found in pinots) and comprises a tri-blend of three types grapes from Starr Ridge, Cresta ridge and Baker Ridge vineyards. Flavours like raspberries and cherries can also be detected on the palate. It's been aged for six months in oak barrels creating fine tannins and just enough weightiness to stand up to red meats.
Tri Tran's culinary repertoire has included the Cactus Club and Hogan's Inn at King City; and currently, he helms the kitchen brigade at Cresta as the executive chef. The menu is standard and its bill of fare reminds me of places like Terroni, a popular spot in Toronto. However, the execution makes up for what it lacks in creativity. For instance, the dough for the prosciutto pizza ($24) is different than any of ones I've tasted in the city. The sourness and chew factor has been dialed back. The base is slightly sturdier and the rim is all at once puffy, airy and crisp. It's certainly different but enjoyable, nonetheless. Their dough is aged four to eight days but the absence of a prominent sourdough flavour is due to a cool, slow rise.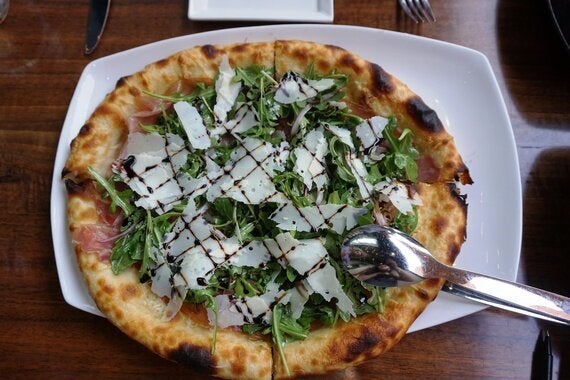 As for the octopus ($16), it needs some work. Although it's been braised and grilled, it is lacking in tenderness; it is overly firm and gum-chewy. It's not to say it's a complete failure. There are supporting players in the form of fingerling potatoes and caramelized onions to divert your attention; the former adds heartiness and the latter adds a creamy sweetness.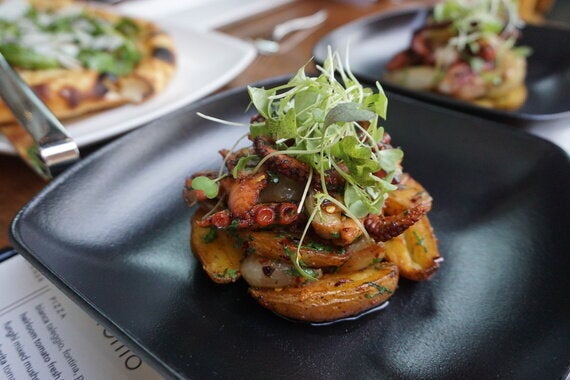 *Octopus with fingerling potatoes, braised cipollini onions, harissa*
Three plump, crescent jumbo black tiger shrimp ($29) with tomato salsa arrive at the table over-salted. However, the meaty and tender flesh is sweet enough to throw you back in for a second bite -- and moreover made better when doctored and draped in their homemade ravioli sheets, that appear as folded napkins.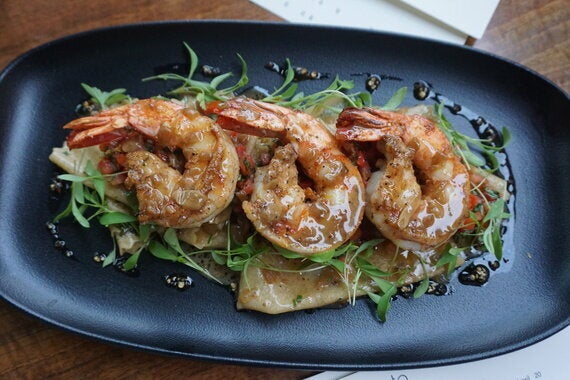 *Jumbo black tiger shrimp*
The mains are ushered out next; first is the flat iron steak ($31) which has been sous vide and finished on the grill to add char and flavour. There's a welcoming succulence in the pink flesh. But the dandelion greens perched on top are greasy and salty. As well, the "potato cake" suffers from a case of mistaken identity: it arrives as a crispy weave of latkes instead.
Plump U10 Scallops with a mint mango salsa are showstoppers; they're lined up with pinwheel pancetta crisps. It's the surefire winner of the evening but as the priciest of the bunch ($38), it was in dire need of a starch component to attain satiation.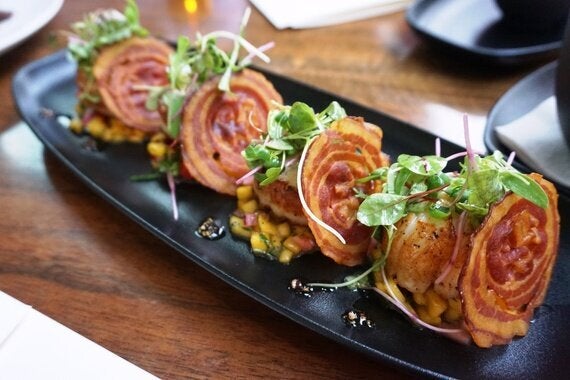 *Scallops with mango salsa*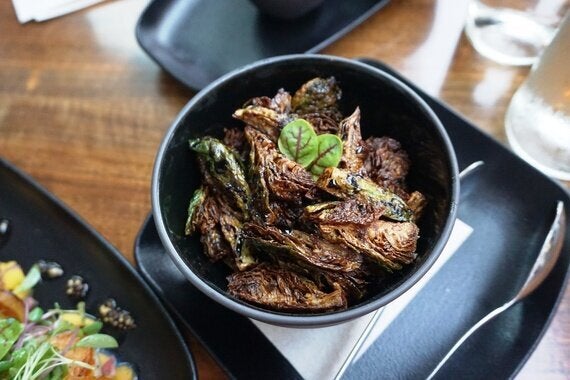 The private wines of Thomas George Estates are certainly a draw; in fact, I would be tempted to return and sip a few more of the exclusive varietals. Although the menus are not as dynamic as the ones you would see elsewhere in the city, the food here on the whole is flavourful. It is an ideal place to take friends and family who may not be adventurous diners but still seeking a unique food and wine-pairing experience.
Follow HuffPost Canada Blogs on Facebook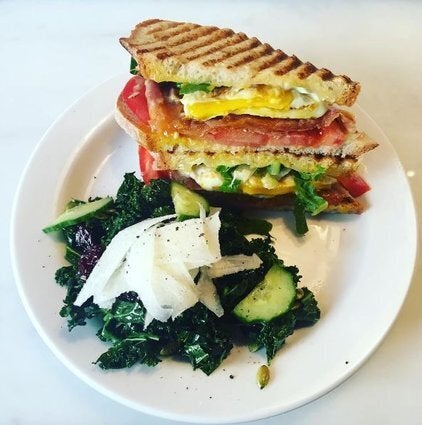 New Toronto Restaurants For Summer 2016