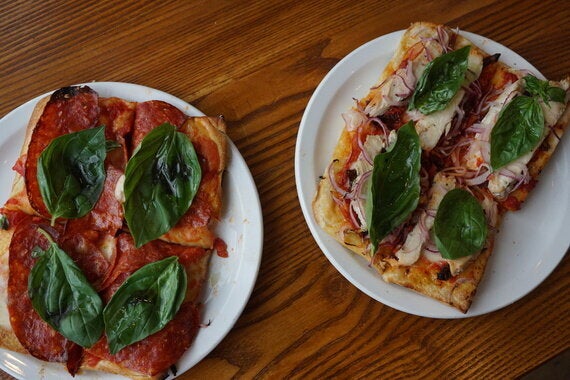 In its modest dwellings, Levetto is an archetype of a fast-casual entity that's executed with earnest pleasure.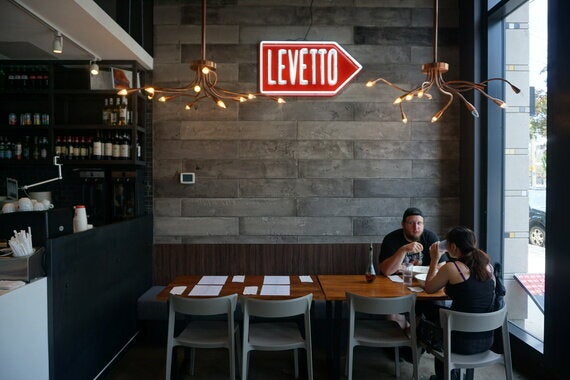 It is restaurant-worthy fare at fast-food costs, so prices are ridiculously reasonable. Dishes are prepared with haste but do not neglect the finer details. Everything is prepared in-house with an emphasis on Romano-focused cuisine.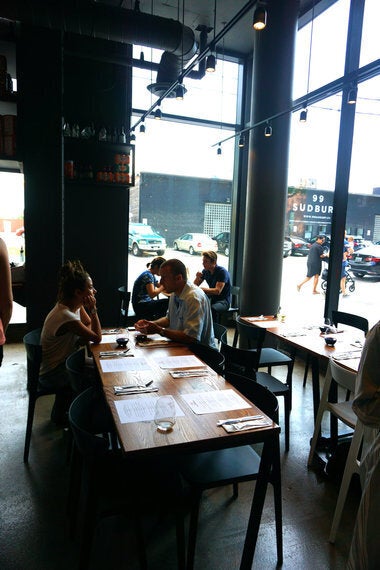 And today, the chef is darting around with glee and excitement. He's Shahir Massoud, a graduate of the French Culinary Institute in NYC who's toiled in the famed kitchens of Mario Batali and Jean-Georges Vongerichten. And now, he's at this helm of this efficient kitchen brigade. In fact, he crafted all the menu items currently on offer for this and the five other locations in Ontario.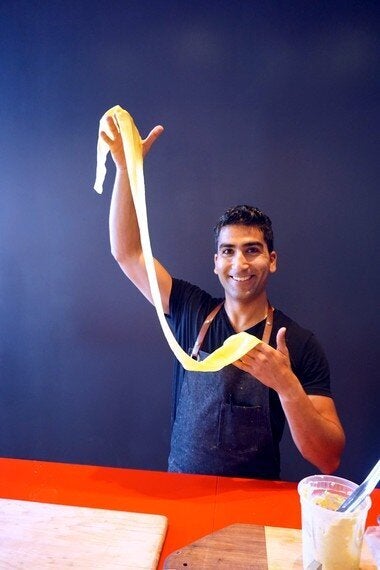 In an impromptu pasta making session, he wields long silky bands that will be used for the ravioli. After a successful first attempt by an attendee, we get down to the business of devouring the aptly dubbed 'Sunday Feast' dinner.
And feast we did; it was an endless bounty of trattoria delights.
We began with an array of vivid greens. A toss and tumble of Arugula, Radicchio and Panzanella varieties. The others were good but the Arugula was what everyone gravitated towards the most. The bitter leaves were invigorated by chewy-sweet apricot wedges, chubby goat cheese nuggets, white wine vinaigrette and crunchy pumpkin seeds.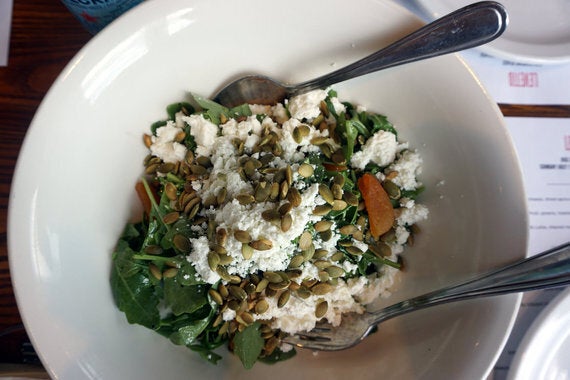 This was followed by a quad-squad of pastas. The dough is fashioned from scratch--with six varieties on offer. Oodles of noodles arrive at the table: Carbonara, Cavatelli, Rigatoni, and Trecce. The Carbonara makes the ascent to the winner's circle in my books. Its lush strands latch onto smoked bacon, egg, grana padano and cracked black pepper. The noodles are perfectly supple yet still al dente. Perfecto. But if you're seeking a tomato-based sauce, the Rigatoni is damned dashing. The slow braised meat is dispensed with a well-balanced sauce that's on the cusp of sour but reels you back in with the appropriate amount of sweet. Then of course, a shower of grana padano and fresh chives complete the beef-tacular dream.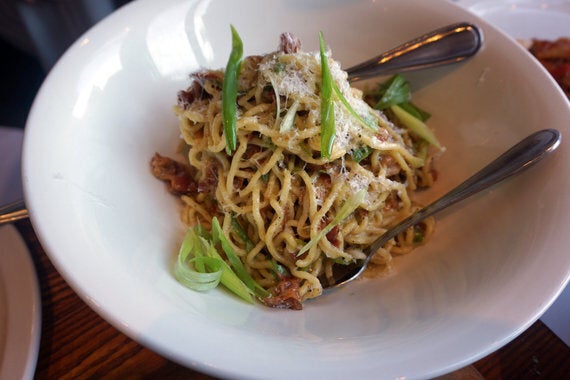 However, I will add a caveat to both the Cavatelli and the Trecce dishes. There's nothing inherently wrong with them-- the flavours are there-- just some minor tweaks for the chef to consider to elevate the two.
To me, the peas need to be softened of their grassy notes--perhaps with some cream or mascarpone to draw out their natural sweetness. And the mound of goat's cheese overwhelms and smothers the taste buds in the Trecce. If it was thinned out a bit, it'd jive much better with the garlic infused oil, chili flakes, and sun-dried tomato.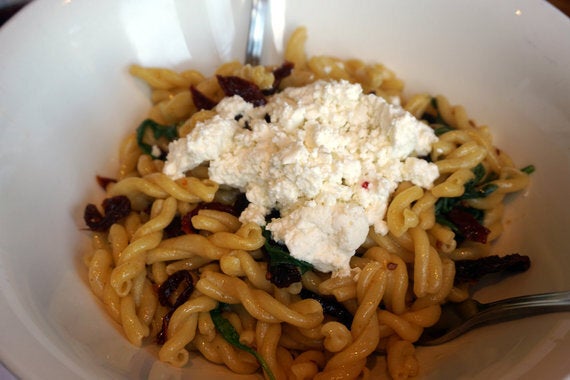 Next up: our pizza party featuring Romano-style dough. Chef notes its labour-intensive nature, but stresses that the outcome is worth the effort involved. The dough is 90% water and therefore lighter than other styles. So when it's slid into the oven, it yields a crust with a crispy bottom and fluffy interior-- almost like an ethereally light focaccia. The first pizza to arrive is the forest-riddled Funghi. It's stupendously good. A melange of mushrooms--portobello, oyster and cremini--are strewn on top of mascarpone and garlic crema. Some are chewy, some are crisp and some are caramelized, but all contribute to an onslaught of umami pleasure. Best of all--those airy pockets in the crust between each bite.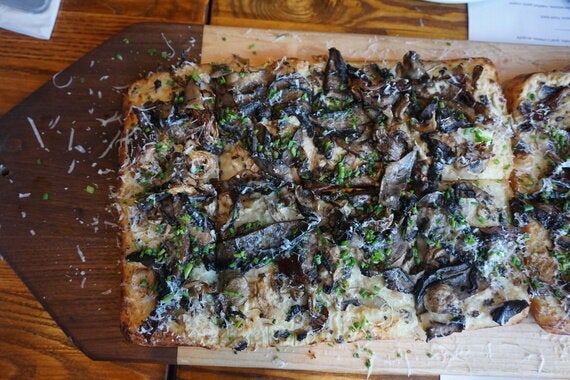 Despite a consistent execution of robust Romano fare, the only pizza I felt had a convoluted narrative was the Smoked Prosciutto. I understand that its story was intended to be a sweet and savoury slice, but there was far too much going on. Perhaps if they dialed back the intense medjool date sauce, the ratios and flavours would be more cohesive.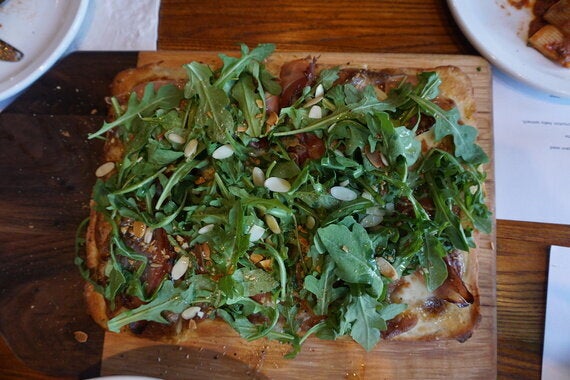 Last but not least--La Dolce Vita. A trio of sweet dreams arrives to conclude our feast. Panna cotta is milky white, floral, and slippery-creamy in the mouth. A tiramisu has biscuits singing an aria of sweet and bold espresso; it's slathered with billowy mascarpone. Blackberry compote adds a much need acidic zing to cut through all the richness. But, the warm brown-butter and coconut semolina cake is what everyone clamoured more for. It was a tanned beauty, especially with the pistachio pebbles on top. However, the cake did have a coarser, sandy texture because of the addition of coconut shards in the batter-- so it could have benefited from dollops of crema.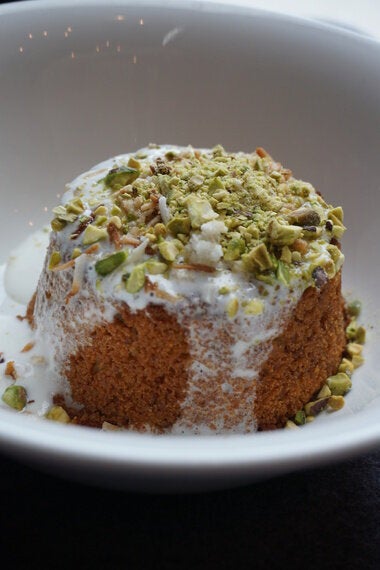 Levetto is a welcoming neighbourhood spot. It makes for an ideal weekday lunch place with friends or for a casual date night, especially when it offers scratch-made cuisine that isn't costly. Levetto may not be luxurious outpost but my dining experience here was divine.
*all photos by Tiffany Leigh*