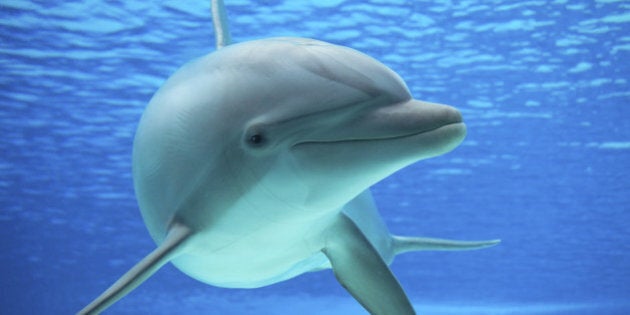 At Hawks Cay Resort on the island of Duck Key in Florida, people are not only drawn to this vacation spot for sun and relaxation, they come to interact with marine life as well. The resort property hosts a conservation area called Dolphin Connection. Since 1990, the organization's aim has been to "provide an opportunity for guests to have direct contact with marine mammals."
But holding any kind of animal in captivity has always courted some form of controversy. However, Dolphin Connection has not shied away from answers questions regarding this important matter. In fact, they host "essential educational components" in all their dolphin interactive programs that are intended to "engage the public and increase concern for the overall health and protection of marine habitats."
Dolphin Connection is also apart of an International Association called Alliance of Marine Mammal Parks and Aquariums. This Alliance ensures all members and their respective facilities are held to a high operating standard with the aim of "caring for marine mammals and to their conservation in the wild through public education, scientific study, and wildlife presentations."
During my visit, I had an opportunity to speak with Jessica D'Ascanio, Assistant Supervisor of Animal Training about the dolphins at Hawks Cay.
Tell me about yourself and your role.
I grew up with a very strong interest in animals and animal behaviour; in particular, I gravitated towards marine mammal training. Thanks to various internship opportunities throughout my college career, I landed my dream job as a trainer at Dolphin Connection.
What are your credentials?
At Dolphin Connection, each trainer has a college degree in some sort of science or psychology. I have a four-year science degree and specialization in marine biology. Also, we all completed various internships at zoos and/or aquariums around the country in order to gain valuable hands-on experience. Every staff member is also SCUBA certified and a strong swimmer.
Tell me about the dolphins on site.
All our Atlantic bottlenose dolphins at Dolphin Connection were either born here or came to us from other zoos or aquariums in the United States. Currently, we have five male dolphins on site:Two are 12-year-old boys who weigh about 390lbs. We have a 33-year-old who weighs 495 lbs and our oldest, Lucky at 42 years old is 520lbs.

I have worked with these animals for over six years, and each day I learn something new about their unique personalities.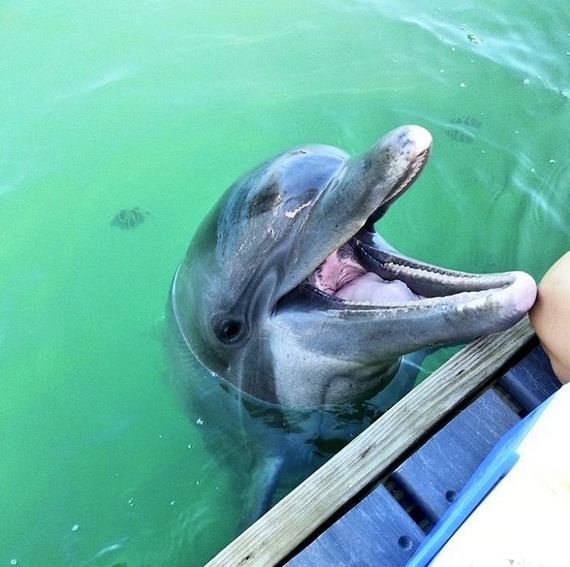 How do you train the dolphins?
Training is achieved with positive reinforcement such as whistle blowing and offering treats like fish, ice cubes, and flavourless gelatin (they love the texture). We teach these dolphins throughout their entire lives. Some behaviours are quick and easy (waves) while others (jumps and flips) can take months to train. Training is always fun and upbeat; learning and play enrich our dolphins' lives. We ensure that these intelligent creatures are never bored.
There's a stigma about dolphins kept in pens because they're not 'free' and 'wild'. Can you speak to this? How is Dolphin Connection at Hawks Cay Resort offering a healthy environment for these animals to play and live?
We are proud to provide our dolphins with the highest quality of care. We offer them a large, natural saltwater habitat, topnotch medical care (that includes blood sample analysis, physical assessments, and hydration), high quality food (we give them restaurant quality fish that includes sardines, herring, capelin -- all supply essential nutrients), as well as mental and physical stimulation through daily training.

We ensure that our dolphins are living happy and healthy lives here at Dolphin Connection.

We also do comparative studies with wild dolphins and the ones that live in our habitat to ensure they are as content as they would be out in the wild: everything from behavioural data to comparing gut microbiomes.
What initiatives is your organization spearheading with Hawks Cay Resort to support dolphin conservation and research efforts?
At Dolphin Connection, we believe that meeting a dolphin face-to-face encourages and motivates our guests to make a difference on behalf of our planet. We are confident that after guests meet our animals, their fascination with dolphins will grow to a realization that they can make a difference in the conservation of the marine environment.

In addition to educating our guests, we often support or participate in studies. For instance, one of them concerned Ocean Noise pollution. The project characterized the underwater noise environment of facilities that hold marine mammals, both in natural and pool settings. We then assessed animal welfare relative to noise conditions experienced by animals in wild habitats. This comparison study helped us create a baseline of healthy acoustic environments for the animals in our care.
Why should visitors participate in the Dolphin Connection opportunities? What should they learn from these experiences?
Our intimate dolphin interaction & discovery programs (eight to 10 people in two groups) provide an experience where guests see first-hand how incredible and bright dolphins truly are. Our dolphins do not give rides but visitors get to greet, feed and pet them. Small groups also ensure that are dolphins never feel overwhelmed with too many people.

We hope that the education we offer guests helps grow their appreciation and love for these mammals. It is our hope that the relationship they build with our dolphins inspires and motivates them to be more aware of our ocean's creatures and encourages them to be more active in helping to preserving wildlife habitats.
What are some interesting facts to share about the dolphins and their habitat?
The dolphins are in a natural lagoon that is situated on a canal, so it is common to see manatees and schools of fish swim by our animals' habitat. The dolphins seem to be most curious about the manatees and love to swim up to them!

Also, if our dolphins trust and like you, they will show you their tummies and ask for a belly rub.
Follow HuffPost Canada Blogs on Facebook