When a restaurant is owned by a company whose vision and mandate does not address food -- but rather sports and entertainment -- it gives me cause for concern. MLSE: Maple Leaf Sports and Entertainment, is an archetype of this business model. But of course, a company such as this would (inevitably) expand into food-focused outlets, regardless. Who wouldn't want a slice of that money-making pie? But, e11even, the more upscale sister to Real Sports Bar & Grill, aims change disconcerted sentiments such as mine.
Despite my initial perceptions of MLSE and my ambivalence towards it, I was interested to try the menu here. Why? I like to keep an open-mind and give the benefit of the doubt. And I like being surprised. More importantly, it gives me an opportunity to address sentiments from friends and readers who want to know if this place is actually worth spending their hard-earned dollar on. So, I'm always cognizant of this issue.
The first thing I thought when I stepped inside e11even was that it harkened back to the bygone days of Toronto's plentiful, upscale dining scene. Nowadays, the lure of the no frills, standing-only room, hole-in-the-wall, no reservations eateries are all the rage. But e11even, feels like a steakhouse, which isn't a bad thing. Shades of grey and black interspersed with directional lighting enriches the seductive and cozy mood they're trying to create with the space.
First opened in 2010, this year, e11even turns five years old. And this toddler is celebrating with adult favourites on the menu, as well as new dishes making their debut next month to freshen things up. Unlike Real Sports Bar & Grill which mirrors its venues, e11even only whispers of athletics. The bar, where a string of television screens reside, is the only place to get your baseball/basketball/hockey/soccer/etc. cravings satiated. Aside from that, it is markedly absent with sports paraphernalia; and instead, it is replace by a glass cellar of over 3,200 wine varietals.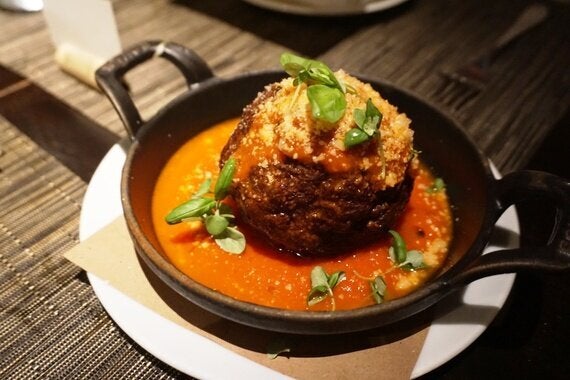 Once settled in, we receive a duo of appetizers that reflects the North American cuisine e11even offers. Executive Chef, Evan Tandy, has risen through the ranks of the MLSE family owned restaurants since 2001. At e11even, he's given free range to offer food he describes as "Classics with a twist". To me, it's a mish-mash of American and Canadian cuisine, as well as his renditions on European and Asian dishes. Nonna's meatball is characteristic of this. It's a mammoth sized sphere of meat; pork is freshly ground on-site and seasonings are peppered in; the binding agent here is not eggs but milk-soaked bread. The big ol' ball gets a trip to the deep fryer. Once bronzed and crisped up, it finishes cooking à la slow braise for an hour and a half in a blend of tomatoes and chicken stock. The meat is tender but the texture is unexpected-- it reminds me of dim sum siu mai.
The tuna tartare fares much better with all of us. It's a stacked cylinder layered with fresh avocados and coral-coloured tuna with a drizzle of sweet syrupy soy and and dots of crispy shallots. Fried wontons help us scoop up the creamy morsels.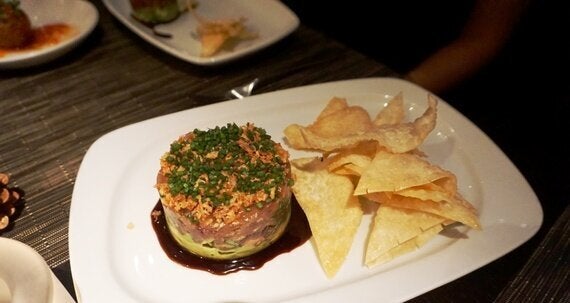 Another duo of dishes arrives on our table. It's a garden state of salads: Kale and Steak+Noodle. Kale is finely shredded and tossed with savoy cabbage, walnuts, black currents, shards of Parmigiano-Reggiano and toasted pine nuts. To finish, it gets a drizzle of roasted apple and pear vinaigrette. While the leaves are welcomingly tender with a nice chew, the ratio of accoutrements is off. There a mess hall of black currents that throws off the flavour profile of the dish. But aside from that, it's an addictive creation you may not want to share.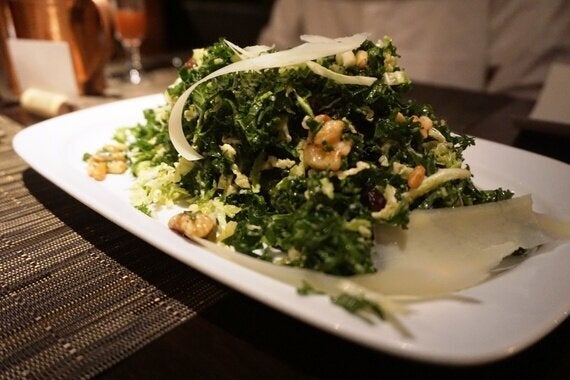 The steak and noodle salad also attempts to please, but misses the mark. The noodles are slightly overcooked and too stodgy to play nice with the flat-iron steak slices. A thinner egg noodle would be more ideal and easier to navigate through with a pair of chopsticks. The dish feels seasonally out of place as well. This would be most enjoyable during those dogs days of summer on the patio. In spite of this, the dish is a lovely perfume of Thai basil, salted cashews, raw mango tidbits and zesty Thai dressing that utilizes pineapple, mango and soy.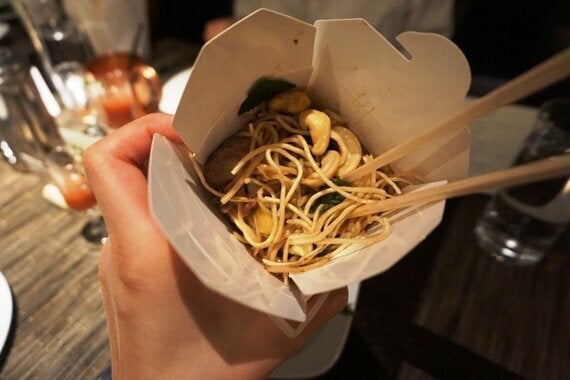 For those carnivorously inclined, such individuals will be ravenous over the burger. Canadian Prime chuck is ground in-house twice and simply seasoned with salt and pepper. It's a thin broad patty cooked to a juicy medium-rare. It's topped with a pleasing slab of marbled Guinness cheddar and double-smoked bacon amply shellacked with a maple sherry glaze. The 8 .oz beaut, I'm told, is the number one selling item at the restaurant. It's a chubby, towering delight that almost requires a knife and fork to eat it with. Unfortunately, the side of fries is an utter letdown; they're soggy, limp and cold. It's a sad pile of fries unworthy to be in the presence of such beefy eats.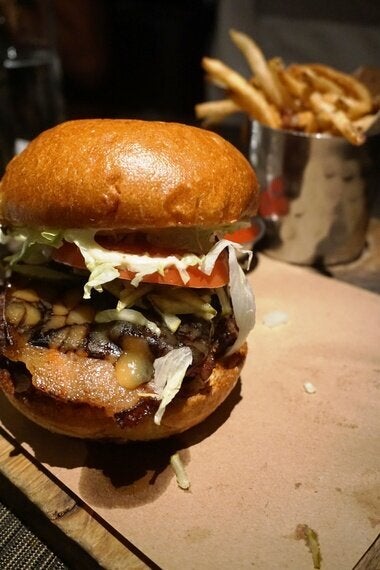 The second entrée is another carnal offering and the second menu mainstay we're trying on our tasting-tour. Baby back ribs are rubbed with a simple mixture of salt and sugar, braised for four hours, and finished off in the smoker for 20 minutes with hickory chips. As they're smoking, they're slathered with Chef's own rib sauce that includes brown sugar, pineapple juice, garlic, onion. It's sprinkled with peanuts just before serving. And after all that work, it's a shame that they taste like candied ribs. They're far too sweet and one-dimensional in flavour. Spices and smoke are overshadowed as a result. Ironically, when you get to the heart of the meat itself, it's an excess of blandness. There's still hope though; there's no denying the technique and effort is there-- the flesh itself was supple and tender-- but the ratios of ingredients need to be revised.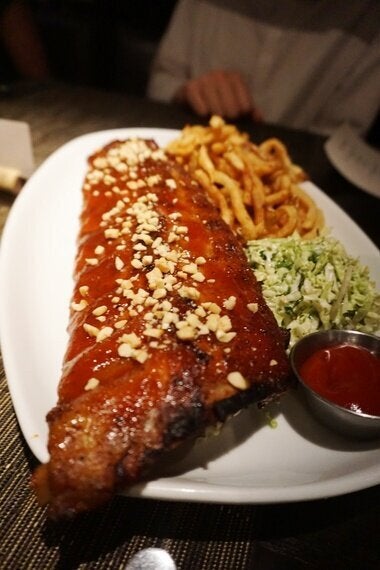 As the evening draws to a close, and we're spooning out stockpiles of sticky-sweet pecan pie goo (the newest member of the e11even dessert line-up) the litmus test of the entire event for me, is whether my guest would actually return and spend money here. After all, he's part of the targeted roster of clientele e11even desires: works in the financial district, treats sports as a religion, and has a glut of network connections he can recommend this restaurant to. And the verdict? Yes, he would return. I would as well for newcomers such as the tuna tartare and mainstay burger.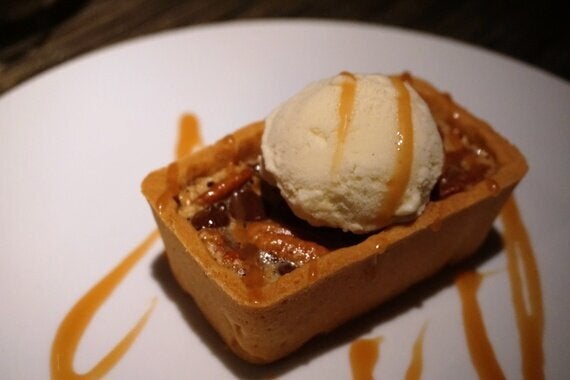 e11even has shown me that its model works -- so long as stalwart individuals such as Chef Tandy and his staff are able to continue exercising their creative licenses and rejuvenate its bill of fare by listening to what its customers want.