The City of Brotherly Love has garnered a reputation as the destination to learn about the storied tale of America's birth -- and that you can't leave the city without seeing the legendary Liberty Bell in person. And while it is certainly a city rife with history, there's so much more to see and do beyond "the bell."
You may not be aware but this is a lively city budding with delicious cuisine, art culture, beer gardens, local artisan boutiques and so much more. Here are my five favourite spots you won't want to miss out on: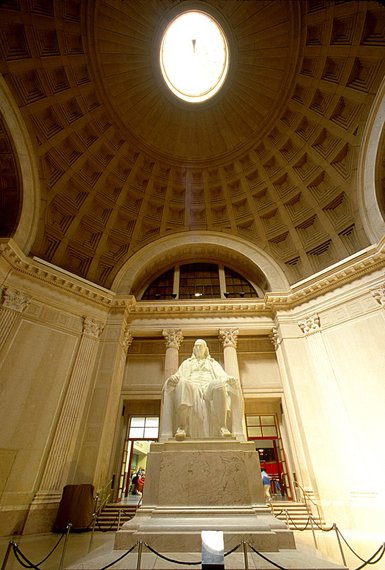 Sure, the museum during regular hours is fantastic, with interactive exhibits galore (e.g. Jurassic world!), but it is the after-hours event you want to attend.
Dubbed "Science With A Twist," it's an adult-only event (21+) that hosts an array of innovative and engaging science experiments you can participate in. Think of it like your high school science class and instead of chemicals in beakers -- think cocktail concoctions! Look forward to brain puzzles, live performances and more.
In fact, the next event is Sherlock Holmes themed. Discover how evidence is collected and analysed -- participants even have opportunities to speak with real-life gumshoes and forensic scientists. IMO -- it doesn't get cooler than this.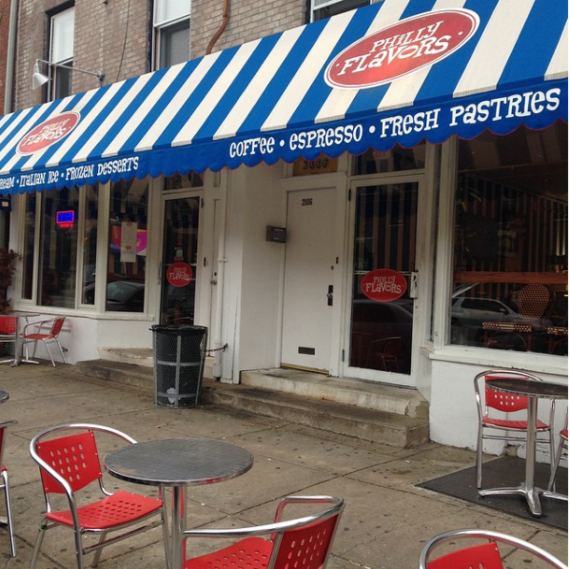 Certainly, the weather may be cooler, but why does ice cream have to be a summertime (only) treat? Besides, you're usually devouring the cold stuff in a heated room -- and that's good enough for me. Despite the fact that I've always been a Franklin Fountain devotee, if you're craving gelato or Italian ice, you must head to Philly Flavours.
You cannot find unique homemade creations such as Sour Cotton Candy and Amaretto cream anywhere else. Also not to miss: the Reese's PB Cup Sundae -- make sure to substitute the vanilla ice cream for their homemade Reese's frozen yogurt.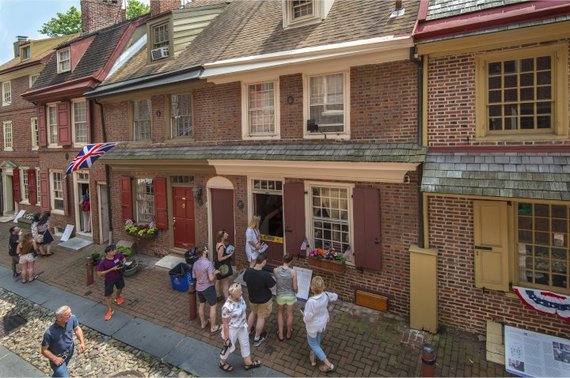 This street is a walk through America's historic past. As the oldest residential street in the country, it's been designated a National Historic Landmark. Nowhere else can you find architectural hallmarks of buildings erected in the early 18th and 19th centuries so exceptionally preserved.
In fact, the conditions are so well maintained that every home is still in use; it is a thriving community of people who support their neighbourhood with events such as the upcoming Deck the Alley, which allows visitors to enter the private homes of its residents. But if you're not visiting Philly during Christmas, there are always guided tours available year-round.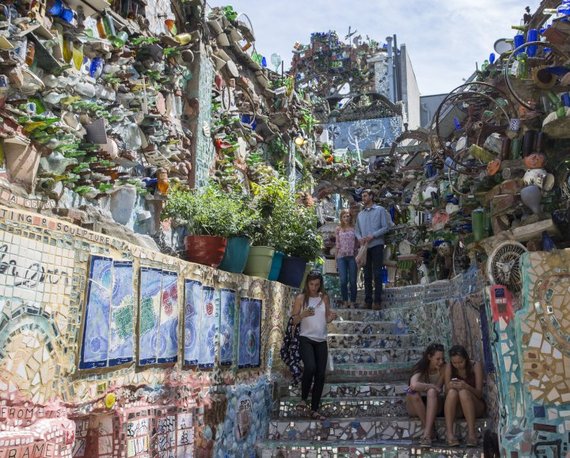 There is a dizzying amount of visual stimulation at this particular venue. The "garden" is actually a 3,000-square-foot outdoor labyrinth comprised of mosaic art and sculptures made from items such as kitchen tiles, bike wheels, glass bottles and China plates. Everything is created by visionary artist Isaiah Zagar whose pieces all tell personal narratives about his family, life and community at large.
You'll need at least a half hour to soak up all the intricate details. Personalized tours are also available and guides will offer interpretations of art work.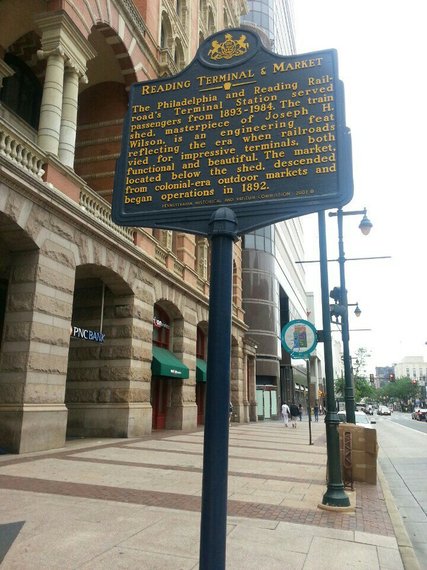 It's best to come to RTM on an empty stomach. Open since 1892, this historic building still houses some of the most delicious food around. After all, it was once declared "the greatest food market in the world." With nearly 100 vendors, what should you eat?
The roast pork sandwich with broccoli rabe from DiNic's should definitely be on your hit list. The buttered crusty roll is lined with sharp provolone then stuffed with sweet slices of roast pork and topped with spears of sauteed broccoli rabe. The juicy meat makes the sammy marvellously messy, so have plenty of napkins on hand.
And save room for dessert: get the apple and blueberry fritter from Beiler's bakery. If you have a friend, it's best to split up to conquer and divide -- the line ups, that is. They are typically long, but worth the wait for both vendors.
To assist me in my quest to find the top attractions, sights and bites, I referenced the following resources: #CitiesByCurio Local Guides by Philly photographer Darren Burton & Grammy-nominated recording artist Gavin DeGraw's picks, and recommendations from Visit Philly.
Follow HuffPost Canada Blogs on Facebook
Also on HuffPost:
Frank Gehry And The Philadelphia Museum Of Art