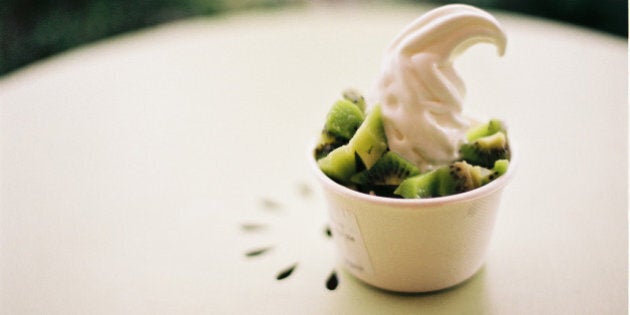 The last wisps of summer are lingering in the air, which means we're devouring as much gelato, ice cream, and frozen yogurt as humanly possible (well- at least, I certainly am).
But there appears to be a rebel in the mix. Lauded as a "healthier" alternative, frozen yogurt has had its trials and tribulations over the years. Despite being described as being too runny or too saccharine-tasting by some, somehow we've always returned to this cold treat-- especially in our current health-crazed climate. In fact, it seems there's a frozen yogurt shop sprouting up everywhere. But my main concern, and probably yours as well, is the taste. Most places leave an unappealing texture in my mouth, and the use of alternative sweeteners leaves my tongue in a ragged condition -- not unlike a shaggy carpet.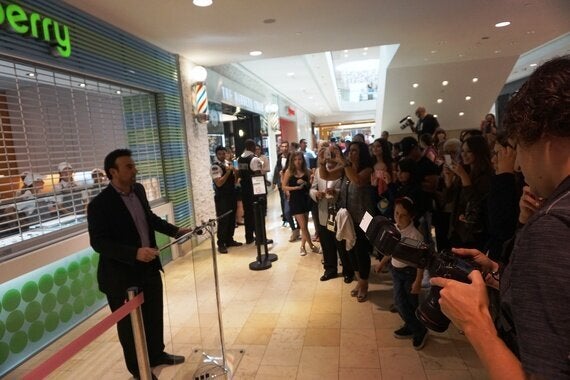 *Director of Operations - Matthew Maida*
Unappealing descriptors aside, Pinkberry decided to throw their offering into the mix despite a crowded market. They recently swirled into Eastern Canada with a grand opening at Square One Mall in Mississauga. To much fanfare, it was the store's first foray into Ontario. Its very first Canadian opening was in Vancouver.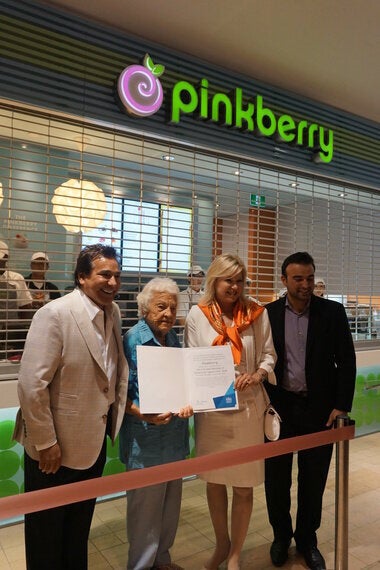 * L to R - Gene Maida, President & Director of Finance; Hazel McCallion, former Mayor of Mississauga; Bonnie Crombie, current Mayor of Mississauga; Matthew Maida, Director of Operations*
Pinkberry, a Los Angeles-based company, started in 2005, and today they've amassed an almost cult-like following with 265 stores worldwide in 22 countries. Pinkberry hopes to rejuvenate the frozen yogurt category by offering friendly, full-service staff, fresh-cut fruit without syrup and vibrant flavours. Canadian Pinkberries use Canadian non-fat milk and non-fat yogurt for all its swirly treats. Currently, there are six flavours one can indulge in. Original (with a sweet and tart kick), pomegranate (made with 100 per cent pure pomegranate juice), chocolate hazelnut, salted caramel and green tea. For those with gluten or dairy issues, Pinkberry offers tropical mango, which uses fresh mango juice and no added sugars.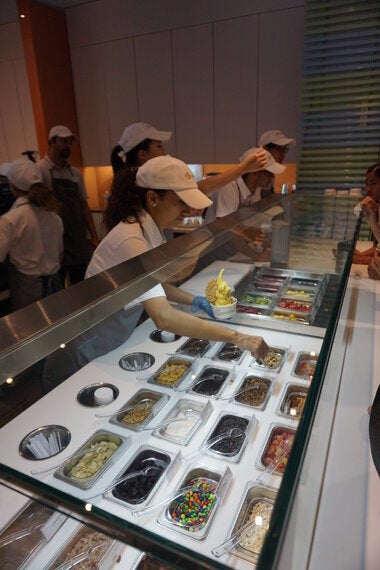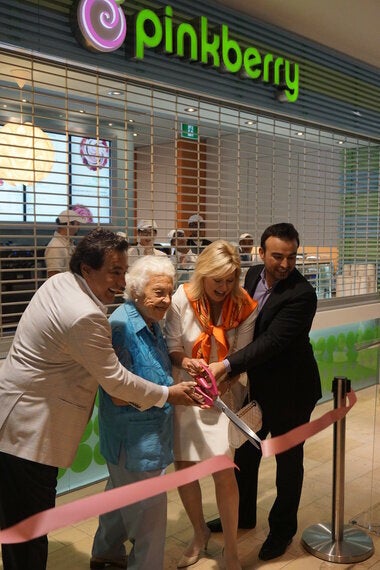 I was present for the star-studded opening and ribbon cutting ceremony which included Former Mayor Hazel McCallion and current Mayor Bonnie Crombie. Even fashion maven Jeanne Beker made an appearance, who asserted herself to be a "Pinkberry virgin."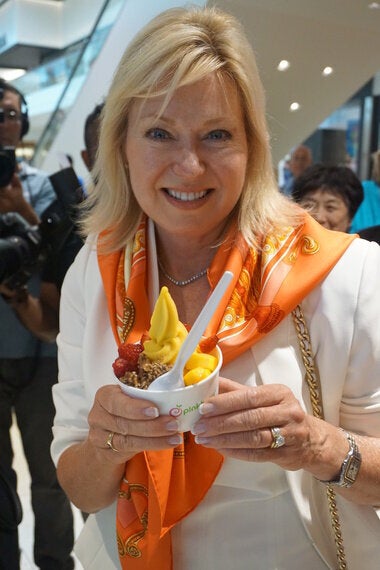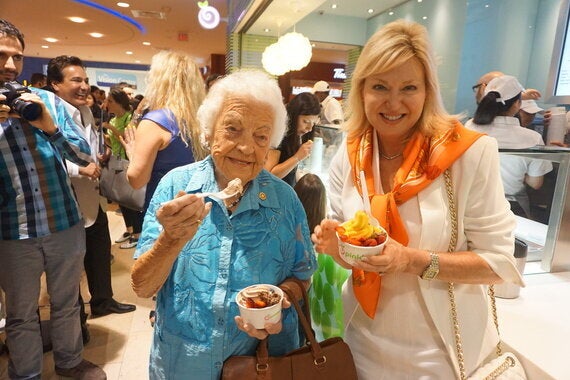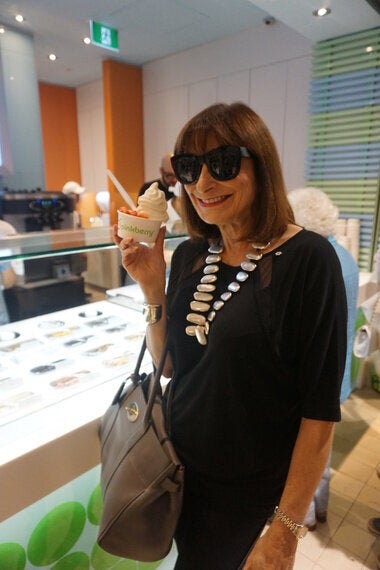 *Jeanne Becker enjoying original tart flavour Pinkberry frozen yogurt*
Were you also aware that it is a treacherous thing to be around sugar fiends? I was almost trampled by doting fans and curious passersby -- and then -- I accidentally body-checked the legendary Hazel McCallion while snapping pictures for this piece! In that moment, it was as if someone stopped time -- I wanted to crawl into a hole and disappear. I apologized in the midst of all the chaos and survived to tell the tale (as in, Hurricane Hazel did not destroy me). But I digress.
The most remarkable aspect of this experience was the genuinely cheery AND patient demeanour all the staff had in navigating a deluge of people wanting a taste.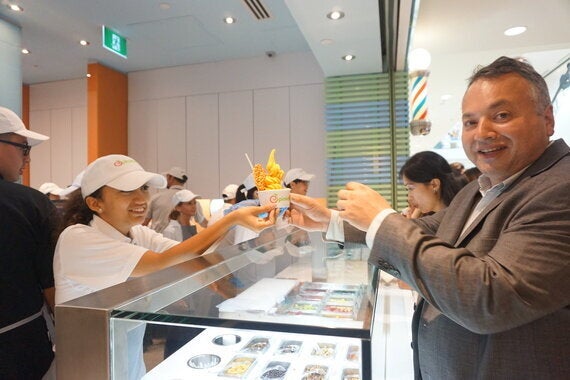 And then, at last, it was my turn. I sampled each flavour and yes, they were markedly frosty with a creamy body. If you're a slow eater like me, you'll also appreciate that the texture holds up well in warm weather. But, in my opinion, the best thing about Pinkberry is that they have a clean finish and an absence of filmy residue on your tongue. My favourites to recommend are original tart and green tea frozen yogurts.
Pinkberry will be expanding into the Greater Toronto Area this fall at Sherway Gardens.
*All photos courtesy of Tiffany Leigh*
Follow me on Instagram for more deliciousness.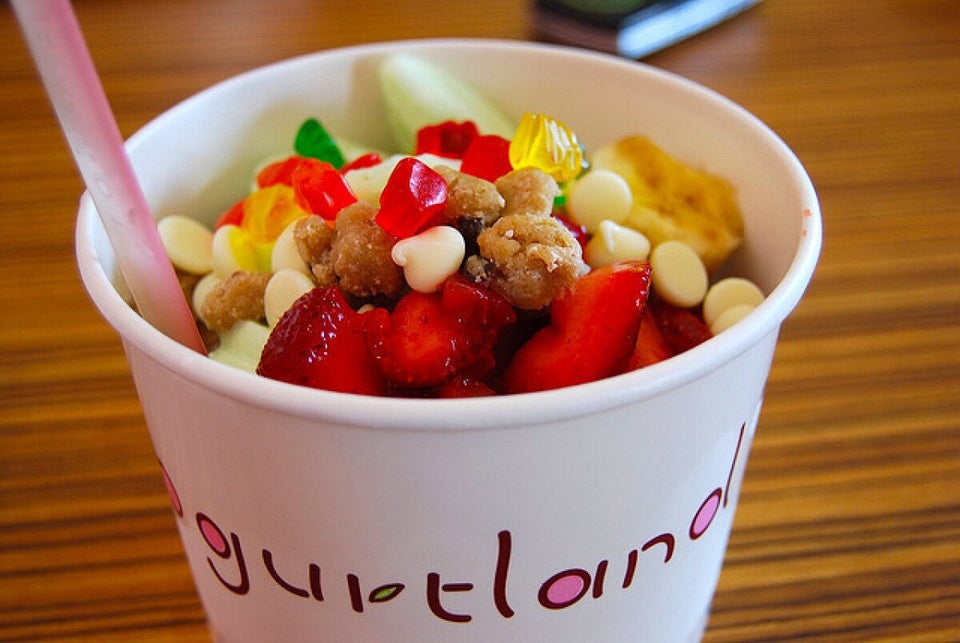 Our Favorite Frozen Yogurt