Karl Weatherly via Getty Images
The last time I donned a pair of skis, I was 15 -- and it wasn't even while cascading down a snow-white mountain. It was gliding down a modest hill in Oshawa, Ontario, Canada I'd travel to on the weekends with my cousins. From that experience, fast-forward a decade, and I go from my comfortable 246 ft. above sea-level climate in Toronto to a jaw-dropping elevation of 8000+ ft. in Colorado.
Despite the mild head-rush... I figure this is as good a time as any to regain my ski-legs -- "go big or go home" as the adage goes. But, if you're like me and in dire need of a confidence booster, Vail and Breckenridge have it in spades. After all, one does not simply conquer 5,200 acres of skiable terrain, seven miles worth of Back Bowls in Vail as well as five peaks, nearly 3,000 acres of skiable terrain, a 22ft SuperPipe, 11 bowls, and the highest chairlift in North America in Breckenridge on her own!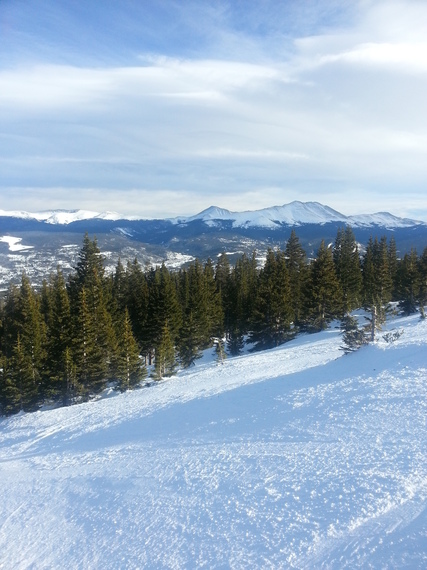 One thing I do advise is to keep the following handy survival tips in mind. They will help you navigate and tackle impending challenges while on the mountain slopes. Breckenridge and Vail are a dynamic duo of winter wonderlands that have ample amounts of activities and excitement for novices and seasoned ski veterans alike.
If you're unfamiliar with Vail Resorts, here's a primer:
They offer nine mountain resorts and three urban ski areas; those of which include Vail, Beaver Creek, Breckenridge and Keystone in Colorado; Park City in Utah; Heavenly, Northstar and Kirkwood in the Lake Tahoe area of California and Nevada; Perisher, Australia; Afton Alps in Minnesota and Mt. Brighton in Michigan. And the newest family member from the Midwest is Wilmot Mountain in Wisconsin near the Illinois state line. Needless to say, it is a large, extended family. But it works in your favour; in fact, they offer a variety of passes for frequent users or newbies to the ski scene which give you access to all the resorts.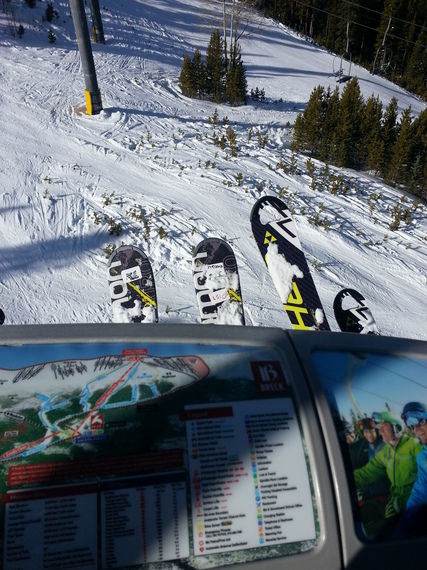 Gear
If you're new or just getting reintroduced to skiing, Vail and Breckenridge both offer rentals for your boots, skis, poles, and helmet. With no shortage of experts on site, you'll worry-free and secure in your gear; the staff are not only friendly and helpful, but they ensure you an accurate and proper fit.
The second thing you'll want to take advantage of is their Ski Valet and storage services. We were lucky to have accommodations at The Lodge at Vail, which was mere steps away from the mountains. But even in such close proximity, it was no easy feat to walk over to the base in ski boots. It is advisable to use valet and storage services; you'll definitely appreciate it when equipment is at your ready disposal. Instead of forgetting something back in your hotel room and needing to trudge back there and retrieve it, store goggles, helmets, gloves, and small accessories in hampers that are located within the rental facilities. Certainly, these may seem like minor details, but taking care of them makes your trip enjoyable and saves you time for more ski fun.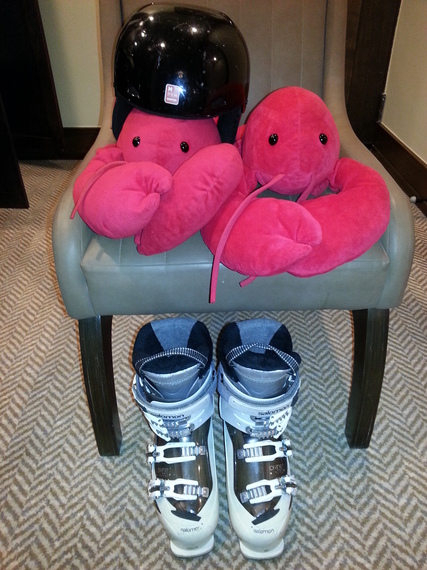 *Or get your pet lobsters to carry your gear for you :P*
This program at Vail and Breckenridge offers an intimate learning environment for women. A female instructor focuses on leading four ladies and teaches them foundational skills or advanced techniques. In particular, for those who have children, lessons are offered in-between times the tiny tots are in ski school. With convenient lesson times offered, comfort found in learning from a female coach, and more individualized attention for each person due to small group numbers, the program has been well-received and many ladies are rediscovering their passion for the sport -- including myself. And as a welcome bonus, they've expanded the program on Fridays with an event called Women & Wine. Lessons are shortened and after a few ski runs, it is followed by some relaxed lodge-lounging, socializing, and a glass of red or white. I think we can all agree that the best remedy for ski-soreness is a glass (or two) wine.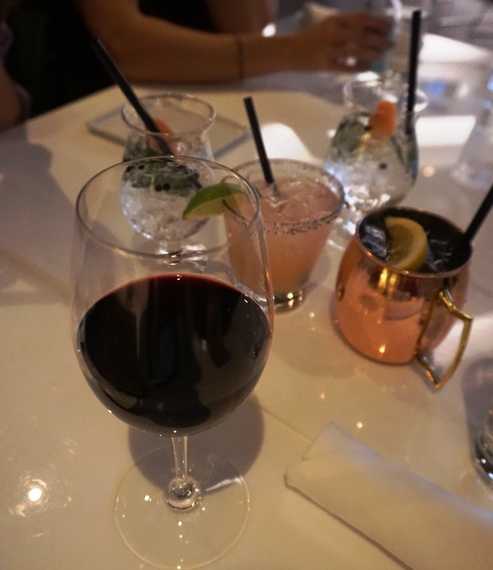 Rest and Recovery
You will undoubtedly use muscles you didn't know existed before when you're on the slopes. I can't count the number of times my feet and ankles suddenly decided to cramp up on me. Fortunately, there's refuge found at RockResorts Spa, located inside The Lodge at Vail. In particular, you'll want to opt for the Après-Sport Therapeutic Massage. Admittedly, it was slightly torturous at first-- but in a beneficial way. Using an essential oil blend of your choice, therapists use targeted compressions, stretching techniques and pressure-point massage that will make you feel like pulled taffy after. As a result, the treatment revitalizes overworked and tired muscles; and best of all, it will hasten your recuperation time so you won't feel sore the following morning.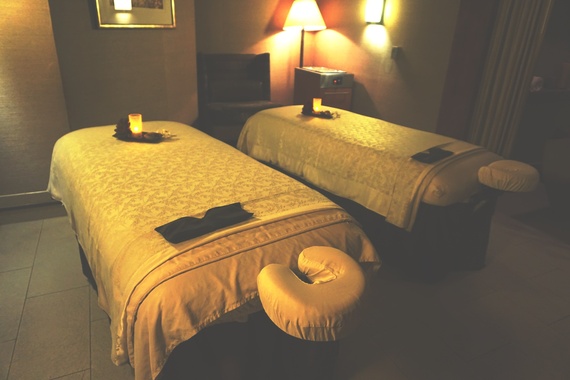 There's an App for that...
And it is called Epic Mix. Admittedly, the name confused me at first -- I thought it was referring to music or something dance-related -- but it is actually in reference to the diversity of slopes and challenges the Vail Resorts family offers.
When you purchase any Epic Pass, it automatically begins logging all your ski activity. You simply download the free app and access information via your pass card number. You can pull up a lot of useful content including hill difficulty levels, trails, and building custom itineraries. It even has fun features built-in to test you (e.g. Epic Mix Racing allows you to challenge yourself against the race time of Olympian Lindsey Vonn). For me, it was really gratifying to see how much I had accomplished on a particular ski day. And if you happen to forget your phone or camera and want a photo of yourself on the slopes, there are plenty of staff located in and around the resort that can snap one for you. When you login to the app, all the free images are there for you as a great memory keepsake. I particularly like that the instructors can add their skill ratings of you, note your progress and improvements.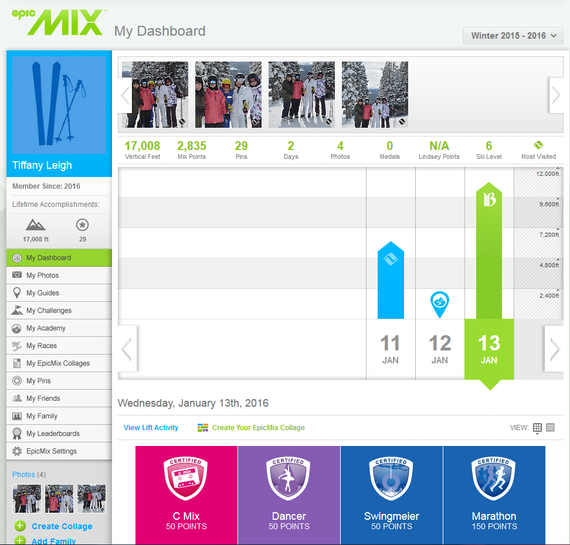 As with any sport you're unfamiliar with, it requires persistence and patience to first get your bearings correct, find comfort in it, and then cultivate enjoyment from it. Despite my initial frustrations, by the end of the second day -- you literally couldn't tear me away from the slopes. At one point, the scenery was so enchanting that it felt surreal, as if I was in an alternate reality -- cutting through the mountainside like a speed demon. This trip wouldn't have been as amazing without the support of the following superstar individuals: Abby Hein, Brooke Sorensen and Jason Seiber.
Here's to winter wonderland vacations and conquering majestic ski mountains.
Follow HuffPost Canada Blogs on Facebook
ALSO ON HUFFPOST: