We obviously have too many civil servants in Canada. Case in point: now they are messing with my personal diet.
Recently, a news story hit the headlines that horrified anyone who is a Marmite-lover. The tasty (or disgusting, depending on your point of view) yeast spread from the U.K. was, apparently, suddenly banned in Canada by the Canada Food Inspection Agency, along with a couple of other British products. The case centred on a small Saskatchewan specialty food shop, whose Marmite and two other popular products were suddenly yanked from the owner's shelves, because they contained "too many vitamins and minerals" according to the report. Yes, you read that right. The Brits are calling this "Marmageddon."
For consumers like me, who grew up on Vegemite in Australia (a similar tasting spread to Marmite), and then switched to Marmite when I emigrated to Canada more than 50 years ago, the news of the ban was devastating. I literally can't eat bread, bagels, scones, or other flour-based food without a slash of Marmite. I take a supply with me on overseas trips (happily, I can buy Marmite when I visit the U.S.), and have persuaded three of my six grandchildren that it is an essential part of their diet! (One has to be introduced to the stuff at an early age, otherwise the dark brown color, strong smell and generally unappetizing appearance, is off-putting.)
As soon as I read about the ban, I drove in a panic to my local Loblaw's store (at Bayview and Moore avenues in Toronto) where I have been shopping forever, and buying Marmite four or five jars at a time (since it's only available in the small size, not the hefty one-pound jars one can get in Great Britain).
No Marmite! The shelf where I usually buy it was denuded of the distinctive squat jars, and filled with powdered yeast. Enquiries of a staff person revealed that the store had recently removed Marmite for some unstated reason, and I was told to talk to Customer Relations.
In the meantime, my son-in-law in the U.S. kindly sent me a statement from the CFSA that said Marmite was NOT banned across Canada, just the store in Saskatoon, and that it would continue to be sold here as it has done for decades.
However, this news did not appear to have reached my Loblaws. Customer Relations were polite and solicitous, and after a lengthy wait on the phone I was told that Marmite had been removed because it was no longer one of the foods they wanted in their inventory, along with other items. Why, I asked? Why remove a popular product that regularly sold well (as I found whenever I stocked up), and that was not considered any kind of health hazard?
Loblaws promised to get back to me and said maybe they would reinstate it at some future time.
Meanwhile, I told the Customer Care woman that if they didn't reconsider, I would take my business to one of the other supermarkets which have sprung up in the area (Sobey's, Longo, Metro and others), and they would lose a 50-year loyal customer. Although alas these stores don't carry Marmite either.
Loblaws probably doesn't care. I just wished my late husband, journalist Peter Worthington, was still alive so he could write an indignant column on my behalf. Oddly enough, when we met some 45 years ago, one of the instant bonds between us was that he loved Marmite, too, having been introduced to it while at boarding school in England during the war.
He would have noted that our Loblaws was once called the chain's 'flagship' store, and that he and the late Lord Thomson regularly haggled with one another while doing their shopping there, over who would get the last 'past sell-by date' doughnut, or whatever else was being gotten rid of.
Please, please, powers-that-be, bring back Marmite before I and others go into withdrawal.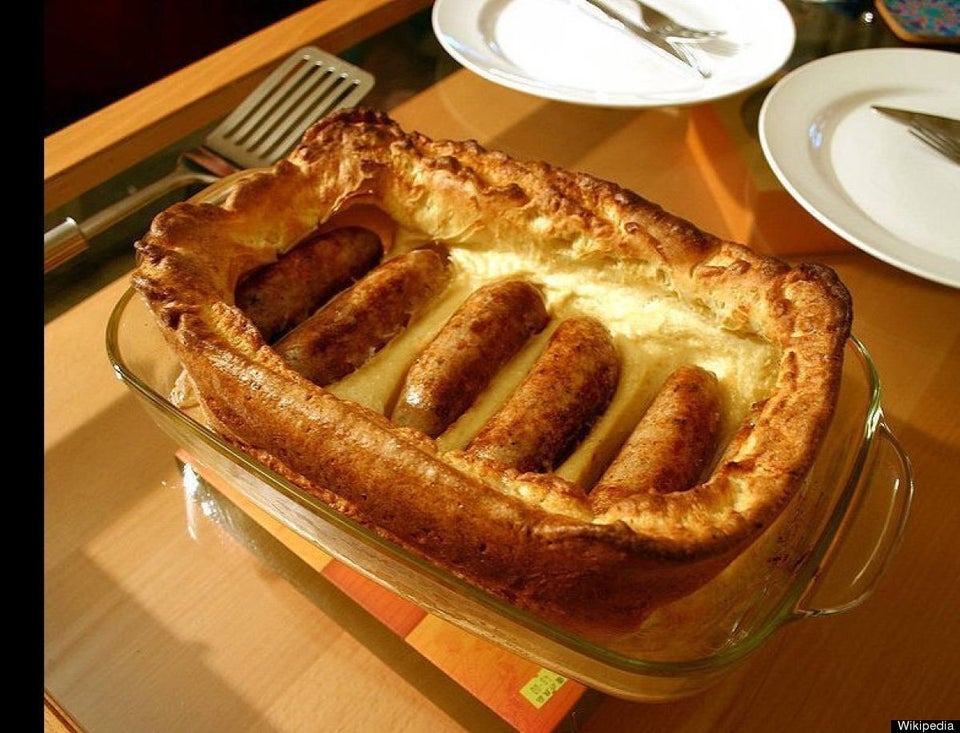 Misunderstood British Food Names