Justin Trudeau: Boxing Match With Tory Senator Patrick Brazeau To Air On Sun News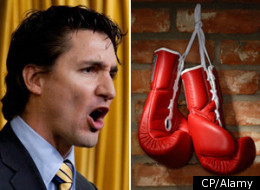 Justin Trudeau's boxing match with Tory Senator Patrick Brazeau is going to air on the Sun News Network.
The right-wing broadcaster announced Wednesday that it has scored the rights to the highly-anticipated bout.
"When Sun News launched we promised to pull no punches," said Luc Lavoie, spokesman for the channel. "When Trudeau and Brazeau do battle, it will be a promise kept."
Justin's father Pierre Trudeau, introduced his son to boxing and the MP from Papineau, Quebec has been interested in the sport ever since. But that doesn't mean he has an advantage going into the fight.
Brazeau holds a second-degree black belt in karate and told the Toronto Star he would jump at the chance to beat on Trudeau in public. At age 37, Brazeau is the youngest senator in the upper chamber and three years fresher than Trudeau.
Sports Bet Online has Brazeau as the heavy favourite. However, Trudeau does have a three inch reach advantage on the senator and is a full four inches taller. Brazeau currently weighs in at around 183 pounds while Trudeau tips the scales at 175 pounds. The two politicians have been training since November.
The two men will fight three two-minute rounds with Olympics rules, according to the National Post. That means headgear.
Trudeau also challenged Defence Minister Peter Mackay and Tory MP Rob Anders to fight, but neither could find the time to train for the charity bout.
The fundraiser for the Ottawa Regional Cancer Foundation is being organized by Ottawa's Final Round Boxing Club.Complications from prostate cancer killed Trudeau's father and Brazeau lost his mother to lung cancer.
Tickets will be $250 and the fight will take place at the Hampton Inn Convention Centre on March 31.
After making headlines for swearing at Environment Minister Peter Kent and suggesting he might support separatism, the fight offers Trudeau the opportunity to grab some positive media attention.
Trudeau's media presence his something Brazeau is acutely aware of. While expressing his respect for the Quebec MP, Brazeau told the National Post that Trudeau "is a person who will try to do anything to gain media attention, positive or negative."
The fight is undoubtedly a big risk for Trudeau, who many see as the inevitable heir to the Liberal leadership.
A Forum Research poll in February suggested Trudeau is Canada's second pick for leader, coming in behind current interim chief Bob Rae. While Trudeau has pledged not to run this time around, the outcome of the coming boxing contest could have major implications for any future ambitions.
Trudeau joked about those very implications to Sun News, referencing former Tory leader Robert Stanfield's infamous football fumble during the 1974 federal election. "If Sun News is willing to put out the big bucks it's because they think they are going to catch me dropping the football."
FAMOUS POLITICAL SWEARS
However you look at Canada's 15th prime minister, it's hard not to see Pierre Elliott Trudeau as a politician cut from a very different cloth. While much of his globe-trotting, playboy image was doubtless driven by the media -- Trudeau was actually a workaholic and sleepless intellectual -- the man certainly had his moments. Luckily, the news wasn't delivered quite so relentlessly in 1971 as it is these days - or Trudeau wouldn't have heard the end of it when he told an opposition member to "F-- Off". Well, actually he mouthed it. And although the TV tape clearly captured his salty salute, Trudeau was allowed to tell reporters he had actually said 'Fuddle Duddle'. And that was that.

Outspoken doesn't seem to quite cut it when describing NDP MP Pat Martin. The man speaks out a lot. And every now and then, he brings the thunder. Like last November, when he treated his 1,400 Twitter followers to a smorgasbord of swearage. "This is a f---ing disgrace... closure again. And on the Budget! There's not a democracy in the world that would tolerate this jackboot s---." And the cherry on top? Telling one of his followers, "F-- you."

Interim Liberal Leader Bob Rae took a page from Pat Martin's profanity playbook on Wednesday -- and took it to Twitter. A tweet about a feud between liberals Zach Paikin and Max Naylor may have caught him before breakfast. "What bullshit is this?" he tweeted back. Sure, the word likely ceased offending most people decades ago. In fact, we don't even bother covering most of the letters with asterisks. But hey, it does incorporate the s-word - which we still cover with asterisks.

Unlike his father, Justin Trudeau didn't merely mouth the words. In fact, he let them ring out from the rafters at the House of Commons on December 14. 'You piece of sh---' The recipient? Environment Minister Peter Kent. You know, Canada's public face of Kyoto withdrawal. Also unlike his father, young Trudeau probably knew the Fuddle Duddle Defence wouldn't cut it. So within minutes of uttering the words, he owned up to them. "I lost my temper and used language that was most decidedly unparliamentary and for that I unreservedly apologize and withdraw my remark," Trudeau said at the end of question period.

Treasury Board President Tony Clement was forced to apologize after calling 15-year-old Keith Pettinger a "Jack ass" in a private Twitter message. Clement sent the message after the teen criticized the spelling in one of the minister's tweets.