Penis Print Leggings: NSFW Pants Take Fashion Too Far (PHOTO)
In the past few weeks we've seen our share of ridiculous fashion statements, includng duck nails and the super cool bra (the latter of which is adorned with tiny "fish tanks").
But a find we stumbled upon last night takes the cake. Introducing: penis leggings.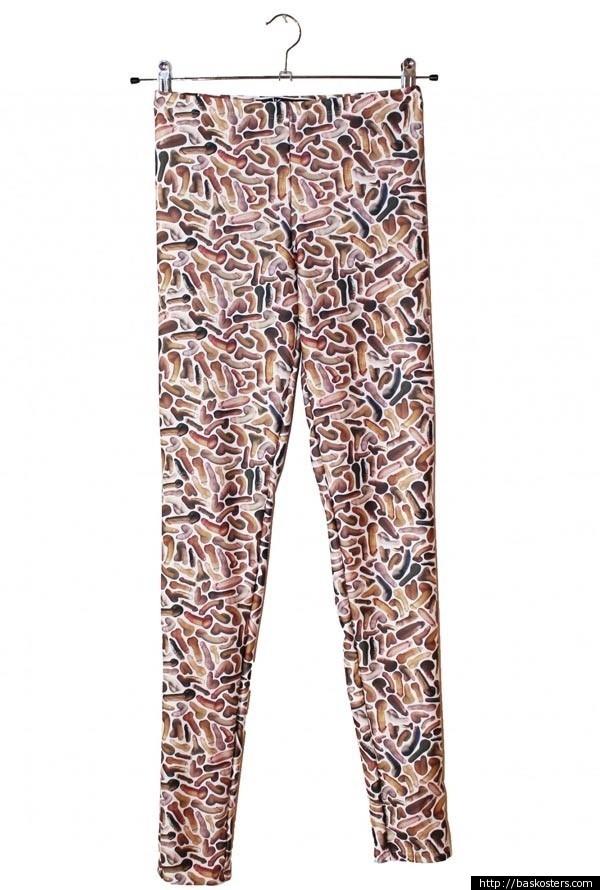 Yes, folks -- someone decided creating a pair of pants with tiny little penises all over them was a good idea, although we have no idea who is wearing them. Jezebel describes them as "revolting and totally NSFW." Obviously, creating a sartorial statement like this is all about shock value.
But really? Really?! Has fashion come to a point where the only way to shock and awe is to wear a $150 pair of pants dubbed "Is That A Cock Or Your Legs?" What happened to bright colours or couture clothing?
This, dear readers, is what we call a fashion fail.
Here are some other epic fashion product disasters.
Wondering what to get the club kid who has everything? Try glow-in-the-dark jeans. Naked & Famous created these stunners by baking a phosphorescent coating into the fabric. If left out in sunlight or under a light bulb, they'll beam like glow sticks. As an added bonus: "After you beat them up a bit the wear patterns will cause the coating to fade in certain parts of the jean and will create a unique piece of glowing art," Naked & Famous writes on its blog. What's next for the company? Scratch-and-sniff jeans.

Dressing sexy just got a little safer -- and uglier -- with Heel Condoms. Roll on one of these babies to protect your heels from damage and to make your shoes what the company calls a "conversation piece." Did you really want to have a conversation about condoms for your shoes? Didn't think so.

Lip service took on a whole new meaning with Violent Lips' Temporary Lip Tattoos, which come in such questionable styles as fishnet, cheetah and Glitteratti. Luckily, the tattoos are temporary stick-ons, although the embarrassment from wearing them might haunt you for life.

Say goodbye to embarrassing nip slips with Cami Secret, a dickie that snaps onto a bra to cover up that pesky cleavage.
And check out some other fashion catastrophes in the below slideshow.
Whoopi Goldberg dressed in full 24th century regalia at 1993's Academy Awards. (Barry King, Liaison / Getty Images)

Donning a headdress that would put Cleopatra to shame, Cher made her mark on 1986's Academy Awards. Two years later, this fashion pariah would go on to win Best Actress Oscar for her role in "Moonstruck." (Julian Wasser, Liaison / Getty Images)

While her sheep skin coat and crop top-wearing character in Cameron Crowe's "Almost Famous" won her the nomination, Kate Hudson would not have such fashion luck during the 2001 Oscars. (Getty Images)

Rainbow, no matter who -- even a sunny country star like Faith Hill-- or when (2002) is a mistake. It doesn't matter if the pink, yellow, green and blue brings out your eyes. No.

The 1992 Oscars were full of life lessons: Sometimes you can't have your cake and eat it, too.

Just remember, 1989 was way before "True Blood."

Still basking in the glow of her "Titanic" ballad, Celine Dion was thought to be unstoppable. I guess that made the 1999 Oscars her Waterloo.

Hilary Swank decided to go with pink tulle for the 2003 Academy Awards. The issue here: pink tulle.

This 2004 Christian Lacroix getup was confusing to all -- especially to Uma Thurman who later confessed, "It was a beautiful dress, turns out I wore it wrong."

Jennifer Connelly took home the gold for her "Beautiful Mind" performance in 2002, but unfortunately, her "meditation on beige" ensemble was far from a winner.

In 2002, even fashion fave Gwyneth Paltrow couldn't make this sheer number sing.

Sarah Jessica Parker broke a lot of SATC hearts back in 2010 with this meringue-colored mess. It's OK! You can still want to be Carrie!

In the years since 2001, when Bjork hit the red carpet wearing a swan costume, this outfit has made the remarkable switch from unbelievably bad to just unbelievable. Well done, Bjork!

1990 was a strange time. Don't remember? Perhaps Kim Basinger dressing as the woman from Candyland during the 62nd Academy Awards will jog your memory.
Want more? Be sure to check out HuffPost Canada Style on Twitter, Facebook and Pinterest.