Omar Khadr Returns To Canada: Twitter Reacts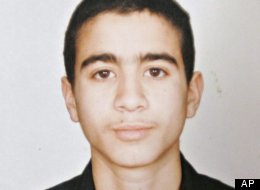 Omar Khadr has returned to Canada, Public Safety Minister Vic Toews confirmed Saturday morning.
Khadr arrived at CFB Trenton at 7:40 EST and authorities transferred him to Millhaven prison, a maximum security institution in Bath, Ont.
"Omar Khadr is a known supporter of the Al-Qaeda terrorist network and a convicted terrorist. He pleaded guilty to the murder of Sergeant First Class Christopher Speer, an American Army medic, who was mortally wounded in a firefight in Afghanistan on July 27, 2002 and died on August 6, 2002," Toews' statement read.
"I am satisfied the Correctional Service of Canada can administer Omar Khadr's sentence in a manner which recognizes the serious nature of the crimes that he has committed and ensure the safety of Canadians is protected during incarceration."
The Twitter History Of Khadr's Return
Omar Khadr Returning To Canada
Sept. 12: OTTAWA -- Convicted war criminal Omar Khadr will be back in Canada before winter, ending a diplomatic logjam with the United States after a controversial legal saga that has divided Canadians ever since he was captured on an Afghan battlefield a decade ago. READ STORY HERE

After The Huffington Post Canada's report, the Prime Minister's Office tweeted a response:

TORONTO - There are reports that Omar Khadr is being repatriated to Canada after spending nearly a decade in the U.S. military prison in Guantanamo Bay, Cuba. Several American and Canadian media outlets are citing unnamed sources as saying Khadr is being flown back to Canada this morning.

Here are Tweets reacting to Omar Khadr's return
In 2002, American forces captured the 15-year-old Khadr after a firefight in Afghanistan. He was transferred to the Guantanamo Bay prison months later.
Khadr pleaded guilty to five war crime charges, including Speer's murder, in Oct. 2010. As a result, he was given an eight-year sentence. He also became eligible to return to Canada after serving another year at Guantanamo.
Despite his eligibility to return to Canada last October, Khadr remained in U.S. custody. Critics have pointed the finger at Toews and the Conservative government for delays in his return.
Earlier in September, HuffPost exclusively reported the Tories had made a decision to repatriate him. But Prime Minister Stephen Harper's director of communications Andrew MacDougall and Public Safety Minister's spokeswoman Julie Charmichael denied that any decision had been made to bring Khadr back to Canada.