Mobile Payment: Rogers, CIBC Launch Canada's First System For Paying By Smartphone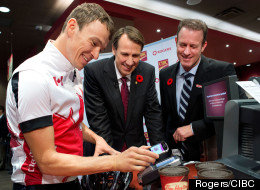 Welcome to the era of paying for stuff with your phone.
CIBC and telecom giant Rogers announced Friday they had made the country's first mobile payment purchase — a coffee bought at Tim Hortons by Olympic medalist Simon Whitfield.
The Canadian triathlete was on hand at a Rogers-CIBC promotional event in Toronto to launch CIBC Mobile Payment, the country's first foray into paying by smartphone.
For the time being, the app will be available only to Rogers customers who have a BlackBerry Bold 9900 or a BlackBerry Curve 9360 — as well as a Visa or MasterCard issued by CIBC.
STORY CONTINUES BELOW SLIDESHOW
7 Signs Canada Is Becoming A Cashless Society
Nowhere do people pay with plastic more than in Canada. An RBS report from 2011 found that paying by plastic -- credit, debit and bank cards -- amounts to 40 per cent of transactions, on average, across world economies. But the rate in Canada was 68 per cent, making the country the world leader in plastic payment.

Observers in the U.S. and elsewhere declared Canada a trailblazer when the Harper government announced in its 2012 budget this year that it's eliminating the penny. Canada isn't the first to do this -- Australia got rid of its penny decades ago, for instance, and various currencies around the world often eliminate their lowest denominations due to inflation. But the decision to kill the copper coin is nonetheless a sign that physical currency is less important to the economy than it used to be -- and central banks are beginning to notice the costs involved with it. Photo: Jeff Golby wears an oversized model of a pennyas he collects donations of pennies for local charities during Canada Day festivities in Vancouver, B.C., on Sunday July 1, 2012. (THE CANADIAN PRESS/Darryl Dyck)

Even our paper money is turning plastic. The Bank of Canada unveiled Canada's first plastic bill -- a new $100 -- last fall. The $50 bill went plastic this past March, and the $20 followed quickly in May. The plastic bills are meant to be more durable and include a variety of new security features, including a translucent strip. But they've already been through a few controversies: One involved the discovery that the new plastic bills may melt in heat; another involved a controversial decision by the BoC to eliminate an "Asian-looking" person from the original design of the $100 bill. Photo: Minister of Finance Jim Flaherty and Bank of Canada Governor Mark Carney show off the new $20 bank bill during a ceremony in Ottawa, ON Wednesday May 2, 2012. (THE CANADIAN PRESS/Adrian Wyld)

Perhaps the elimination of the penny made the Royal Canadian Mint realize that the age of physical coins may be coming to an end. The agency responsible for Canada's coins launched a new project this spring, called "MintChip," in which it's researching the creation of a "digital coin" shoppers could use for transactions under $10. On its face, the idea is similar to BitCoin, the virtual currency, but when a national mint develops something like this, it's a clear sign we're into a new era when it comes to money. Photo: The Canadian Press

A study carried out by Leger Marketing for PayPal earlier this year found that 71 per cent of Canadians are comfortable with never having to use cash to make purchases, up a stunning 44 percentage points from 2011, when only 27 per cent of Canadians said the same. We're going to go out on a limb and suggest this survey could be somewhat unreliable, but another survey, carried out by RBC this spring, found that three-quarters of women and two-thirds of men typically carry less than $50 in their wallet and rely on electronic transactions for purchases. Photo: The Canadian Press

As Wired points out in this gushing article, Canada's Interac system is a world-leading digital currency system. Nothing like it exists in the U.S., where you can pay by debit card at the cash register or pay user fees at a bank machine. While other countries have proprietary trading systems owned by banks, forcing withdrawal fees on customers and costs on retailers, the not-for-profit Interac costs so little it overtook cash as the preferred method of payment for Canadians all the way back in 2000. Photo: The Canadian Press

The Canadian Bankers association is working on a unified, standardized system for smartphone payments in Canada -- something that could well evolve into an "Interac for the smartphone age." Experts say that before smartphone payment can become standard, the phones themselves have to be equipped with Near Field Communication which allows phones to be swiped near readers to complete a transaction. Analysts say that technology is only a few years off. Photo: The Canadian Press
Phones using the system will need a SIM card that's enabled to use Near Field Communications (NFC) technology. Rogers is selling NFC-enabled SIM cards online as of this week.
The company says the mobile payment app will be extended to more phones in 2013, including Android devices and Windows Phone 8. The company did not say when and if the app would be available for the iPhone.
The payment solution goes live on November 16.
"Clients will be able to pay with their CIBC credit card, whether Visa or MasterCard, without retrieving the plastic card from their wallet or purse. They can simply hold their … smartphone up to a contactless payment terminal and the payment will be automatically charged to their CIBC credit card," the companies said in a joint press release.
Rogers is making a big push to place itself at the forefront of the coming mobile payment revolution. Even though it has partnered with CIBC, the telecommunications and media giant has also licenced itself as a bank, with an eye towards offering its own credit cards "should this make sense at a future date."
Besides becoming a conduit for digital payment, Rogers is also making plans to use its communications expertise to develop new lines of business. CEO Nadir Mohamed recently said he expects the company to make money off wirelessly connected hydro and parking meters, medical equipment and other devices.